Air Miles Rewards: Everything you need to know in 2023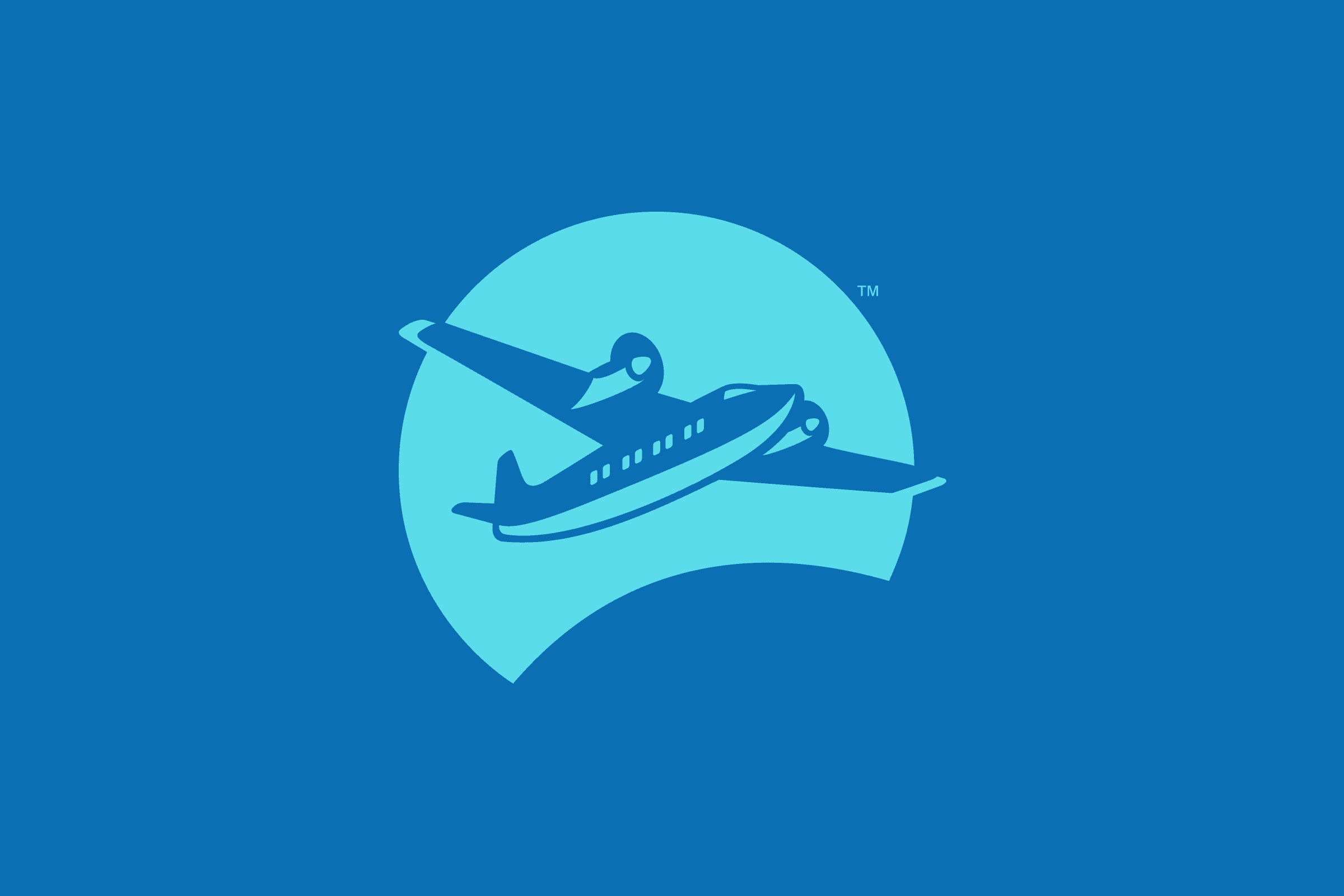 When it comes to rewards programs, Canadian consumers have no shortage of choice! Well known to everyone, the Air Miles loyalty program, launched in 1992, is one of the oldest in Canada. The Air Miles program has been through some tough times lately, but it is slowly rising from its ashes. To take advantage of the benefits of the program, there are now several ways to accumulate miles. Your miles can then be used to reduce a bill, purchase items and travel.
Getting started with Air Miles
To get started, download the Air Miles app. You'll get a virtual card to scan when you make purchases in-store. You no longer need a physical card to accumulate points, but if you prefer to have one, it is still possible to order it.
A few caveats are in order before registering. Is this a good program for you? To make the most of it, you often have to check the promotional offers in the application and then activate them. A new provision also allows you to submit your receipt to get miles, but again, you have to take the time to do so. All in all, it takes a bit of work. If you are willing to put in the necessary effort, Air Miles may be an interesting program for you.
Collect miles with partners
By entering your postal code on the Air Miles website, you will discover offers from Air Miles partners near you. Partners include HelloFresh, GoodYear, Dollorama, Budget and many more. For example, near me, Shell seems to be a company that regularly offers miles on gas. If you take the time to choose your shopping destination, you maximize your rewards. The number of partners may be limited, however, depending on where you live.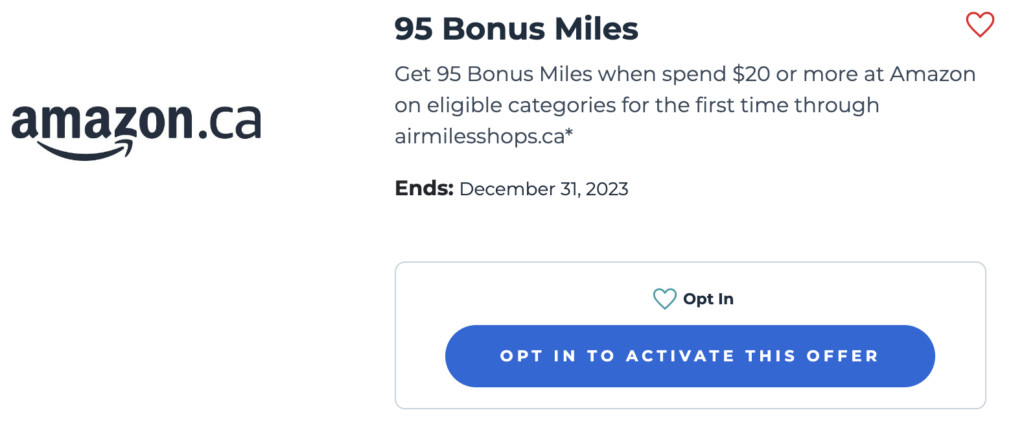 Air Miles selects featured offers. Click to activate the offer of your choice and you will get details on how to obtain it. I found only a couple of offers at the time of writing. There is also an online shopping platform that allows you to accumulate miles. The airmilesshops.ca portal has more than a hundred retailers.
Earn miles with a credit card
In the app, you can link your Mastercard to your Air Miles account. No need to have a BMO Air Miles credit card, any Mastercard will do. Once your card is linked, all you have to do is pay for eligible purchases with the card to get the benefits of all offers.
However, BMO Air Miles credit cards could be advantageous since they normally allow you to accumulate points more quickly. BMO took over the Air Miles program in June 2023 and it has since been the only issuer of Air Miles credit cards. If you have such a credit card, no need to wait for offers! You earn miles every time you use your BMO Air Miles credit card in its rewards categories.
For example, the BMO Air Miles Mastercard is free and offers 3 miles for every $25 in purchases made at Air Miles partners, 2 miles at any eligible grocery store (even if it is not a partner) per $25 of purchases. Currently, the grocery store near me doesn't have any Air Miles offers, but with a credit card affiliated with the program, I would get a few more miles every time I shop there. With this card, you also receive 1 mile for every $25 spent anywhere else.
Depending on your spending habits, choose the Air Miles card that is most beneficial to you. Hardbacon's credit card comparison tool can help you choose the perfect credit card.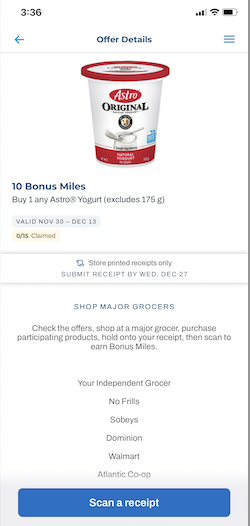 Air Miles Receipts for your groceries
For grocery store purchases, a new method of obtaining miles has emerged under the name Air Miles Receipts. In the app, you can scan your receipt and then transmit the image to Air Miles. The receipt must show the store name, address, date, the products purchased and the total cost. You have 14 days to submit it. You will see the miles appear in your account a few days later.
This new feature is very interesting. For example, in my account I can find many available products and see in which grocery stores I can buy them. Don't worry, the choice of grocery stores is very wide!
Miles value
Most of the time, when we hear about Air Miles, we associate rewards with travel. However, as mentioned earlier, it is possible to accumulate Cash miles, Dream miles or a combination of the two. In the latter case, you are prompted to choose the accrual rate between the two using a progress bar in the app. Subsequently, at any time, you can change the rate of miles you accumulate.
In order to get rewards, you must have accumulated a minimum of 95 Cash miles, which are equivalent to $10. By taking advantage of all the grocery offers, you can quickly accumulate the minimum of 95 miles. In the case of Dream miles, the value varies depending on each reward.
| | |
| --- | --- |
| Miles | Value |
| 1 | $0,105 |
| 95 | $10 |
| 950 | $100 |
What types of miles can I earn?
When you join the Air Miles rewards program, you have the choice between earning Cash Rewards, Dream Rewards, or a combination of both.
Cash miles can be exchanged for products and services offered by participating businesses. Unfortunately, at the time of writing, only Metro and Shell offered in-store rewards in Ontario. On the other hand, to exchange your Cash miles for online shopping vouchers, there were 42 partners including Lululemon, DoorDash and Cineplex.
Dream Miles can be redeemed for travel, items such as an air fryer or a robotic vacuum cleaner, and donations, for example to the Kids Help Phone organization.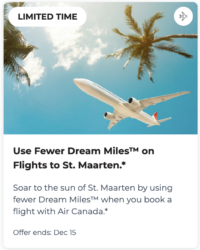 To purchase plane tickets or a vacation package, you must go directly to the Air Miles website. It gives you access to travel packages with several providers such as Air Canada Vacations, Transat, Sunwing and others. Promotional offers also appear on the page. Prices depend on distance and season. You can pay for your tickets in part or in full with your Dream miles. You can find flights starting at 1,400 miles. If you have the points needed to pay for the entire flight, you only have to pay the taxes.
For car rentals, thanks to certain partners like Budget, you have a very attractive valuation. In fact, 1 mile can be worth up to $0.15. It is also possible to pay for a car rental in full using your miles.
As for events and attractions (called Extras), these can include Disney admissions, show tickets and even movie tickets. The recovery rate depends on the season and the activity chosen. You can also redeem your Dream miles for hotel nights and cruises.
Finally, you can use your miles to purchase certain products such as headphones or a coffee machine. In this case, the valuation rate is less attractive, unless you have the Gold or Onyx Air Miles status.
With all the great rewards and new ways to earn miles, we are confident that this is a new beginning for Air Miles, and not the beginning of the end as past turmoil had people believe a while ago.
Points expiration
Your miles become dormant if you don't use your account for 24 months (2 years) and you will no longer be able to redeem them. You can buy them back in increments of 100 at a price of $0.15 per mile plus taxes (100 miles = $15) with a service fee of $10 per transaction. This transaction is unnecessary since you will pay $15 to get 100 miles, which will in return give you just over $10 in reward. That's a net loss of almost $5! Better to make a small purchase at least once every two years.
Blue, Gold and Onyx Levels
Air Miles members have access to three different status levels: Blue, Gold and Onyx. Statuses are awarded based on the number of miles accumulated and may vary each year.
Standard membership corresponds to Blue status. You get 1 mile for every $15 spent on travel and 3x the miles when creating your vacation package. You achieve this status as soon as you join the Air Miles program.
Gold members benefit from earning 1 mile for every $10 spent on travel and 4x miles when creating their vacation package, in addition to benefiting from discounts of up to 30% on flights. You reach this status by accumulating between 500 and 4,999 miles over the course of a year. BMO Air Miles Mastercard cardholders are automatically eligible for Gold status.
Finally, Onyx members have discounts of up to 40% on flights and up to 10% on miscellaneous items. They get 1 mile for every $10 spent on travel and 4x the miles when creating their vacation package. They also benefit from exceptional services. You reach this status by accumulating 5,000 miles over the course of a year.
Program summary
Where to shop
Grocery stores and other partners;
Airmilesshop.ca
Points value
In general, you get $10 for 95 miles;
Value can vary according to each offer and rewards mode
How to collect miles
Miles accumulation varies depending on the partner store;
Online purchase on the Airmileshop.ca platform;
Special offers;
Air Miles credit card
Cash Rewards
Rebates on your next purchases
Dream Rewards
Flights, hotels, car rentals, etc.
Status levels
Blue: automatic
Gold: 500+ miles accumulated in one year
Onyx: 5,000+ miles accumulated in one year
Air Miles credit cards
BMO Air Miles credit cards or any other Mastercard credit card
Program benefits
No membership fees;
Interesting valuation;
Several options for redeeming miles, depending on your preferences;
Many participating grocery stores and some other major businesses