Second Cup Rewards: Everything You Need to Know about The Café Club
Table of Contents
[ Show ]
A creamy, frothy vanilla latte made by Second Cup is always an inviting way to start your day! With such a caffeinated beverage, a smile is almost guaranteed! But does spending money daily on coffee curb your enthusiasm?
Coffee rewards programs can help you get some of your money back. But if they encourage you to buy more coffee than usual, they won't translate into savings.
Second Cup's rewards program is called The Café Club. The chain was acquired by Foodstatic in 2021. Second Cup has nearly 200 locations across Canada. Is this program really worth it compared to those of other coffee shops? Read on to find out more about the benefits of the Second Cup program.
How to get and use my rewards card?
You can register for the rewards program on the Second Cup mobile app or in a café and on the website. First, download the application from the App Store or Google Play. Then, open the app and select the option to create an account (top left corner). Finally, fill in the boxes and enter your promotional code if you have one.
In-store, you can get a physical card, which you'll have to register on the site by creating your account. You'll need to enter your 19-digit card number, as well as your e-mail address, name and password. Finally, submit your application to complete the process.
When it's time to collect points – or redeem them – simply present your rewards card to your barista.
How do I earn points with The Café Club?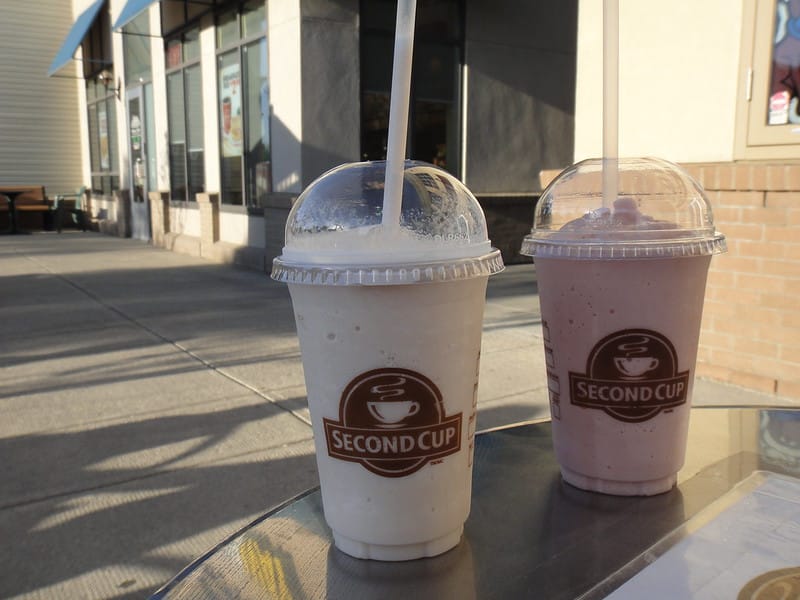 When you become a Café Club member, you can earn points in two ways. First, you can buy via the app, which will automatically calculate your points. Second, you can use your Café Club card. Simply scan it before completing your transaction.
Every $1 spent at Second Cup gives you 10 points. To collect more points, you can sign up for Second Cup newsletters and notifications. Special offers are sent this way.
Most purchases made in participating branches are eligible to collect points, except for offers and products explicitly indicated as not being eligible.
How do I check my points balance?
It may take up to 7 days before your points appear in your account. You can log in to your account in the app or on the website to check your balance.
What Second Cup rewards can I get?
The points redemption process is pretty straightforward. You can request to use them when you order on the app or in person.
250 points will get you a small coffee or tea
500 points will get you a medium coffee, tea or Italian soda
1,000 points will get you a medium espresso, hot chocolate or smoothie
1,500 points will get you a 312-gram bag of coffee, a box of Second Cup K-Cups or a tin of tea
Is it really worth being loyal to Second Cup?
To find out if the card is worth it, compare it with its competitors. Also take into account what cafés are open near your home and your workplace. Since $1 spent at Second Cup gives you 10 points, you'd have to buy $25 to then get a free small coffee. Here's a comparison with its main competitors:
Rewards Program
How to get a free coffee
Advantages
Cafe Depot Rewards
Every $1 spent gives you 1 "coffee bean", and 100 coffee beans (points) is worth $1.50. For a coffee worth $3, you need to have spent $200.
Welcome bonus of 200 coffee beans
Birthday reward of 200 beans
Exclusive rewards to double your points
MyMcDo
With 2,000 points, you get a hot or iced coffee or a tea (any size). For every $1 you spend, you get 100 points. This means you need to buy about $20 to get a free coffee.
Access to all McDonald's products (depending on the number of points you have)
Starbucks Rewards
It costs between $50 and $100 to get a free coffee.
Birthday reward
Tims Rewards
With 400 points, you can get a free coffee. Since $1 gives you 10 points, you have to spend $40 before you qualify.
Special offer on your birthday
Second Cup's story
The Café Club isn't necessarily the most advantageous loyalty program. But it may win you over with its story and fair trade philosophy. Second Cup was founded in August 1975. Its first kiosk, located in a shopping mall, sold only six blends of specialty coffee beans. Today, Second Cup is the largest specialty coffee retailer in Canada.
Second Cup's growth accelerated in the late 1980s. The chain had about 130 locations at that time. Shopping malls and office towers accounted for more than two-thirds of its network. The product range expanded over the years to include brewed coffees, teas, espresso drinks and more.
All coffees served at Second Cup are fair trade. In addition, Cuzco and Rwanda Musasa coffees are certified. Fair trade helps coffee producers to look after their employees properly and encourages the development of environmentally-friendly methods. Almost all Second Cup coffees are also Rainforest Alliance Certified. They are made with the purpose of preserving biodiversity and promoting the rights and well-being of workers, their families and their communities.
The Café Club: Our verdict on Second Cup Rewards
In conclusion, the Second Cup rewards program isn't the most attractive, because unlike McDonald's, it requires higher spending to get free coffee and it offers a more limited choice of rewards. However, it compares very well with the other programs, even if it offers fewer bonuses (for example, nothing for your birthday). This coffee rewards program is mostly interesting for aficionados of excellent coffee, people loyal to the Second Cup brand or those who don't have the option of choosing their coffee shop on the way to the office!