WestJet vs. Air Canada: The Ultimate Showdown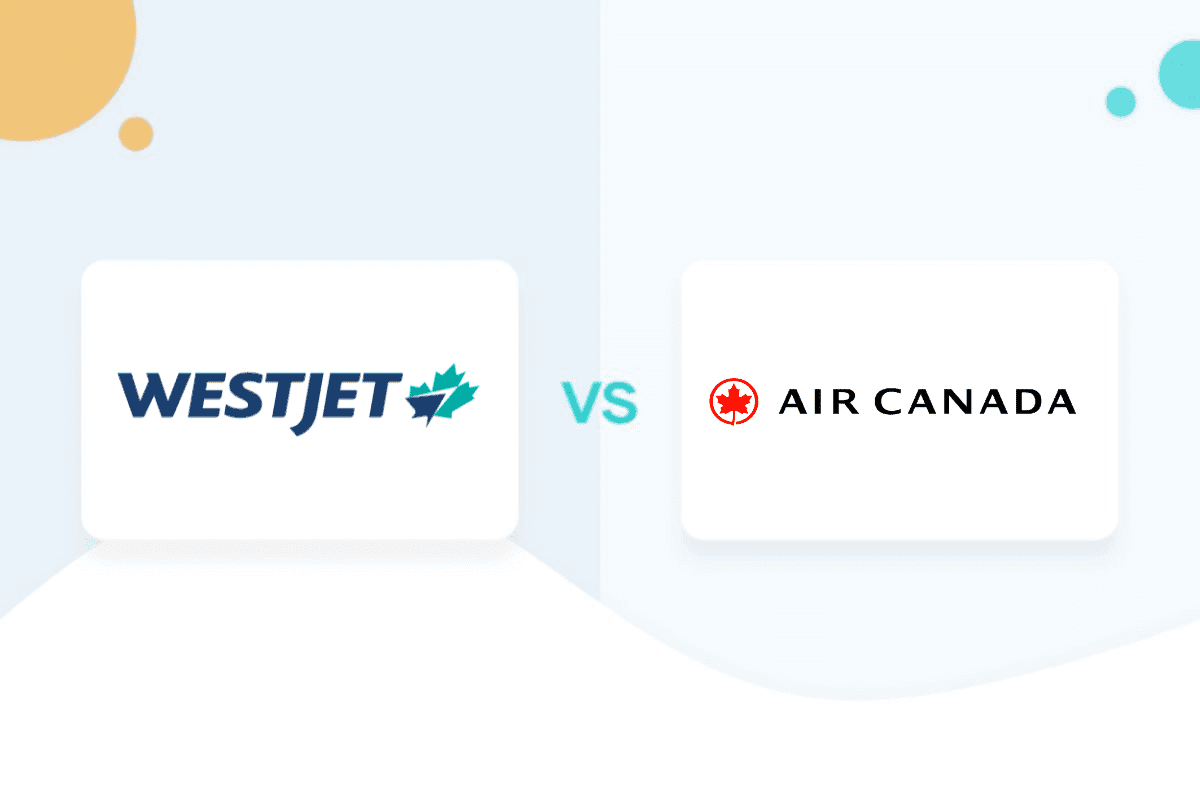 Table of Contents
[ Show ]
WestJet and Air Canada are the two largest airlines in Canada and. They are both among the best airlines in Canada, but which airline truly comes out on top? In this article, we'll compare the company profiles, flight destinations, in-flight experiences, loyalty programs, and customer service of both airlines to determine the ultimate champion. Get ready for the ultimate showdown: WestJet vs. Air Canada.
WestJet vs. Air Canada: Company Profiles
WestJet: A Brief History
WestJet, founded in 1996, is a Canadian airline that has built a reputation for low prices and excellent customer service. The airline started with just three aircraft, but now has a fleet of over 111 planes and offers flights to over 110 destinations across Canada, the US, Mexico, Europe, and the Caribbean. The company is still growing, having confirmed the upcoming integration of Sunwing Airlines in May 2023. WestJet is well-known for its friendly and helpful crew members, which they call "WestJetters." They've also been awarded the title of Canada's Most Trusted Airline by the Gustavson School of Business at the University of Victoria in 2016, 2017, 2018.
WestJet's success can be attributed to its unique corporate culture. The airline's core values include a commitment to safety, caring for its guests, and treating its employees like family. WestJetters are encouraged to have fun and be themselves while at work, which creates a positive and welcoming environment for both employees and passengers.
In addition to its passenger services, WestJet also operates a cargo division that provides shipping services across Canada and internationally. The airline is committed to sustainability and has implemented several initiatives to reduce its environmental impact, including investing in fuel-efficient aircraft and implementing recycling programs.
Air Canada: A Brief History
Air Canada was incorporated as Trans Canada Air Lines in 1937 and has grown into Canada's largest airline, boasting a fleet of over 400 aircraft that flies to over 220 destinations on six continents. The airline prides itself on its global reach and offers passengers a full-service experience that includes in-flight meals, drinks, and entertainment. Air Canada has a reputation for being reliable and safe, having been named the best airline in North America by Skytrax, a UK-based international air transport rating organization, eight out of the past ten years.
The airline has played a significant role in shaping the Canadian aviation industry and has been a pioneer in several areas, including the development of in-flight entertainment and the introduction of the first computerized reservation system in Canada.
Despite its size and global reach, Air Canada remains committed to its Canadian roots. The airline is a major employer in Canada, with over 30,000 employees across the country. Air Canada is also a strong supporter of Canadian culture and the arts, sponsoring several events and organizations across the country.
As part of its commitment to sustainability, Air Canada has implemented several initiatives to reduce its environmental impact, including investing in fuel-efficient aircraft and implementing recycling programs. The airline has also partnered with several organizations to develop sustainable aviation biofuels.
In conclusion, both WestJet and Air Canada have made significant contributions to the Canadian aviation industry and continue to be leaders in the field. Their commitment to safety, customer service, and sustainability has earned them the trust and loyalty of passengers around the world.
Comparing Flight Destinations
When it comes to choosing a flight destination, there are a lot of factors to consider. Both of these airlines offer a variety of domestic and international flights–let's take a closer look at what each airline has to offer.
Domestic Destinations
Travelling within Canada? Both WestJet and Air Canada have got you covered. With non-stop flights to Western, Eastern, Atlantic, major cities like Vancouver, Toronto, and Montreal, you'll be able to get where you need to go. However, there are some differences between the two airlines.
WestJet generally offers up to 450 daily flights across the country and beyond. With their fleet of Boeing 737s, they can quickly and efficiently transport passengers anywhere in Western, Eastern, Atlantic, or Northern Canada. This includes over 300 flights weekly to Alberta and BC, and the Canadian Rocky Mountains. They also have a reputation for being budget-friendly, with lower ticket prices than Air Canada.
On the other hand, Air Canada has a wider array of planes, including smaller planes that allow them to offer flights to smaller regional airports and remote locations. Top destinations include destinations in Calgary, Vancouver, and Quebec.  Additionally, Air Canada has a rewards program, called Aeroplan, allowing frequent flyers to earn points and redeem them for free flights or upgrades.
International Destinations
If you're looking to travel abroad, both airlines offer an extensive number of international destinations. Air Canada leads the way in terms of global reach, with flights to Europe, Asia, South America, and more. Their Star Alliance network also allows passengers to connect to other airlines to reach even more destinations.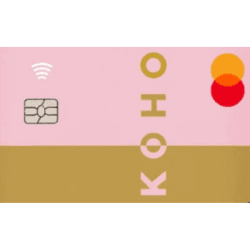 KOHO Travel Prepaid Mastercard
Get $20 with the HARDBACON code when you sign up for a free KOHO account and make your first purchase!
1% for transportation and groceries (or up to 2% depending on the chosen package)
0.5% for the rest.
Get $20 with the promocode HARDBACON
However, WestJet has been rapidly expanding its reach and now offers flights to Europe and Asia, placing them in direct competition with Air Canada. They've also partnered with other airlines to offer more options for travellers. For example, their partnership with Delta Airlines allows passengers to connect to hundreds more destinations globally.
Ultimately, the choice between WestJet and Air Canada depends on your specific travel needs. If you're looking for a budget-friendly option for domestic travel, WestJet might be your best bet. If you're travelling to a more remote location or looking to earn rewards points, Air Canada could be the way to go. However, if you're travelling internationally, both airlines offer a variety of options to choose from.
When comparing the two, WestJet has a reputation for being better when it comes to domestic destinations and Air Canada for international ones, but a comparison of prices on both sites shows the two are fairly comparable. For example,  prices from the airlines' websites at the time of writing this article list a flight from Toronto to Vancouver costs $154 CAD on Air Canada and $152 on WestJet. From Toronto to Los Angeles, Air Canada is actually the cheaper option at $318 CAD for a one-way ticket while WestJet charges around $700. For International flights, Air Canada charges $2,182 for a round trip to Shanghai, a place WestJest does not fly. In short, for flights within Canada, it's a toss-up. It is important to note that ticket prices and deals change all the time. Be sure to check each of the company's websites for deals and flights before booking anywhere outside of Canada.  
In-Flight Experience
Travelling by air is an experience like no other, and Air Canada and WestJet both offer a range of services and amenities to make your flight as comfortable and enjoyable as possible, from seating and comfort to in-flight entertainment and food options.
Seating and Comfort
When it comes to seating and comfort, Air Canada and WestJet both have a lot to offer. Air Canada's premium economy and business class seats offer more spacious seating arrangements, making it easier to stretch out and relax during your flight. Meanwhile, WestJet's premium economy seats are also comfortable and adjustable, with a footrest and extra legroom to help you feel more at ease.
WestJet is also excited to be welcoming its first Boeing 787 Dreamliner, which offers passengers even more comfort and convenience. With larger windows and quieter engines, this state-of-the-art aircraft is sure to make your flight a truly memorable experience.
In-Flight Entertainment
Both Air Canada and WestJet offer an impressive selection of in-flight entertainment. For Air Canada, this includes seat-back screens on (Premium Economy Class and Economy Class planes) with a variety of movies, TV shows and live television, games, music, and pay-per-use Internet access. However, Air Canada takes it a step further by offering passengers the choice of connecting to in-flight Wi-Fi services on select North American and International Canada-operated flights. Passengers can also stream content directly to their own devices via web browser, if they prefer. 
WestJet also offers a variety of onboard entertainment options, including a wide array of movies, streaming television, and pay-per-use Internet browsing. Their Dreamliner 787 offers a suite of similar services using touchscreen back of seat monitors, with music, movies, television, games, and pay-per-use Internet browsing available.  
Both companies seem equally equipped when it comes to entertainment options, meaning that you can stay connected and entertained throughout your flight, no matter where you are in the world or which airline you choose.
Food and Beverage Options
When it comes to food and beverage options, both Air Canada and WestJet have a lot to offer. Air Canada offers complimentary meals on international flights, including wine, spirits, and non-alcoholic beverages. Flights within North America and the Caribbean do not include food, but passengers can purchase hot and cold food items from the Air Canada Bistro on flights over two hours long. Bar service offered on flights under two hours, include non-alcoholic beverages and a bar snack. Business and first-class passengers receive complimentary food and drink, making it easy to relax and enjoy your flight.
Meanwhile, WestJet has an exciting menu that includes hot meals and snacks. Economy class passengers can purchase snacks and drinks on all flights, with hot meals available on flights over 4.5 hours long. Premium economy travellers receive priority meal service and deluxe snacks. Business travellers receive alcoholic and non-alcoholic beverages, a selection of snacks, and a hot meal. This means that no matter what your budget or taste preferences, you're sure to find something delicious to eat or drink during your flight.
Both airlines seem about equal when it comes to food service. Passengers enjoy complimentary food on longer flights and in premium seats and are able to purchase food on shorter flights with both. 
Loyalty Programs
Nowadays, not only do airlines compete on ticket prices, but also on the benefits they offer frequent flyers. Loyalty programs are one way for airlines to reward customers for their loyalty and encourage them to continue flying with them. Here is a closer look at WestJet's and Air Canada's airline loyalty programs.
WestJet Rewards
WestJet Rewards program offers a tiered system that rewards passengers based on their travel habits. Members can earn points by flying with WestJet or its partners, purchasing eligible vacation air and land-only packages, renting cars through WestJet, or making purchases with a WestJet RBC World Elite Mastercard. WestJet dollars can be used like cash to pay for all or part of your base fare for a flight or vacation package. coverage of your purchase. and can redeem them for flights, vacation packages, and more. The more points you earn, the higher your tier, and the more benefits you receive.
WestJet RBC World Elite Mastercard
When you're approved for your WestJet RBC World Elite Mastercard you'll receive 250 welcome WestJet dollars right away, and 200 more after 3 months. Conditions apply.
2% WestJet dollars : WestJet flights or WestJet Vacations packages;
1.5% WestJet dollars : Everyday purchases
Get up to 450 WestJet dollars as a welcome offer
WestJet Rewards are organized into four tiers, Platinum, Gold, Silver, and Teal, each of which has its own perks. Depending on the tier, members can earn 8 to 0.5% in WestJet dollars on WestJet flights, 2 to 0.5% on WestJet vacation packages, and 1% on hotel stays, meal plans, attractions, and sights. Other priority services–such as advance seat selection, lounge access, and upgrades–vary depending on the tier.  
In addition to earning points, members of WestJet Rewards also enjoy other benefits, such as priority boarding, free checked bags, and access to exclusive offers and promotions. Overall, WestJet Rewards is a great loyalty program for anyone who flies frequently with WestJet or its partners.
Air Canada's Aeroplan
Air Canada's Aeroplan is one of the most established loyalty programs in the airline industry, having been around for over 30 years. Members can earn points by flying on Air Canada flights and its partners, as well as through retail purchases. You can earn more points by linking your Aeroplan account to retailers like Starbucks, UberEats, and the LCBO to earn and redeem points. Points are also earned through co-branded credit cards such as the TD Aeroplan Visa Infinite and the American Express Aeroplan card. The program offers a range of benefits, including the ability to use points to purchase and upgrade flights, vacation packages, hotels, and car rentals. Access to airport lounges, and priority seat service and check-in when booking flights is also available for Aeroplan members. Points earned can be used to make purchases from Aeroplan's many retail partners.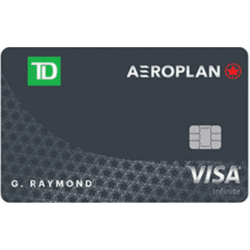 TD® Aeroplan® Visa Infinite* Card
Special offer: Earn up to $1,400 in value† including up to 50,000 Aeroplan points† and no Annual Fee for the first year†. Conditions Apply. Account must be approved by January 3, 2024.
Earn up to $1,400 in value†
One of the unique features of Aeroplan is the ability to earn points through its eStore, which offers a wide range of over 200 online retailers. This means that members can earn points on their everyday purchases, such as clothing, electronics, and groceries.
Aeroplan also offers a range of elite status levels, from silver to Super Elite, depending on the amount earned, each of which provides additional benefits, such as priority wait list, boarding, and seat selection, complimentary bag check-in, bonus points, priority check-in, concierge services, and free bag check. Overall, Aeroplan is a great loyalty program for anyone who frequently flies with Air Canada or its partners, or who wants to earn points on their everyday purchases.
While there are merits to both loyalty programs, Aeroplan seems to be the better of the two. Even if you don't travel much, the ability to earn base and bonus points on everyday purchases (like converting reward points to "stars" at Starbucks you can use toward free drink purchases) puts Aeroplan on top. Whichever program you use, both companies offer a range of benefits that are worth considering, particularly if you are a frequent flyer. 
WestJet
Aeroplan
Earn with online purchases
Using credit card
With credit card or at online retail partners
Earn with in-person purchases
Using credit card
With credit card or at retail partners
Conversion to other points programs
Can only be used for base fare or package prices
Yes with select retail partners
Redeem on merchandise
Can only be used to purchase base fare or packages
Yes, with select retail partners 
Earn and redeem points on travel, car rental, hotel purchases, and sights
Yes
Yes
Access to additional perks when travelling based on tiered earning 
Yes
Yes
Co-branded credit cards
WestJet RBC Elite Mastercard
TD Aeroplan Visa Infinite
American Express Aeroplan Card
CIBC Aeroplan Visa Infinite 
Customer Service
When it comes to air travel, customer service is key. Fortunately, both WestJet and Air Canada have a variety of customer support channels available. In a 2023 JD Power poll of customer satisfaction, WestJet scored a score of 777 out of 1,000 points while Air Canada scored 765, which is a negligible difference. This means that, when it comes to which airline is better, it will likely come down to personal preference based on the services offered. 
WestJet is particularly known for its friendly and helpful customer service team, largely due to their commercials stating that employees are also (stock) owners, so they have a vested interest in the company's success. There are multiple avenues with which to contact WestJet's customer service including telephone, online chat, email, and chat with messenger. There is also an extensive online FAQ, a TTY line for customers with partial hearing, and an email dedicated to assistance for customers with disabilities. WestJet's website also has a number of self-serve tools for booking, cancelling, and changing flights, for example. 
Air Canada also has a dedicated customer service team, particularly for its business and premium customers, with phone numbers and email options. Online reviews for Air Canada are mixed, but the Better Business Bureau states they are "receiving a high volume of complaints against the airline industry due to flight delays, cancellations, and staffing shortages." Air Canada's overall rating is 1.06/5 stars (to be fair, WestJet's rating is 1.17/5). 
When it comes to customer service, WestJet seems to have more options when it comes to methods of contact, but neither company's ratings and reviews stand out far and above the other. 
Westjet vs Air Canada: The Verdict
After comparing company profiles, flight destinations, in-flight experiences, loyalty programs, and customer service of both airlines, both companies come out almost even. Both strive to offer exceptional customer service to their passengers, but whether one is better than the other is subjective. The ultimate champion must be determined based on personal preferences, travel habits, itinerary, and points programs. For international travellers who prefer larger planes, Air Canada may be best. Those travelling within North America – especially Canada – or to the Caribbean who prefer small planes might consider WestJet. When it comes to price, WestJet is best for bargain flights. For onboard entertainment, the airlines are tied. Air Canada is the winner, hands-down for Aeroplan, its versatile points program. While WestJet seems to offer the most options for before- and after-flight customer service, neither company does well when it comes to online reviews. All in all, when it comes down to which is better, travellers must weigh the pros and cons when it comes to price, amenities, and location, and make a personal decision based on their individual needs.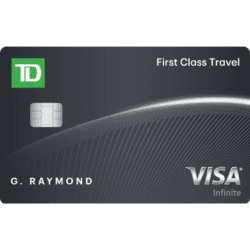 TD First Class Travel® Visa Infinite* Card
Special Offer: Earn up to $1,000 in value†, including up to 115,000 TD Rewards Points† and no Annual Fee for the first year†. Conditions Apply. Account must be approved by January 3, 2024.