Grow Your Savings Faster With KOHO!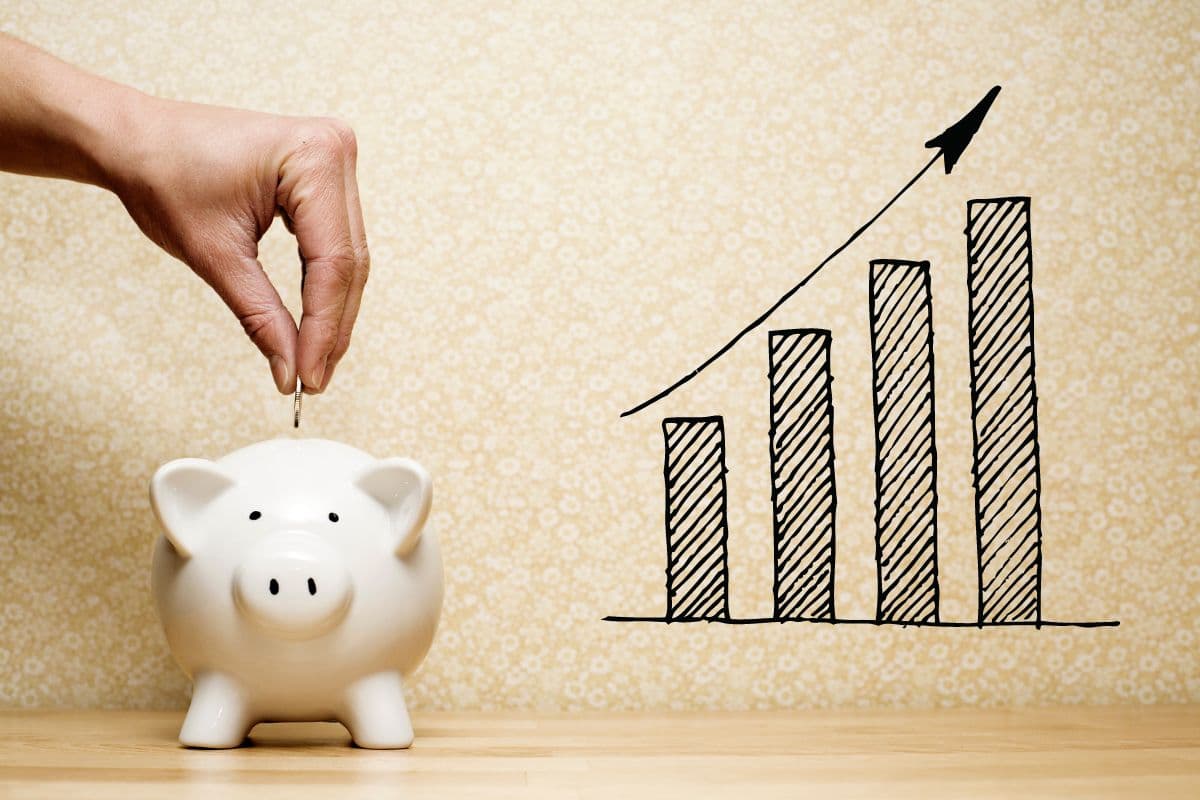 In collaboration with KOHO
Canada's big banks are charging increasingly high interest rates to borrowers, but their savings accounts aren't keeping pace. Your nest egg is likely growing more slowly than inflation. The consequence? A loss of your purchasing power. How can you come out on top in such a context? Simply by finding the best accounts to grow your savings. KOHO, the leading Canadian fintech company, offers an account with a savings interest rate of up to 4.5% on your balance.
Why be wary of inflation?
Inflation is a measure of consumer prices. Statisticians analyze a basket of products and compare the change in their price over a year. For example, in July 2023, inflation in Canada was 3.3% compared to 2022. This means that on average, you're paying 3.3% more for the items you buy than last year.
When wages don't increase at the same rate as inflation, consumers find it increasingly difficult to afford the same things as before. To combat inflation, they turn to less expensive house brands at the grocery store, look for discount coupons, cut back on outings, etc.
In addition to cutting back on spending, it's essential to grow your assets so that your hard-earned money retains its value. For example, if you're saving to buy a used car, ideally your savings should increase faster than the price of cars.
How to grow your savings?
There are a variety of ways to grow your savings. For instance, you could choose to invest in the stock market. While this strategy bears fruit in the long term, does present a high level of risk, especially in the short and medium terms.
A high-interest savings account is just the ticket for anyone who wants to grow their money safely. Look for those offering an interest rate higher than 3.3%, and not just for the duration of a promotion! In this respect, KOHO is an ideal candidate.
KOHO: a fintech that's not afraid to pay interest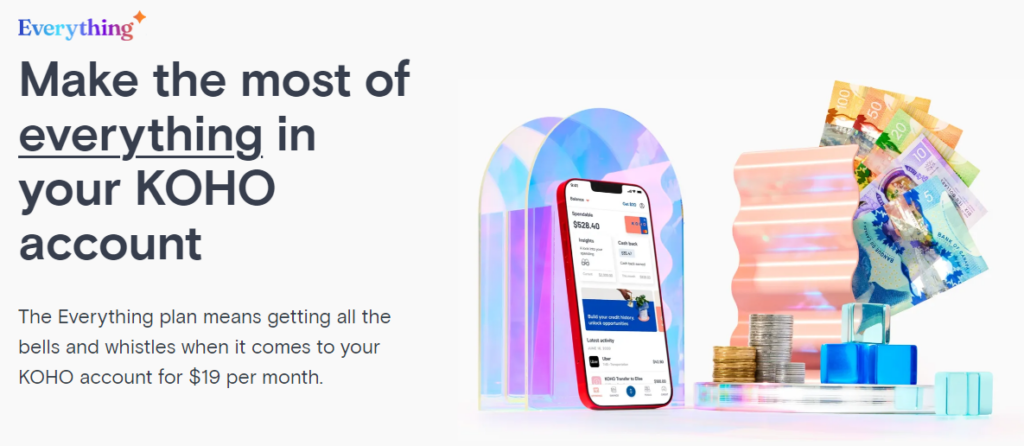 KOHO is not a bank, and that's exactly why it can offer innovative products. Its all-in-one account allows you to spend, save, and track your goals simultaneously. KOHO offers four plans to choose from, all of which are linked to its reloadable prepaid Mastercard.
Easy Plan: Free!
The Easy Plan is free and offers you 0.5% interest on your entire balance. This percentage resembles the typical offers from major banks, but there's more! With the Practical, you also earn 1% cash back on groceries and transportation.
Cash back generates a return on your spending and it's deposited directly into your account. Where KOHO really gets interesting in terms of savings is when you choose a paid plan.
Essential Plan: $4/month
No need to break the bank! The Essential Plan costs just $4 per month and offers you 4.5% interest on the first $500 of your balance. For any amount over $500, you get 2%.
Extra Plan: $9/month
For a few more dollars per month, the Extra Plan offers you 4.5% interest on the first $1,000 of your balance and 3% on any amount over that.
Everything Plan: $19/month
Especially well suited to people who want to save as much as possible, the Everything Plan allows you to generate interest on your entire balance at a rate of 4.5%.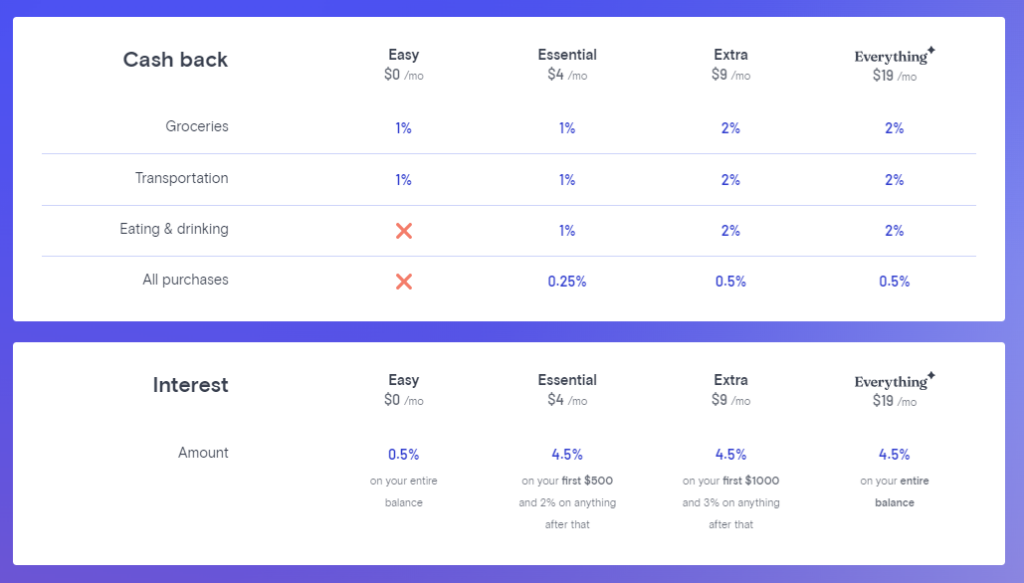 A subscription that pays off
Nothing beats a good illustration when talking about abstract concepts like interest rates. How much can you earn by maintaining a balance of about $2,000 with KOHO?
With the Essential Plan, you get about $52.50 per year (distributed in monthly installments), an amount that more than covers the cost of your package! And that's not even counting the higher cash back you'll earn by subscribing.
By spending $500 per month on groceries with your KOHO card, that's another $60 you'll get in a year. From a minimum of 0.25% on all purchases, the Essential Plan gives you 1% cash back on groceries, transportation, meals, and drinks. You can even earn up to 5% at KOHO partner retailers.
To determine which package is most advantageous for you, add up the interest and discounts, then subtract the fees from this total. Here's an example for someone who maintains a balance of $2,000 and spends another $2,000 per month, including $1,000 in the preferred cash back categories (groceries, transportation, etc.), with their KOHO card. Note that some benefits are not included in the calculation, such as cash back from partner merchants (up to 6%) and a 30-day free trial of the KOHO plans
| | | | | |
| --- | --- | --- | --- | --- |
| | Easy | Essential | Extra | Everything |
| Annual Interest Earned | $10 | $52.50 | $75 | $90 |
| Cash Back – Spending Categories (Annual) | $120 | $120 | $240 | $240 |
| Base Cash Back (annual) | $0 | $30 | $60 | $60 |
| Annual Fees | $0 | $48 | $108 | $228 |
| Total Earnings | $130 | $154.50 | $267 | $162 |
How to earn interest with KOHO
Signing up for KOHO takes just a few minutes in the app. You can immediately choose a plan, load your card, and subscribe to "Earn Interest" in the app to get one of the best savings accounts in Quebec. This simple click gives you access to the interest rates discussed in this article. You can now save securely, as your funds are protected by the Canada Deposit Insurance Corporation.
Features to save even more with KOHO
The KOHO app allows you to do more to increase your savings. The Round-Up feature helps you save when you make purchases with your KOHO card. Your spending will then be rounded up to the nearest $1, $2, $5, or $10, depending on your preference. From now on, every time you buy an espresso at the local cafe, you automatically save a few cents (or dollars!).
You can also set aside extra money that you don't want to spend in the Vault, like the Round-Up amounts you just set up. The funds in your Vault are not automatically accessible from your card. A great way to resist temptations! When the time comes to make a planned expenditure, you can simply transfer these funds to your spendable balance.
KOHO users have absolutely nothing to envy from big bank customers! Thanks to its advantageous savings rates, this innovative fintech is redefining personal financial management by making savings more accessible to all.