Marble Financial Review: Is this Online Credit Repair Service Worth It?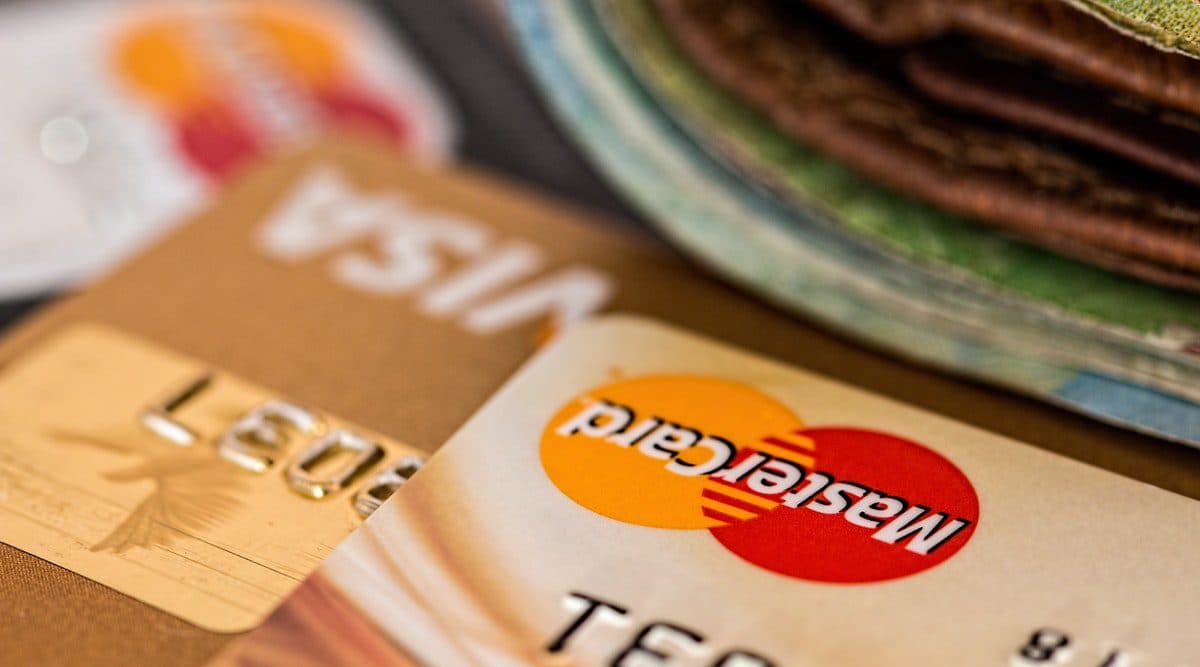 Your credit score can have a big impact on your life. Unfortunately, it can be difficult to increase on your own, especially if you've previously made poor financial decisions. If you're not quite sure where to begin, consider reviewing credit score basics. You may also wish to look into credit cards that are designed to help users rebuild their scores. However, even if you understand how credit scores are calculated, it can be difficult to determine which steps to take in order to increase your own. Fortunately, services like Marble Financial offer users educational resources and determine which steps to take in order to have the biggest impact on their score. In this article, we'll be breaking down Marble Financial's different plans and features to determine whether or not the service is worth it.
What is Marble Financial?
Marble Financial is a Canadian financial technology company that offers users financial education, credit insights, and tools that help them to improve their credit score and eliminate debt. Most notably, they provide personalized, AI-driven recommendations on the most efficient ways to improve their credit score. They make it easy for  less financially-savvy users an easy path to rebuilding their score.
Although Marble Financial offers many useful features through the Freemium Plan, users can upgrade to a Basic Plan for $9.99/month, a Pro Plan for $19.99/month, or a Premium Plan for $29.99/month. The Freemium Plan offers access to your credit score, budget analysis tools, insights about your credit and banking trends, financial literacy courses, and beginner financial literacy recommendations.
The Basic Plan adds a financial health report, access to your credit score history, and intermediate-level financial literacy recommendations, while the Pro plan adds advanced-level financial literacy recommendations and a budget simulator. The Premium Plan also includes highly personalized financial literacy recommendations, a credit summary, access to Marble Financial's ScoreUp technology, and powerful credit score simulation tools. In addition, Premium users have access to credit error tracking. By committing to a 3-month, 6-month, or annual membership, users can save up to 25%.
Marble: a customized approach to finance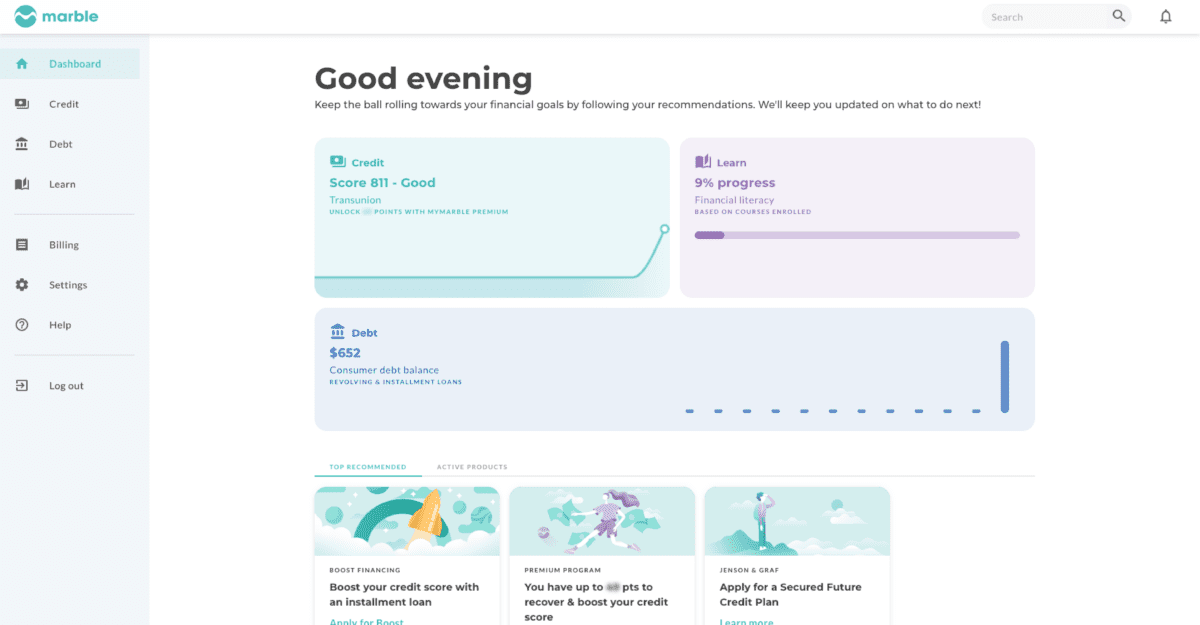 When you first sign up with Marble Financial, the site will ask you to identify your reason for registering, whether to learn more about personal finance, to improve your credit score, or to manage your debt, as well as your primary financial goal. New users are also asked to select a preferred method of communication for Marble Financial to send accountability check-ins. Although we appreciate the emphasis on accountability, it is frustrating that there is no opt-out option during the sign-up process, although users can change their contact settings later.
Once you've finished the sign-up process, you're taken straight to Marble Financial's dashboard, which makes it easy to see your credit score, debt, and progress through Marble's financial literacy courses. The aesthetically pleasing design is very inviting, making the site an appealing option for those who are new to personal finance. The site's main tabs, Credit, Debt, and Learn, can all be accessed via the left-hand sidebar.
The Credit tab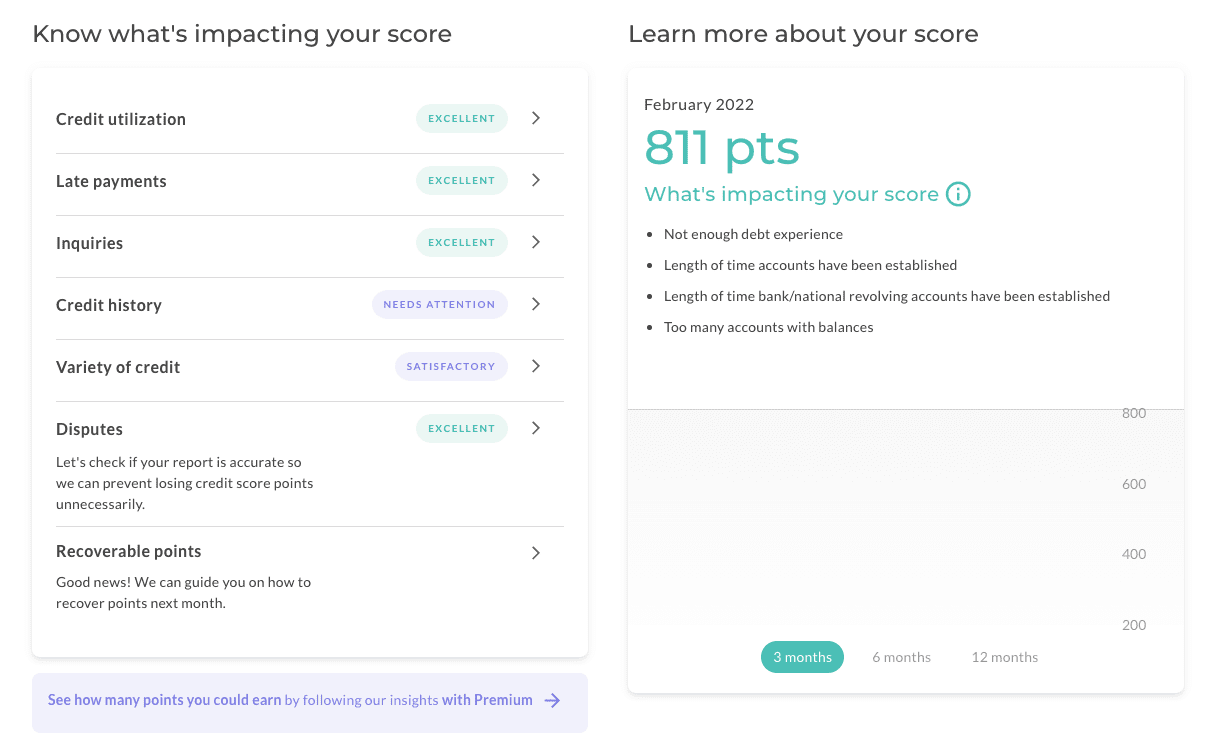 Even on the Freemium account, Marble's credit tab is full of useful information. At the very top of the page, you'll find your Transunion credit score. Below, you'll find a breakdown of the elements that comprise your score and a graph that contains your credit history. Since Marble Financial uses a colour-coded system, it's easy to see which factors are dragging your credit score down.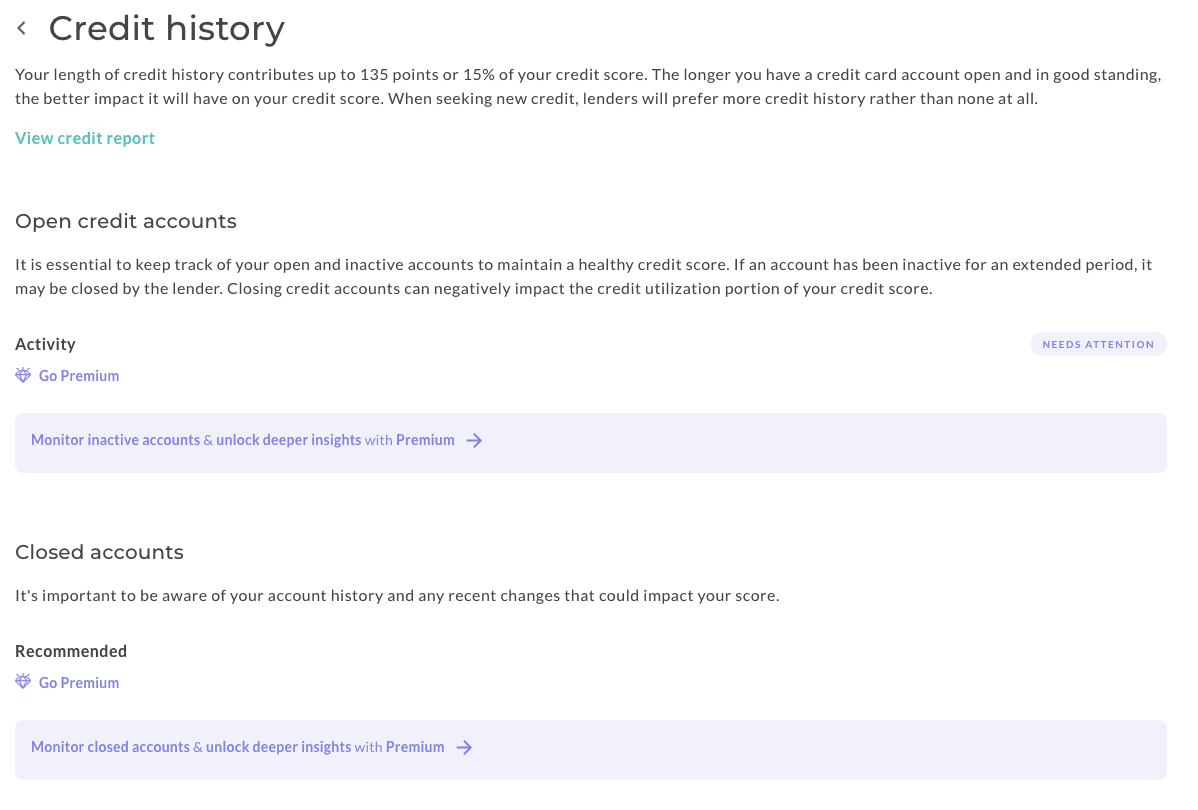 Clicking on each credit score factor brings up a page that explains the factor in greater depth. Premium users also receive personalized recommendations on how to improve this facet of their score. However, non-Premium users can still use the list of factors as a diagnostic tool and then research how to improve their weakest factors, making the feature useful for all Marble Financial accounts.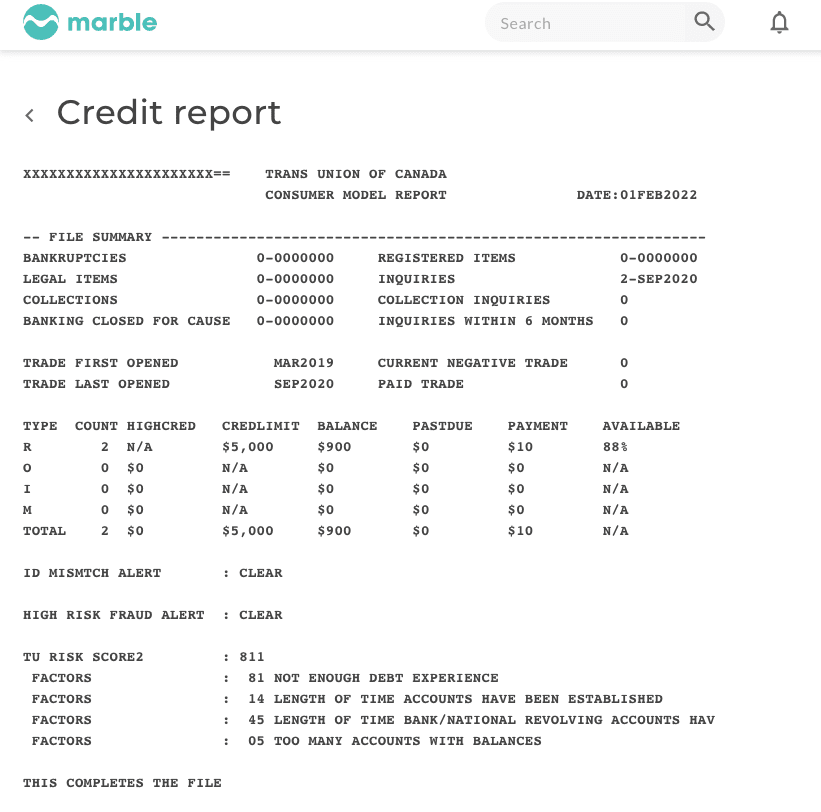 Note: details have been changed due to privacy concerns
At the top of the Credit tab, users are able to generate a credit report based on their TransUnion file. Although the report is not as extensive as the credit report found on TransUnion's website, it still provides users with an in-depth look at their credit file. Users may be particularly interested in the factors listed under their risk score: these identify major factors that are affecting their credit score, potentially signalling components of your credit profile to target while attempting to improve your credit score.
ScoreUp
Marble Financial's Premium subscribers also have access to ScoreUp, which allows them to set a target credit score and then provides a list of changes that will allow users to reach their goal. Each change is accompanied by an estimate of how many credit score points users will gain, maximising transparency. Suggested changes may include prioritising paying off a particular credit account or reporting credit profile discrepancies. Although financially savvy users can typically create a plan to improve their credit score on their own, ScoreUp's data-heavy approach simplifies the process of rebuilding your credit score for personal finance beginners and pros alike. Regardless of financial background, it would be incredibly helpful for those attempting to improve their score.
The Debt tab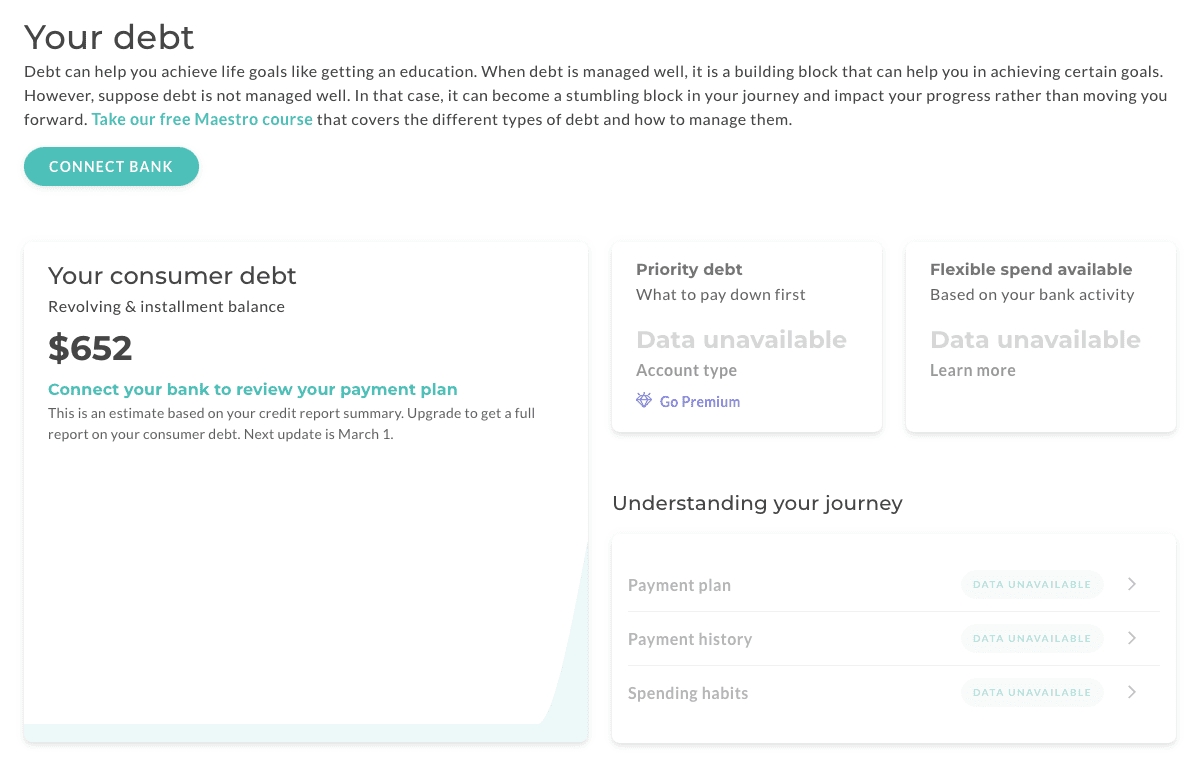 If you struggle with bad types of debt, like rampant credit card debt or payday loans, you're more likely to struggle with rebuilding your credit score. Fortunately, Marble's debt tab provides information that helps you to efficiently pay down and minimize your debt. The site automatically pulls your debt from your credit profile but can also connect to your bank to create and display your payment plan, payment history, and budget. It also identifies which credit account to pay back first in order to maximize your score. At the bottom of the Debt tab, you can find graphs that chart your debt payments and balances, breaking down your debt by account type, ex. revolving, open, installment, or mortgage, for additional comparisons.
Unfortunately, although the graphs are interesting to look at, Marble Financial's Debt tab ultimately falls flat. It does provide a strong graphic representation of debt history that is ideal for those who are visually oriented, but most of the information displays past behaviour rather than steps that help you minimize debt. Although the Priority Debt feature, which identifies the optimal credit account to pay first, is genuinely useful, it is only available to Premium users. If you want a free version, you can use Hardbacon's Debts Repayment Calculator. However, given the fact that the credit and learn tabs provide valuable tools for users on all plans, the debt tab is disappointing.
The Learn tab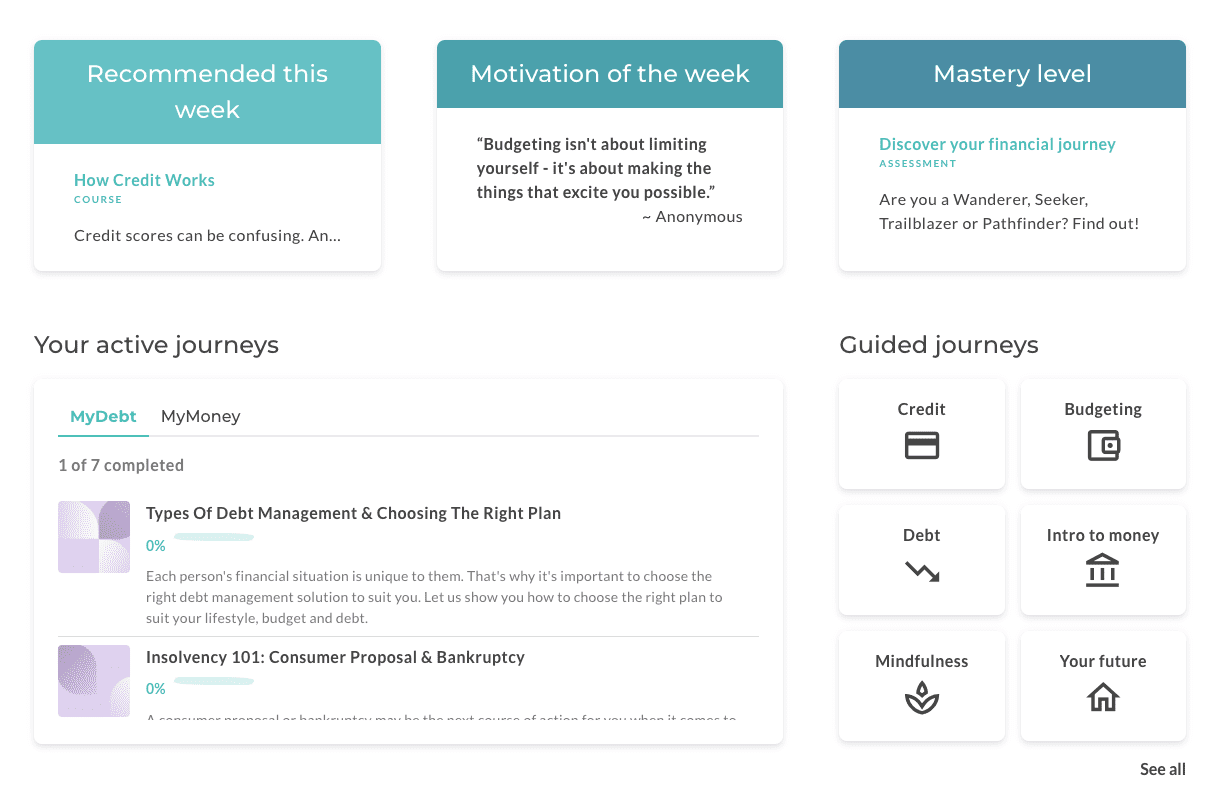 In our opinion, one of Marble's strongest features is the focus on educating users. When visiting the site's Learn tab for the first time, users are encouraged to start a Journey, which is a series of micro-courses about a particular topic. Marble Financial currently has six journeys: MyMoney, MyFuture, MyMindfulness, MyDebt, MyBudget, and MyCredit, each of which contain 4 to12 courses about a particular element of financial wellness.
Each course is short and easy to understand, keeping the education very accessible. After the lesson, users are presented with several multiple-choice questions that quiz them on the material. Since users immediately have to recall the information, they are more likely to remember what they learned. The quizzes also provide an opportunity for users to build financial confidence and ensure that they understood the material.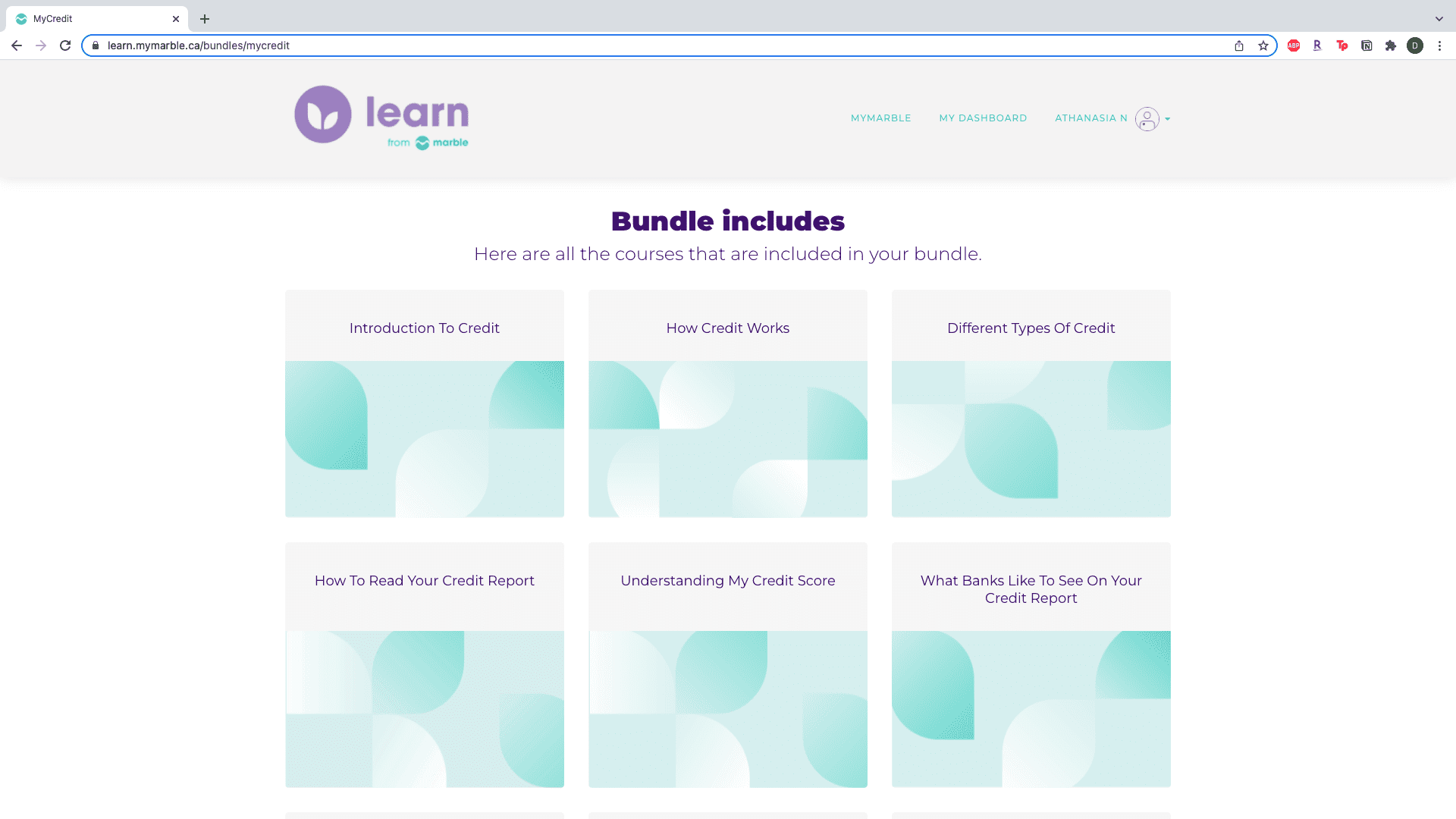 Since courses are grouped together, users are encouraged to progress through multiple relevant lessons. Marble's Learn tab also displays progress through Journeys, making it more enticing for users to continue learning. Ultimately, Marble's Journeys and courses are an excellent learning resource for Canadians interested in financial literacy. Since they're all included in the Freemium Plan, they are very accessible.
The Learn tab also includes an Assessment quiz that is supposed to identify your financial literacy weaknesses, allowing Marble Financial to personalise your recommended courses and ensure optimal utility. Unfortunately, we tried to take the quiz on multiple devices but were not able to enter responses. While the quiz is an innovative idea that would allow those with a moderate personal finance background to skip over superfluous material, prospective users should be aware that it is not working at the moment.
What I think about Marble Financial
Marble Financial's mixture of educational content and personalized steps to improve your credit score make its Freemium plan a solid choice for those who are new to personal finance. The appealing visual layout is very enticing and can help to engage individuals who are intimidated by data-heavy or overly technical software. Additionally, the emphasis on bite-size lessons and quizzing users makes Marble's educational mission extremely effective. Although there are currently some technical issues with the diagnostic quiz, they will likely be fixed soon and the results will help those who have some personal finance knowledge identify and target weak spots.
If your top priority is fixing your credit score, we would highly recommend Marble's Premium plan. Although the plan costs $30/month, ScoreUp's personalized recommendations are worth it since they allow you to improve your credit score with minimal effort. Whether you are new to personal finance or have an in-depth understanding of credit scores, the detailed breakdown saves considerable time and anguish. By clearly identifying the credit score point increase associated with each change, ScoreUp also provides motivation that might otherwise wane. Although the initial cost may be steep, a higher credit score will allow you to secure lower interest rates on future credit accounts, potentially saving you money in the long run.
Unfortunately, Marble's other plans aren't nearly as compelling. The Basic plan's biggest perk is the financial health report, but Marble's Freemium plan already provides a thorough diagnostic. With a bit of research, you can likely determine how to increase your score. The Basic plan also tracks users' credit score history, but this won't necessarily help you to increase your score—it's more for general interest.
The Pro plan's budget simulator is undoubtedly useful, but the dozens of free budgeting apps make it difficult to justify the $19.99/month price tag. If you're interested in rebuilding your credit score, we'd recommend shelling out the extra $10/month to get the Premium plan. Otherwise, you're likely better off sticking to a Freemium account.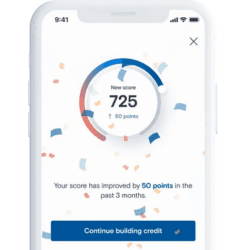 Credit Building by KOHO
Take out a line of credit, pay it off on time and build your credit history. We'll be with you every step of the way.
Only $10/month for 6 months