Mogo Crypto Review: the Pros and Cons in 2023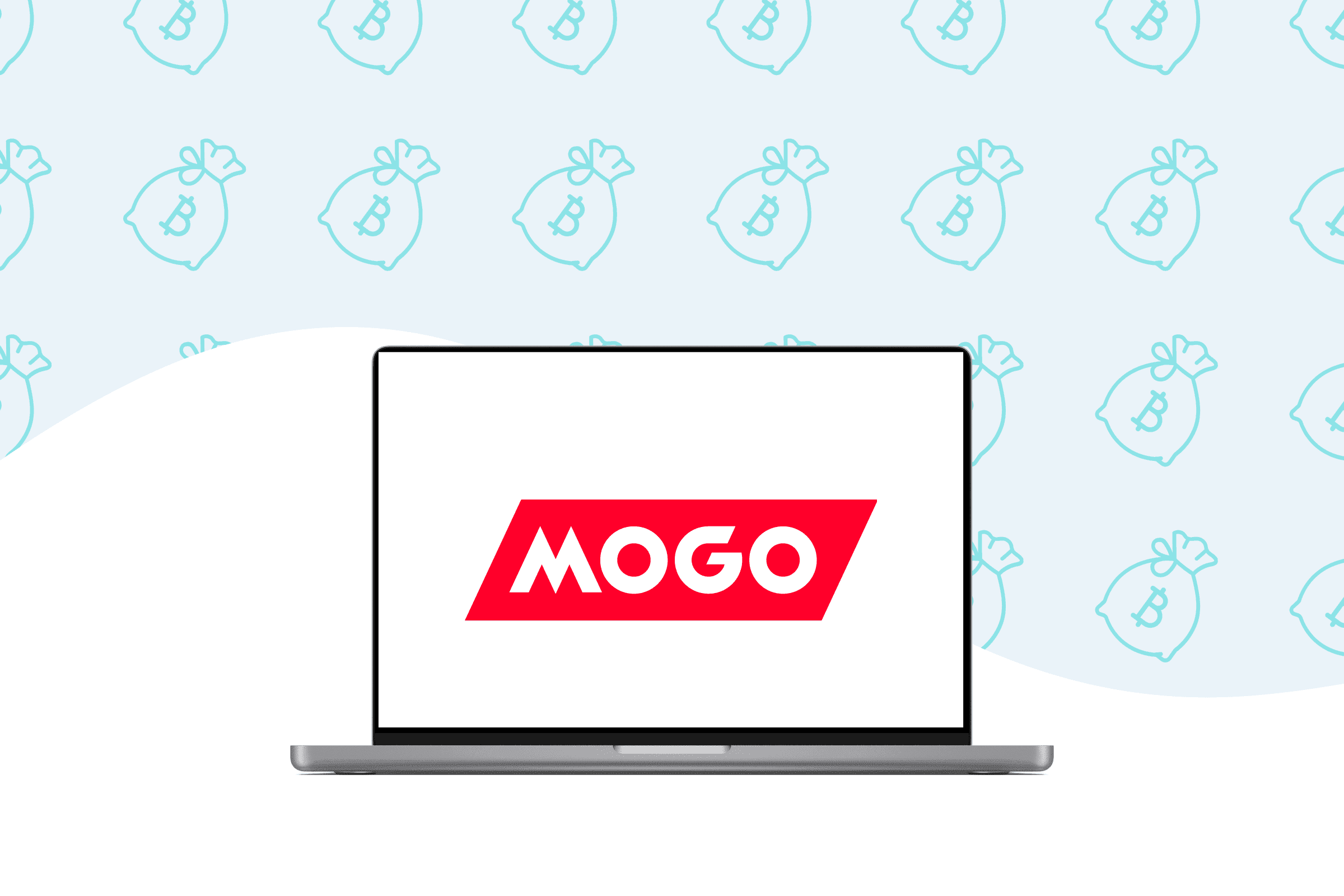 You may know Mogo for its prepaid card but the Canadian fintech offers various financial management tools and services. The company was founded in 2003 and has continued to expand their products to include everything from credit score monitoring to prepaid visa cards and, most recently, Bitcoin trading.
As digital currency trading has exploded in popularity, Mogo decided to jump on the bandwagon with Mogo Crypto, Canada's first climate-positive way to buy Bitcoin in Canada. They offer Canadians the opportunity for guilt-free Bitcoin trading, knowing that their investment isn't negatively impacting the environment or contributing to climate change.

Mogo has a user-friendly interface and mobile app allowing new traders to purchase and sell Bitcoin with ease. But it is limiting if you're a more experienced trader looking for a crypto exchange to build a diverse profile.
Mogo Crypto is technically a brokerage, not an actual exchange. They currently partner with Coinsquare as their cryptocurrency exchange. So, when you purchase Bitcoin from Mogo, you're actually purchasing currency that they bought from Coinsquare. This isn't necessarily a bad thing, it's just something to keep in mind when you're choosing a cryptocurrency platform to invest in as it can often mean more fees. Let's take a deeper look at Mogo Crypto to see if it's the right place for you to trade digital currencies.
How to open an account
To create an account on Mogo Crypto, you will first need to enter your email and choose a secure password. You'll then receive a prompt to verify your account via a link sent to your email. Once verified, you'll need to signup for your account using your full name, birthday and Canadian residential address.
You will then choose how you are planning to use the platform. This will help Mogo to personalize your dashboard. There are options including personal loan offers, free monthly credit score monitoring, free identity fraud protection, mortgage pre-approval, and buying and selling Bitcoin. From this menu alone, we can see that Mogo Crypto is much more than just a crypto exchange.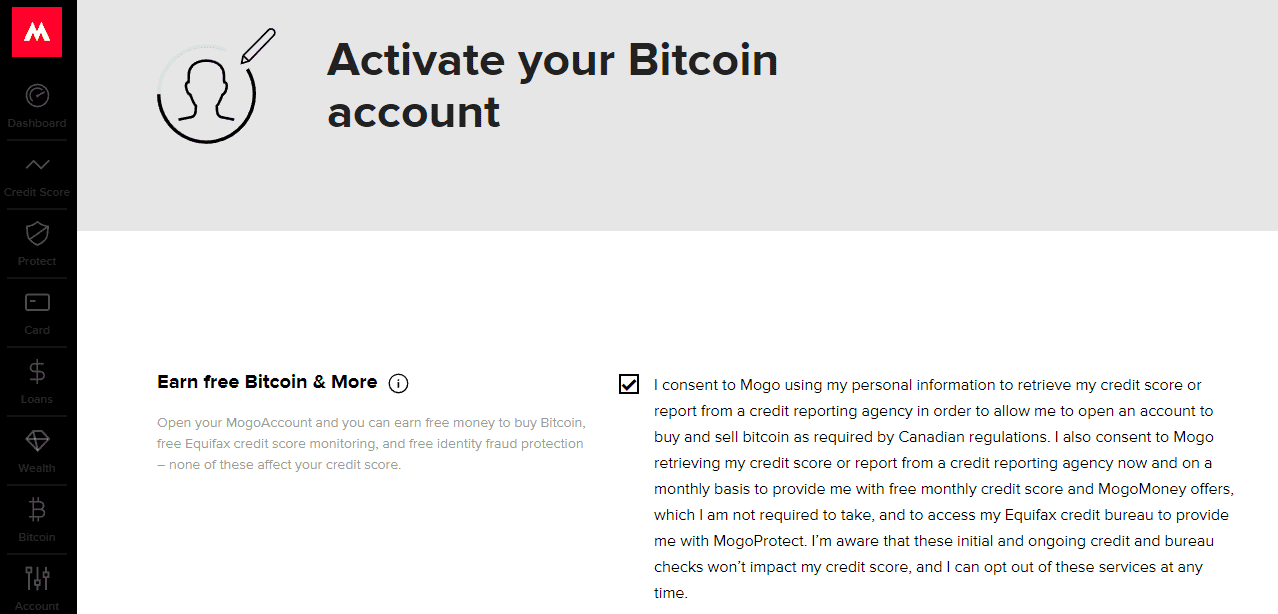 For the purpose of this review, I selected buying and selling Bitcoin, but you still need to consent to Mogo retrieving your credit score if you want to start trading on the platform.
You will need to have an up-to-date Equifax account in order to set up an account on Mogo. This is because you'll need to consent to Mogo accessing your credit score and credit report to get approved on the platform. You can't opt out or skip this step, but it won't impact your credit score negatively. Even if you have a bad credit score, you can still buy Bitcoin on the platform. Once your account is set up and active, you can then choose to opt out of the monthly credit monitoring. One thing to note is that Mogo Crypto does not currently support users from Quebec.
How to transfer money to your account
Before you can fund your Mogo cryptocurrency account, you will need to read through and agree to their terms & conditions. These terms include acknowledging that you cannot transfer any cryptocurrency out of Mogo Crypto, including to any other wallet or crypto exchange. They also mention that their current exchange partner is Coinsquare Ltd., which is the exchange they purchase all their Bitcoin from. And then they sell it to you. If you're comparing cryptocurrency platforms then this factor could be off putting.
Since Mogo targets beginner Canadian crypto traders, they also make it very clear that crypto prices are volatile and that they are not liable for any losses, just in case users are unsure how it works. Their terms and conditions are very thorough, and we definitely recommend reading through them in detail in order to fully understand how they operate.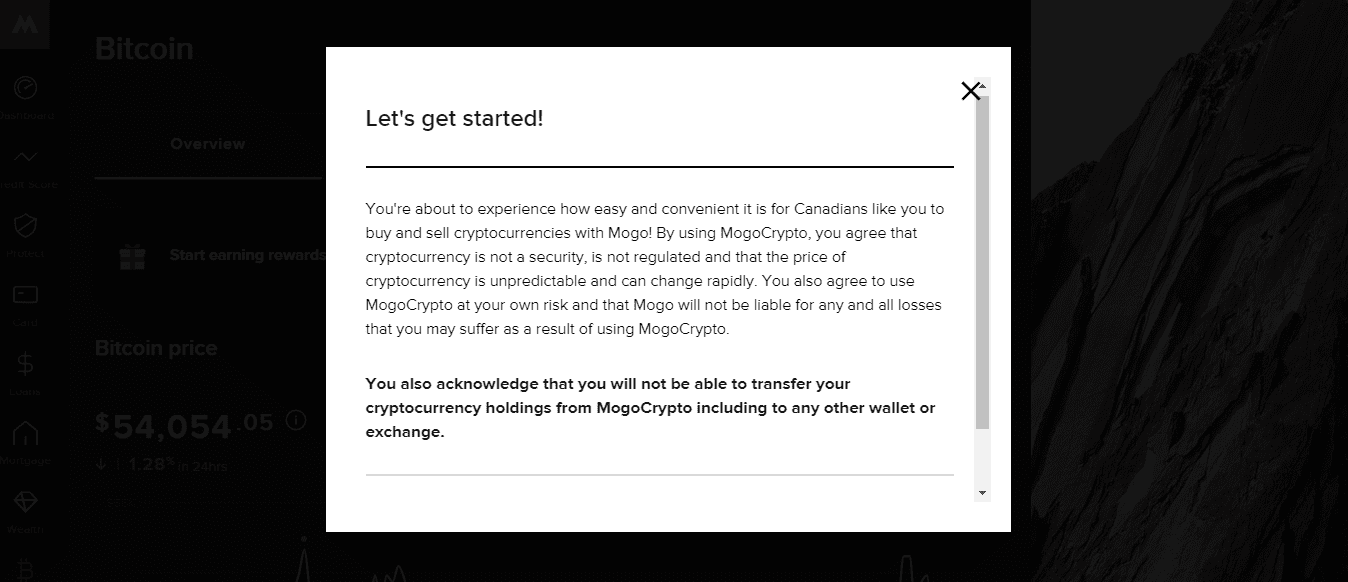 You cannot fund your account with any crypto. Mogo only allows you to fund your account using Interac e-Transfer or wire transfer. If you fund your account with at least $100, Mogo will give you $5 free.
If you e-transfer the money, it can take between thirty minutes to one business day to be processed. However, mine was in my account in minutes. For e-transfer deposits, the minimum amount is $10, and the maximum amount is $3,000 per 24-hours. If you want to fund with more, you will have to do a wire transfer. To withdraw money from your account, you can withdraw a maximum of $9,000 per single withdrawal and only $9,900 every 24-hours.

To take money out, you'll need to link your Canadian bank account, which can take a few days. Mogo needs to verify that the bank account is registered to your name before it will allow you to withdraw funds. Part of the verification process involves Mogo depositing two small transactions into your bank account within a timeframe of one to five business days. You'll then need to enter the values of the transfer into your Mogo account to complete the verification, and then you'll be able to withdraw your money.
How to make a trade
Once you fund your account with CAD, you can use it to purchase Bitcoin. Click on 'buy' and then choose the amount in CAD that you want to purchase. Mogo will then show you the current price of Bitcoin, along with how much Bitcoin you'll get with your chosen amount of CAD. It will also show you the fee you'll have to pay, which is 1%. Then click 'confirm .' You can then return to your holdings to see the current value of your Bitcoin, along with your total return, which is calculated based on the current average Bitcoin market price.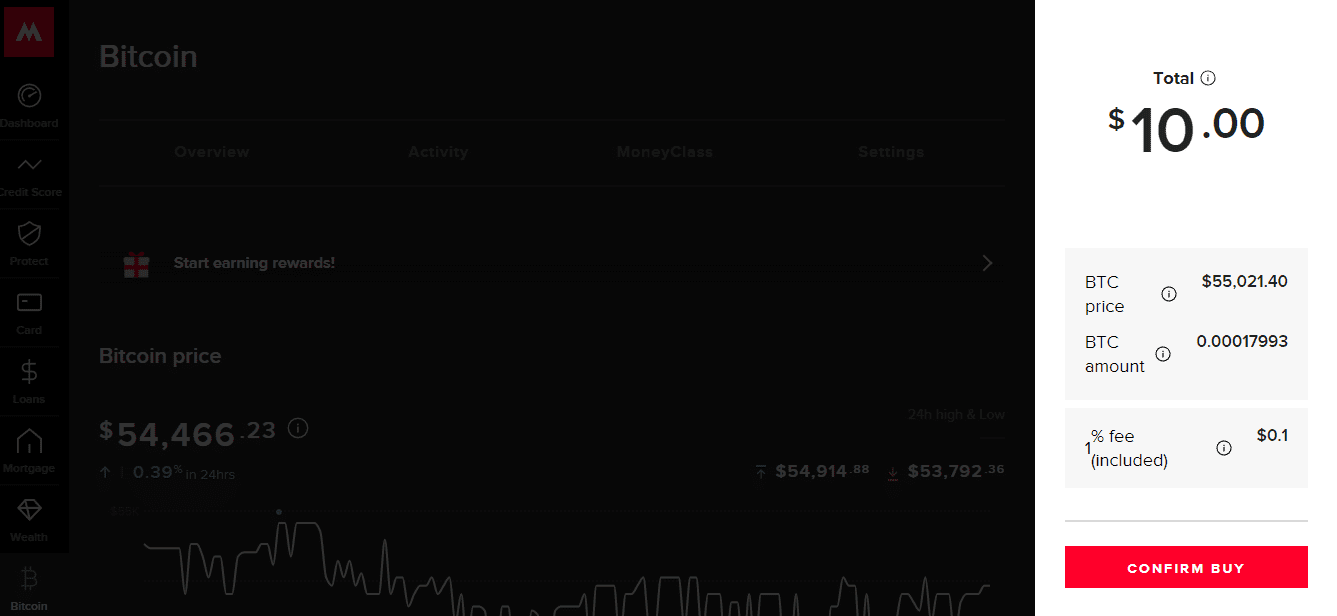 The only catch is that you won't actually be able to use your Bitcoin. You can only trade it back to cash. If you're just planning to invest in Bitcoin to make money, that may not be an issue for you. But if you're big into crypto trading or planning to send Bitcoin to friends or other exchanges, then you won't be able to do so.
There is no minimum investment amount, with a maximum of 1 million CAD. If you trade $10,000 or more in a single month, Mogo Crypto will give you 0.5% cashback as part of their rewards program. Rewards are always appreciated.
Something to note about Mogo is that it's more expensive to purchase Bitcoin through the platform than to buy bitcoin directly. Mogo purchases their Bitcoin through an external exchange platform, which means they have to pay any fees or mark-ups charged by them. On top of that, you have to account for the inevitable spread added by the exchange partner, which is usually between 1% and 2%. Mogo then passes those fees onto you in the form of a higher bitcoin price, plus you'll have to pay the 1% fee on top of that.
What are the crypto assets supported?
Mogo Crypto only supports Bitcoin, with no plans to add any other altcoins. As a platform, Mogo offers a variety of other financial services such as credit monitoring, mortgage and loan applications, identity fraud protection and a prepaid visa card. As digital currencies have become more popular, Mogo added Bitcoin trading to its list of services, making it an even more attractive financial platform and enabling them to profit from the trading fee.
One important thing to note is that you cannot withdraw bitcoin from your account. You can only purchase Bitcoin with CAD and withdraw it in the form of CAD. That is because Mogo doesn't operate with a traditional wallet and key system. You won't be able to transfer your crypto to a personal cold storage Bitcoin wallet, nor will you be able to send it to friends or other exchange platforms.
Since you can only trade Bitcoin on Mogo Crypto, it's better for beginner investors who are just looking to get their feet wet. It's a nice introduction to the world of digital currencies without all the bells and whistles of a more advanced exchange. Even if you know nothing about trading, you'll be able to easily buy Bitcoin on Mogo.
What are the fees?
Mogo charges a 1% fee when you buy and sell Bitcoin. On top of that, there is also a significant spread between the buy and sell prices that are applied by their exchange partner, Coinsquare. Mogo will display the trading fee before you make your purchase so you can see exactly how much it will cost you to complete your transaction. While a 1% fee is not ideal, other platforms, like Wealthsimple Crypto, charge up to 2% when making a trade. Still, it's a bit steep since there are exchanges that charge much less fees. There are no additional withdrawal fees or annual fees, though, when you trade with Mogo.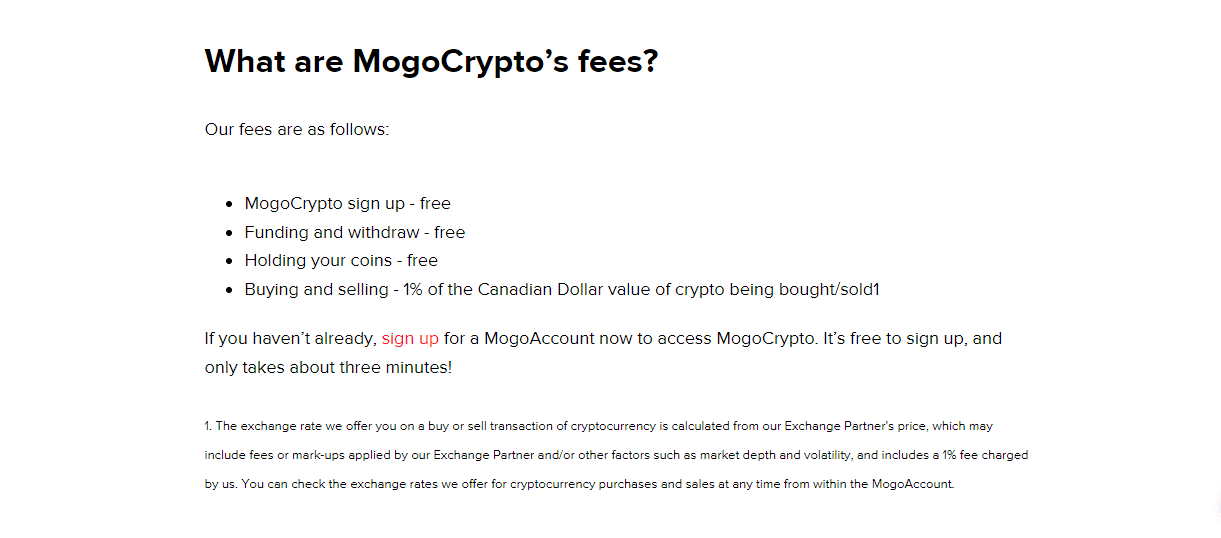 With fees so high, why would you want to trade with Mogo? One thing that sets Mogo apart from other cryptocurrency exchanges is its environmental focus. They are a carbon-negative platform, which can be very attractive to those worried about their carbon footprint. You can feel good about your Bitcoin investment, knowing that not only are you not contributing to climate change, but you're helping to fight it. They offer the most climate-positive way to purchase bitcoin in Canada, making them one of the best cryptocurrency platform in Canada for people wanting to trade ethically. 
When you refer a friend to Mogo, they will plant 8 trees, plus you'll both receive 1000 satoshis. Also, if you get a Mogo card, you can earn satoshis every time you make a purchase.
Is it safe?
Mogo is a legal company traded on both Nasdaq and the Toronto Stock Exchange, with an A+ rating on the Better Business Bureau. It is regulated by The Financial Transactions and Reports Analysis Centre of Canada (FINTRAC), Canada's financial intelligence unit, and registered as a Money Service Business in Canada. As per its website, Mogo uses the latest Transport Layer Security (TLS) protocols to protect all its customer's information.
Mogo Crypto stores 95% of all Bitcoin assets offline in a Coinsquare cold storage wallet. Coinsquare is the cryptocurrency exchange that Mogo purchases their crypto from, and they have a very safe and effective security system. They also protect your account with encrypted data, passwords and a verification process to ensure your assets are kept secure. That said, as with all crypto assets, it's important to remember that the market is volatile, meaning your money can go up and down very quickly.
Pros of Mogo Crypto
Referral bonus of $5 whenever a friend or family member signs up for Mogo, plus 1000 satoshis
Easy for beginner traders
95% of your assets are held offline in cold storage lockers
Other financial services like credit monitoring and identity fraud protection
With the Mogo card, you can plant trees and earn free satoshis every time you make a purchase
One of the only climate-positive ways to buy Bitcoin in the world
Cons of Mogo Crypto
You can't transfer Bitcoin from your Mogo wallet to your personal cold storage wallet
Doesn't support crypto deposits
The only digital currency available is Bitcoin
You can't set up an account without consenting to credit score monitoring, although you can cancel it once your account is active
1% fee on all trades
Not available in Quebec
Trading on Mogo Crypto
If you're new to cryptocurrency trading and looking for a simple way to invest in Bitcoin, then Mogo Crypto might be a good option for you. Although their fees are high, if you're planning on investing a large sum, you'll get cash rewards, which make the fee worth it. Additionally, since Mogo is a carbon-negative exchange, you can feel better about your investment knowing that you're having a positive impact on the environment.
If you decide to use Mogo, I would definitely recommend getting the Mogo Card, their reloadable prepaid visa. Not only can it help you build good credit, but you'll also earn satoshis each time you spend. I wouldn't recommend Mogo to crypto enthusiasts or anyone planning on building a diverse profile of digital currencies. You can't deposit or send crypto, you can't transfer to your personal cold storage wallet, and your only option is Bitcoin. Since you have to pay a 1% fee on every trade, Mogo is better for those making large, lump-sum deposits.