Netcoins Crypto Exchange Review: Is It One of Canada's Best Options?
Obtaining financial freedom seems like a pipedream to most people, but that isn't the case when it comes to cryptocurrency investors. Time and time again we've seen individuals strike it big on the crypto market, and it feels as if more Canadians are trying to get in on the action. Canada is a bit more lenient when compared to other places in regards to crypto trading, as we can do so without the worry of conducting illegal activity around these parts.
Netcoins is a simple and user-focused cryptocurrency exchange platform that makes investing in the most popular options on the market a breeze. When you compare it to other Canadian cryptocurrency exchanges, you'll see it for yourself. This article is going to break down how Canadians can use Netcoins to invest in crypto themselves, as well as what you can expect throughout your Netcoins experience.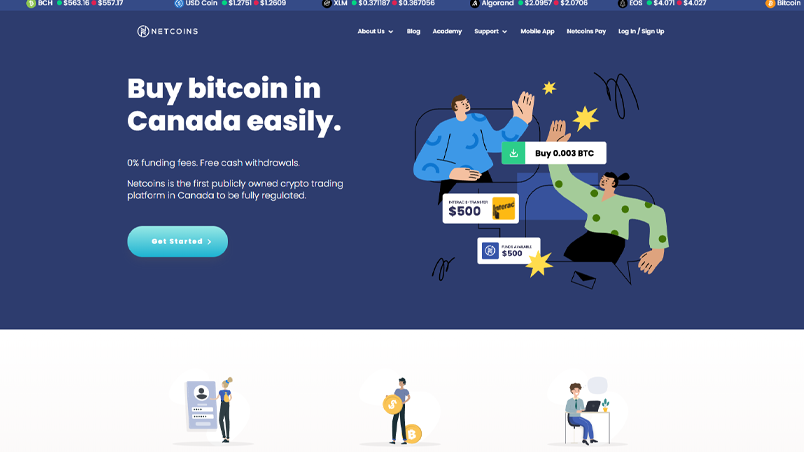 The first step to financial freedom?
The first step to making your very first crypto investment starts with finding a reliable exchange to work with. I have plenty of experience with using other exchanges in the past, but the Canadian focus that comes along with Netcoins piqued my interest. Hopefully, this article will paint a perfect picture and make your first cryptocurrency investment journey a straightforward one. Let's get into it, shall we?
What is the Netcoins Crypto Exchange all about?
Netcoins is a cryptocurrency exchange platform that allows Canadians to invest in decentralized currency, also known as crypto. Blockchain technology is the base for all crypto projects, which is a massive decentralized ledger that records every financial transaction that takes place. Netcoins is a Canadian-based cryptocurrency exchange that launched in 2014. It uses CAD, giving Canadian users a much better price to spread than they would find on other USD-based platforms. However, it still offers a USD balance for those who want it. 
Publicly traded under the name BIGG Digital Assets (BIGG: CSNX), this is one of the most transparent crypto exchanges you'll find in Canada. With 24/7 access to your accounts and trading, Netcoins is the perfect option for any Canadian interested in the cryptocurrency space. It is also registered with the Finanacial Transaction and Reports Analysis Centre of Canada (FINTRAC) as money service business (MSB).
Netcoins began their crypto endeavours by offering a "virtual Bitcoin ATM" globally in over 200,000 stores, as well as connecting with large crypto investors to offer private brokerage services. As the crypto industry grew over time, so did Netcoins. It eventually evolved into the simplified exchange platform we see today!
Bitcoin and Ethereum are two of the more popular cryptocurrencies to consider investing in. However, Netcoins expands their reach even further than that by offering additional tokens/projects to invest in. We'll cover that more a little later on in the article, but for now, let's get started on opening our Netcoins account. 
Opening my Netcoins account for the first time
Signing up for Netcoins is easy. Even a first-time trader can do it with ease. All you need to do is have a proper email, mobile phone number, and access to the documents required for verification.
Signing up for an account
Starting on Netcoins is easy and offers the same process that you would find with almost any membership-based website but with a few extra steps. If you're looking to get started right away, the streamlined verification process is something you'll love.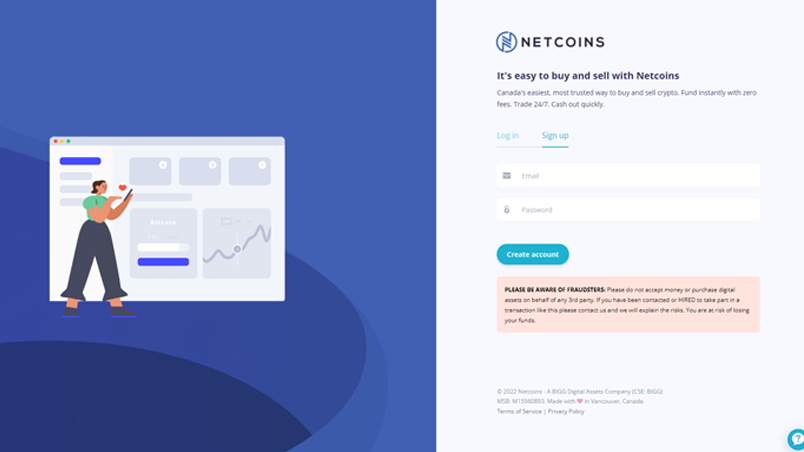 Step 1. Sign up to Netcoins by using your email and creating a password
Step 2. Check your email for a verification link
Step 3. Go through the automated verification process (including mobile number verification)
Step 4. Voila! You can now purchase or trade 11 of the top cryptocurrency assets 24/7!
The verification process: what do I need?
They require you to go through a survey and verification process before you can begin trading but the good news is that it's automated and usually only takes a few minutes. You'll have to have some personal documents ready to upload if you want things to go smoothly, all of which would include:
Personal Identification
Proof of address
A selfie of your face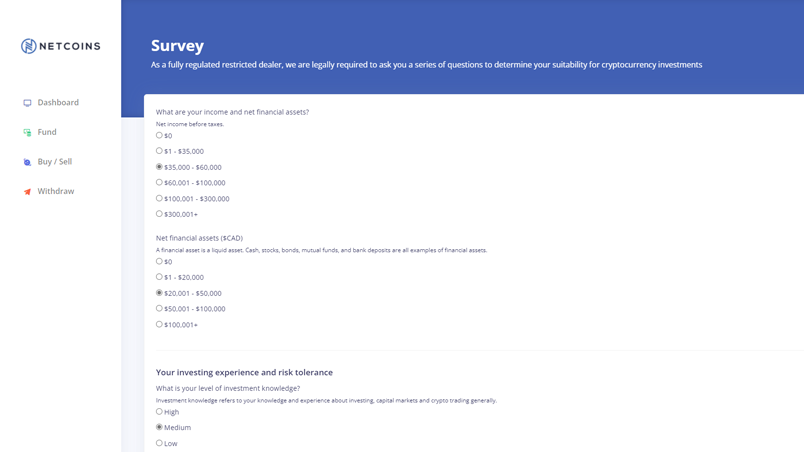 I used my Canadian driver's license and a credit card statement from my bank. I downloaded the statement from my online banking website. and simply took a picture of my driver's license, front and back, using my phone.
You can start the verification process on your computer and transfer it over to your mobile device for the selfie section. That is what I did. They even give you a QR code to scan which takes you directly to the verification page. Extra points to whoever designed the experience; the process picks up where you left off.
Netcoins follows the AML (Anti-Money Laundering) and Canadian Know Your Customer (KYC) requirements to verify accounts. If you've entered all of your information correctly, it should only take 10 minutes or so before you get the go-ahead. You cannot make any trades or even fund your account without going through the verification process first.
Transferring or depositing money on Netcoins
Depositing and withdrawing CAD on Netcoins is not only a simple process but a quick one as well. You are required to go through verification so that you can fund your trades using almost any Canadian bank account. This ensures that the name on the account matches your verification documents.
Withdrawing or depositing money
There are two options when it comes to depositing funds on Netcoins, giving users more flexibility when it comes to crypto investments. You can fund with crypto and send any of the 11 supported assets to your Netcoin wallet or account. Alternatively, you can also fund your account using CAD or USD. You can do so with three different options and come with different timeframes.
For those of you wondering, the three different options are:
Interac eTransfer (Instant – No Fees)
Wire transfer (0-3 Business Days – No Fees)
Online bill payments (1-2 Business Days – No Fees)
You can use the same process for both withdrawing and depositing money, but when it comes to withdrawing to your bank account, they will make the payment by eTransfer only. You can also alternatively cash-out by purchasing or withdrawing one of the available cryptos to a personal wallet!
Crypto withdrawal fees
When you choose to withdraw via crypto you'll need to understand the fee system beforehand. All other forms of withdrawal or deposit are free, but when I used crypto to take my money out I noticed Netcoins implements a small fee. You can withdraw using any of the support cryptocurrencies offered on Netcoins, as long as you have an account balance that can also cover the fee. The withdrawal fees for crypto are:
BTC – 0.00025 BTC
ETH – 0.005 ETH
USDC – 40 USDC
XRP – Free
LTC – 0.02 LTC
BCH – 0.001 BCH
XLM – 1 XLM
ALGO – 1 ALGO
EOS – 1 EOS
AVAX – 0.1 AVAX
ETC – 0.1 ETC
The trading process: how it works
Trading is very easy to do on Netcoins, and the best part about it is that they only charge 0.5% for every transaction. There aren't any fees associated with depositing or withdrawing funds. So how does Netcoins make money? That is something to ponder.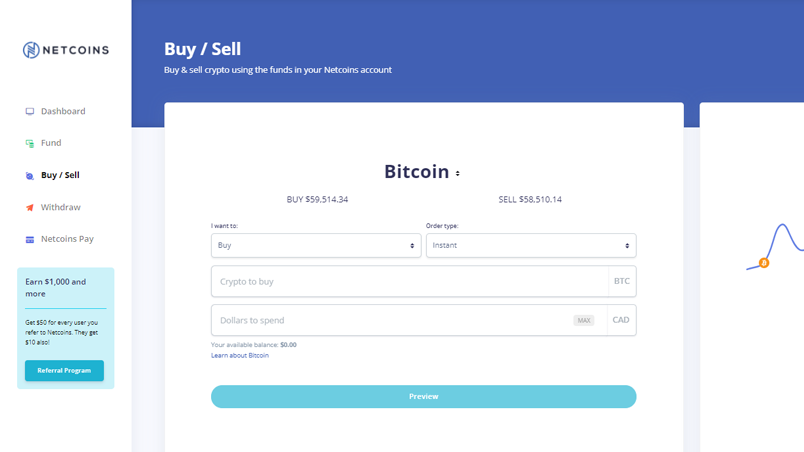 When you compare the 0.5% fee to the likes of Crypto.com, which currently offers a 3.5% fee on every purchase, Netcoins is one of the most affordable crypto exchange platforms in the Canadian market!
I invested a total of $100 in Bitcoin (BTC) and funded my account through eTransfer deposit. The money appeared almost automatically, and it allowed me to put in my first buy order on Netcoins. You can set a Limit Order or an Instant, which will purchase the crypto at market value. Limit Orders are used to set a price point you want to purchase it at, and they'll only trigger once that point has been reached.
Since there is a fee of 0.5% associated with every purchase, I was only able to purchase $99.50, as opposed to $100 worth of BTC. I placed an Instant order and purchased it at market value, and the order went through right away. My BTC balance on Netcoins was updated immediately after the trade was completed and was easily found in my Dashboard section!
What crypto assets can be sold or bought on Netcoins?
Netcoins offers up a total of 11 different cryptocurrency assets to choose from. It may seem like a small amount to some, and that's true for the most part. It's perfect for a novice like me because most people don't know where to start in the world of crypto, but not so ideal for a seasoned investor. The 11 assets currently offered on Netcoins would be:
BTC (Bitcoin)
ETH (Ethereum)
XRP (Ripple)
LTC (Litecoin)
USDC (USD Coin)
BCH (Bitcoin Cash)
ALGO (Algorand)
XLM (Stellar)
EOS (EOS)
AVAX (Avalanche)
ETC (Ethereum Classic)
Are they a legitimate crypto exchange for Canadians?
The Netcoins exchange is as transparent and legit as any Canadian crypto exchange could hope to be. They are registered with FINTRAC as a MSB, which is something a shady platform would not do. BIGG Digital Assets is the parent company for Netcoins. It is publicly traded on the Canadian Securities Exchange (CSE), OTC Markets, and has a Wertpapierkennnummer (WKN), which is a German securities identification code.
Although they are not officially accredited by the Better Business Bureau (BBB), Netcoins still maintains an A+ on their online platform. Trustpilot scores are also outstanding. Netcoins currently sit at 4.6 out of 5 with over 100 reviews at the time that this article was written.
Worried about the risks of crypto investing?
Cryptocurrencies are not protected by the Canadian Investor Protection Fund (CIPF), which makes finding a reliable exchange platform critical. You could always choose to invest in the likes of a Bitcoin or Ethereum exchange-traded fund (ETF) instead so that you receive protection, but you would not be exposed directly to the asset itself, and that could impact your profit potential. Don't forget that ETFs still come with fees.
Netcoins uses both BitRank and QLUE to keep the security of their platform optimized and ready to go at all times. I was making trades without a care in the world for the most part, and that's because I read into the background of Netcoins quite a bit before signing up. All in all, Netcoins is 100% transparent and one of the few legitimate cryptocurrency exchanges available to Canadians.
Pros & Cons of Netcoins
Like any cryptocurrency exchange platform, Netcoins has its followers and detractors. My impressions after experimenting with Netcoins are quite positive. The pros and cons are as follows:
Pros
Very easy to use and user-friendly
Verification is automated and takes very little time
Free deposits and withdrawals when using fiat
An average trading fee of 0.5%
Price alerts/movement notifications
Customer support is available through live chat, phone, and email
Can use both USD and CAD to fund your account
Netcoins Pay card is a sweet deal!
Publicly traded and transparent
Cons
A limited number of potential cryptocurrencies to invest in; only 11 are available
No advanced charts or trading tools other than limit orders with no book
No mobile app so you can't trade or check your investments on the go
Is Netcoins is a must for novice investors?
When you aren't sure which crypto to put your money into, or even how some of the more advanced exchanges operate, Netcoins starts to look like the perfect choice. They keep things simple by offering users a straightforward layout with only a few assets available to be purchased. There's no need to read through dozens of articles and Tweets trying to figure out what the next big thing is because you can just focus on solid projects that already have a foundation.
Does it have all of the crypto assets a novice needs?
You can also just invest in the likes of stablecoins like USDC, and stake them for better interest rates (APY) than you would find at your local bank! The world of crypto is big enough as it is, and there are many ways to take advantage of decentralized finance. Of course, you can only do so once you've purchased some assets from a reliable source.
Getting started in the crypto community is tough when nobody is around to help you out. With a simple interface and the most popular assets available for purchase, Netcoins is the all-in-one solution most individuals need. If any Canadians are reading this and have been thinking about investing in crypto, I strongly suggest checking out Netcoins and opening an account today. 
FAQs about Netcoins
Is Bitcoin a solid investment for 2022?
There's no telling where Bitcoin is going to go for sure, but the average consensus is that it's only going to increase in price over time. Cryptocurrencies are much more volatile when compared to traditional stocks, but Bitcoin is the most popular one and also the most valuable.
Where can I buy Bitcoin in Canada?
Netcoins is the perfect solution for anyone located in Canada that is trying to purchase Bitcoin for the first time. Even if you're someone who has experience with investing in crypto, the minimal fees and use of CAD is still going to make this one of the more viable platforms around. The regulation of crypto is going to vary from country to country, and while Canada is more accepting than most, Canadian-based exchanges can be hard to find.
Does Netcoins offer a referral program?
They do and it earns you $50 worth of crypto after they've signed up using your link and traded a total of $100 in crypto. There are no set limits to how many people you can refer with your link, and it can be quite lucrative if you introduce all of your friends and family that way. Your friends will also receive a free $10 bonus for the trouble!