Avion Vs. Aeroplan: The Ultimate Comparison
Regarding travel programs, there aren't many available exclusively to Canadians. Aeroplan is undoubtedly the most well-known, but another minor travel rewards program available to RBC customers, the Avion Rewards Program, has earning rates and reward potential that closely resembles Aeroplan.
So, is one better than the other for Canadians, and which of these two programs best matches your travel habits? To find out the answer, we pitted Avion vs. Aeroplan to bring you the ultimate comparison.
Avion Vs. Aeroplan: A Brief Rundown
Avion and Aeroplan are two reward programs available to Canadians. They are structurally similar in how points are earned and redeemed, but they have some key differences. The table below provides an easy visual comparison:
Aeroplan
Avion
Operator
Air Canada
Royal Bank of Canada
Earning Method
Points are earned with an Aeroplan membership at participating retailers or by shopping with an Aeroplan-affiliated credit card offered through CIBC, TD, or with an Aeroplan American Express card. Points can also be purchased.
Points are earned with purchases made with an RBC Avion Visa card, only. Bonuses worth thousands of points are awarded to new cardholders who meet spending requirements.
Number of Partners
Over 200
Very few retail partners
Point Value
Between 1.5 – 1.9 cents
Between 0.94 – 2.14 cents
Rewards
Travel, merchandise, and gift cards.
Travel, merchandise, gift cards, banking and bill payments.
Do Points Expire?
Yes
No
Best credit cards
American Express Aeroplan Card
American Express Aeroplan Reserve Card
TD Aeroplan Visa Infinite Card
RBC Avion Visa Infinite Card

Avion Overview
The Avion Rewards Program is a loyalty program owned and operated by the Royal Bank of Canada. It's offered exclusively to RBC Visa Avion cardholders. Avion points don't expire and are earned through credit card purchases at varying rates and can be redeemed for rewards like flights, vacation packages, car rentals, hotels, merchandise, and gift cards. Members can also use the Pay with Points feature to pay for flights and other travel-related expenses, including taxes and fees, or transfer to other loyalty programs.
How To Earn Avion Points
Qualifying purchases earn Avion points, awarded at a rate of 1 point per dollar spent. Additionally, RBC frequently holds promotional periods where collectors can earn points at a higher rate by shopping at select retailers, and RBC's collection of ION Visa cards earns higher rates on purchases like gas, groceries and transportation such as rideshares and transit.
The RBC Avion Visa Infinite card is currently promoting a welcome offer of up to 35,000 bonus Avion points, enough to take a trip in North America or the Caribbean. If you're unsure about the program, you could always sign up for a free credit card like the RBC ION Visa for the welcome offer, then discontinue the card after the promotional period is over, a process known as credit card churning.
[Offer productType="CreditCard" api_id="5f354f1692ec22115033b30a" id="170734″]
Avion Point Redemption
When it comes to redeeming your Avion points, there are a few different options. Redeeming your points for flights through the Avion Reward Travel Center will yield the greatest return on spending, with points valued between 0.92 – 2.14 cents per point. Through the Avion Reward Travel Center, points can be used for any seat on any flight at any time.
To get an idea of how far Avion points can take you, take a look at their reward redemption chart: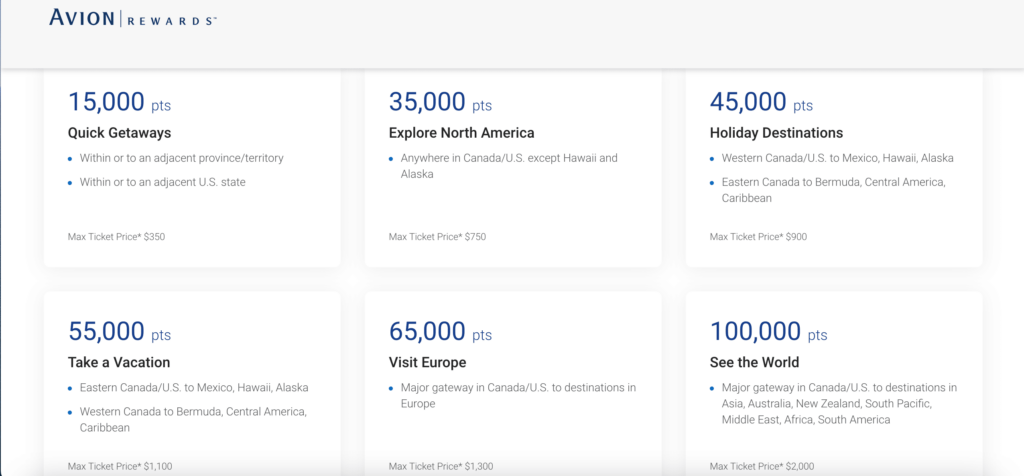 Points cover a maximum ticket price per region. For example, 45,000 points awarded to 'holiday destinations' within North and Central America and the Caribbean cover the cost of a ticket up to $900, excluding taxes and fees. Additional charges can be paid with a credit card, or Avion members can use the 'Pay with Points' option at a rate of 100 points for $1 CAD.
Tickets are sometimes far cheaper than the maximum ticket price allotted, reducing the value of Avion points. In that case, it might be better to pay for the ticket with points or transfer your points to another program, such as West Jet Rewards, where points are valued at 100 for 1 West Jet Dollar.
Avion points can also be transferred to select Oneworld carriers, specifically American Airlines AAdvantage Program, British Airways Avios Program, or Cathay Pacific Airlines Reward Program. The exchange rate for British Airways and Cathay Pacific Airlines is 1:1, and the ratio for Avion to American Airlines is 10:7.
In addition to travel rewards, Avion points can be used to invest with RBC, pay a portion of your credit card statement or pay other bills and purchase merchandise or gift cards.
Aeroplan Overview
Aeroplan is Air Canada's reward program. It is owned by the airline and is free for anyone to join, although the program has a partnership with both TD and CIBC, and there are a number of Aeroplan credit cards available through either financial institution.
Points are awarded at varying rates depending on how you collect them. In addition to credit card purchases, members can earn points by flying with Air Canada or a partner airline and by shopping at any of Aeroplan's 200+ retail partners. Aeroplan points can be used for travel rewards and purchases like car rentals and hotel rooms or to shop in the Aeroplan eStore. Points will automatically expire after 18 months of account inactivity.
Aeroplan Elite Status
Unlike Avion, there are two tiers to the Aeroplan program. Aeroplan members who meet certain spending and travel criteria can earn Aeroplan Elite Status. With Elite Status, members can relax before their flight in Air Canada's Maple Leaf Lounge and enjoy free checked bags, preferred rates on airfare, instant upgrades, credits to use in-flight, and more.

You can earn Status Qualifying Miles (SQM) and Status Qualifying Segments (SQS) on Air Canada flights, Star Alliance network flights, and other partner airlines. Air Canada flights achieve a percentage of SQMs based on the distance flown.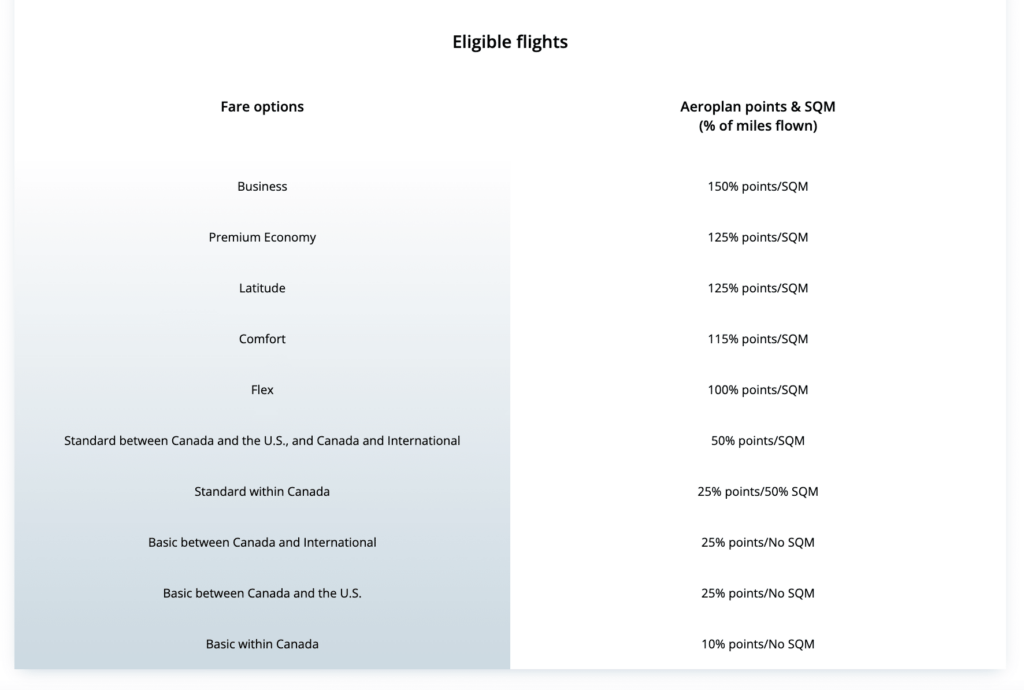 You can also reach Aeroplan Elite Status by earning 100,000 Everyday Status Qualifying Dollars (SQD) on qualifying purchases like Uber Eats.
How To Earn Aeroplan Points
Members can earn Aeroplan points on Air Canada flights, travel expenses like in-flight food or drinks, and duty-free purchases. Members can also earn points by presenting their membership cards at select retailers, but the best way to earn the highest number of points per transaction is with an Aeroplan-affiliated credit card. Earning rates depend on the card you have.
In addition to earning miles on your own, groups of up to 10 family members or friends can earn points faster by pooling their points into one collective Aeroplan Family Sharing Account.
[Offer productType="CreditCard" api_id="631783e23fb86e5793a23a43″ id="201507″]
Aeroplan Point Redemption
Aeroplan's point redemption schedule isn't as straightforward as Avion's, and a few factors affect the value of an Aeroplan point. First, the number of points needed for a flight depends on whether you fly with Air Canada or any of its partner airlines. Here is Aeroplan's flight redemption schedule for travel within North America only: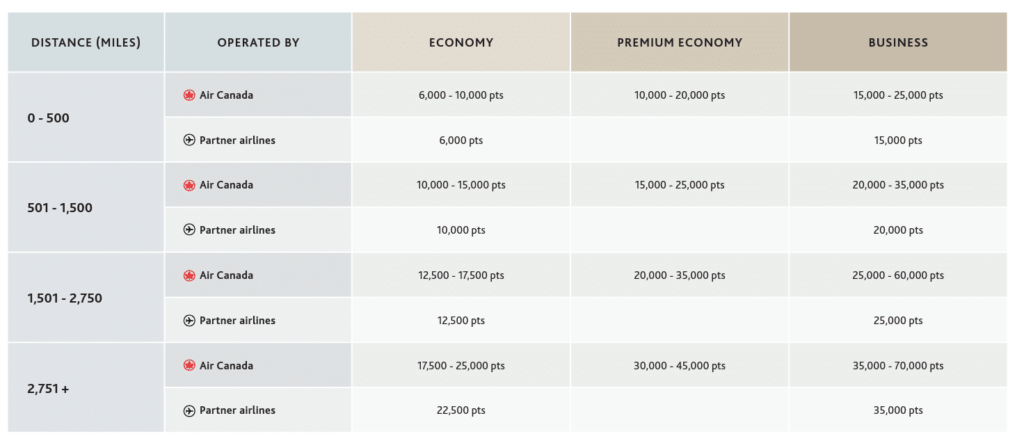 That's because Air Canada operates on a dynamic pricing system, which can sometimes make points less valuable. Flights to popular destinations during peak travel times will cost more points if you travel with Air Canada than if you travel with a partner airline.
If you want to save your points, you can simply book with a partner airline instead of with Air Canada, but remember that you can also earn points back when your purchase Air Canada flights. Savvy collectors can pay for a portion of the ticket with points and make up the difference with an Aeroplan credit card, essentially reducing the number of points needed to buy a ticket at peak times.
This method doesn't always work, and it requires a bit of research and calculation to get right, but when done correctly, it's a great way to use travel credit cards to your advantage.
A second factor in Aeroplan's redemption schedule is the distance flown. Essentially, Aeroplan has divided the world into 4 travel zones: North America, South America, Atlantic (which comprises Europe, Africa, the Middle East, and South Asia) and Pacific (comprising Asia, the Pacific Islands, Australia and New Zealand). These zones are further divided into distance bands. You can see Aeroplan's entire 13-page reward chart here.
The total number of points needed for a flight depends on the distance flown, not the distance between your departure and destination. That means that if your flight path deviates or if there's a stopover that adds a bunch of extra miles to your trip, you have to pay for those too.
Again, this can work to your advantage if you want to maximize the number of points in your account. Remember those Status Qualifying Miles, the ones that get you Elite Status, which comes with a bunch of extra perks? Longer flight paths are a good way to reach the Elite level faster, as long as the extra distance isn't enough to bump you up to the next pricing level. Plus, a longer layover or stopover in a city like Singapore can be like a mini vacation within a vacation.
The final factor to consider is seat class. With Aeroplan points, every seat on an Air Canada flight is up for grabs, but better seats will obviously cost you more points.
Avion vs. Aeroplan: How They Compare
So now that we understand how both programs work, how do they stack up against each other? Let's take a look at 4 criteria: point value, eligibility, simplicity, and flexibility.
Point Value
Winner: Aeroplan
Point value is one of the most important factors to consider in a travel reward program. The value of both point systems can fluctuate but for different reasons. Aeroplan follows a dynamic pricing schedule, so the value of its points varies depending on the factors we covered earlier (peak travel times, distance travelled, operator and seat class). Its average value is placed between 0.5 and 2.5 cents. Aeroplan members and Aeroplan-affiliated credit card holders will also benefit from preferred pricing with Air Canada.
Avion's redemption schedule doesn't change the way Aeroplan does. A quick getaway for 15,000 points will always cost 15,000 points, regardless of what airline you fly with, when you travel or what seat you sit in. However, the ticket cost is capped at $350, and if a seat costs less than that, you still have to cash in 15,000 to get it. While this can theoretically bring Avion's point value as high as 2.14 cents, this doesn't happen often, and the average return is around 1 cent. Also, points redeemed for the cost of travel purchases and exchanged for West Jet Dollars are at a rate of 100 points for $1 CAD or 1 West Jet Dollar.
For some travellers, the monetary value of a point system is all that matters. Other travellers value convenience and travel opportunities equally with monetary worth, which brings us to the next point.
Flexibility
Winner: Aeroplan
This one was a close tie, but the sheer size of Aeroplan's partner network outdoes Avion's point transfer agreements with Oneworld's British Airways, Cathay Pacific and American Airlines.
Both programs are fairly flexible. Aeroplan points can be used for flights on 45 airlines, including big names like Emirates, United, and Alaska Airlines. Plus, Aeroplan lets members pay for flights with a combination of points and cash and use points like cash to pay for travel expenses like hotels, seat upgrades and stopovers.
Avion points can be transferred to 5 other reward programs, including Hudson Bay Rewards, and can be used for merchandise, gift cards and bill payments and investments, but since we're comparing travel programs, we're going to give the point to Aeroplan for having more airlines at their disposal. However, if you primarily travel within Canada and the United States, the intricacies of Aeroplan's complicated program might not be worth figuring out.
Simplicity
Winner: Avion
Avion is the clear winner in this category. Navigating Air Canada's dynamic pricing model can be challenging, especially when factoring in the Elite Status requirements and finding the most efficient routing options to maximize rewards. This may be overwhelming for some individuals who just want a simple, straightforward reward program for yearly trips and are not interested in credit card hacking.
Eligibility
Winner: Aeroplan
To join the Avion Program, you must be an RBC account holder. The program is only available to RBC Avion or ION Visa cardholders. In contrast, anyone can join the Aeroplan program. While several Aeroplan credit cards are available, members can also collect points simply by shopping at retail partners and buying Air Canada travel products.
Earning Potential
Winner: Aeroplan
Again, the sheer size of Aeroplan's network is enough to tip the scales in their favour. Avion's small network of retail partners (which, to be fair, includes big names like Rexall and Petro-Can) just can't compete with Aeroplan's growing network of over 200+ stores, restaurants and services that earn you Aeroplan points just for shopping. Additionally, an Avion membership will only get you discounts and cashback from their partners, not more points.
Aeroplan's partnership with major financial institutions has resulted in an impressive lineup of Aeroplan credit cards that, in some cases, offer up to 5x the points for qualifying purchases, and you can earn even more rewards by paying for Air Canada flights and products with an Aeroplan credit card.
The Bottom Line
Aeroplan comes out on top regarding earning potential, eligibility, and the possibility to travel further for less. However, if you want a simple travel rewards program with enough earning potential to cover a quick getaway every year or somewhere a little further for special occasions, Avion is still a good choice for Canadians.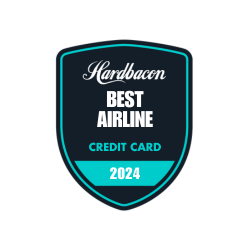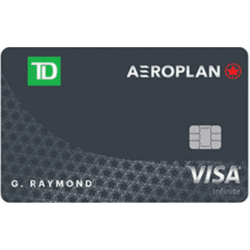 TD® Aeroplan® Visa Infinite* Card
22.99% (20.99% for Quebec residents)
Special offer: Earn up to $1,400 in value† including up to 50,000 Aeroplan points† and no Annual Fee for the first year†. Conditions Apply. Account must be approved by January 3, 2024.
†Terms and conditions apply;
The Toronto-Dominion Bank (TD) is not responsible for the contents of this site including any editorials or reviews that may appear on this site;
For complete and current information on any TD product, please click the Apply now button.