How to Get a US Credit Card in Canada
A growing number of people are looking for ways to get a US credit card in Canada because of the unique benefits they offer. They typically have better sign-up bonuses and can help you build a US credit history. With over 79 million credit cards circulating in the Great White North, Canucks love their plastic.
But we also love all the cool stuff America has that we don't – like summer in December, Target, and Disneyland. Lucky for us, it is possible to get a US credit card in Canada. In this article, we'll explain exactly how to get a US credit card in Canada and why it makes sense to get one.
How to get a US credit card in Canada: A 5-Step Guide
Let's now talk about how to get a US credit card in Canada without leaving the Great White North to get it. It might not be as simple as ordering a Tim's Doubl-Double, but it's not as hard as think. You will need to take care of several steps to ensure your card gets approved and reaches you safe and sound. Let's take a look.
1: Get a US address
This might sound a little intimidating but don't worry, you don't have to move to the US to get a US address. You can get one online thanks to providers who offer American residential addresses for a fee. Here are a few things to remember:
The address must be residential as banks do not approve commercial addresses or P.O. box numbers
The service provider must allow bank correspondence
Got any American friends or family?
Fortunately, the address doesn't have to be under your name. If you have any friends or family who live in the US, you can ask them for help. If they agree, you can sign up using their address and ask them to send any mail with your name on it to your Canadian address.
You may also choose to pick the mail up yourself if you visit the frequently US. Even better, you can ask that the documents be scanned and sent to you. But it requires you to trust that person with your personal financial information.
Consider a mail forwarding service
If you don't have any American friends or family to count on, then you will have to find a service provider that offers US addresses to get a credit card. There are several mailbox or mail forwarding services that come with a US address. Most companies only charge for delivery and offer addresses for free.
Have a look at some of the best package forwarding services and pick one that fits your requirements. Some of the top names include In Out Parcel and Shipito. Both companies offer US addresses with additional services such as discounted delivery, scan and mail, and insurance.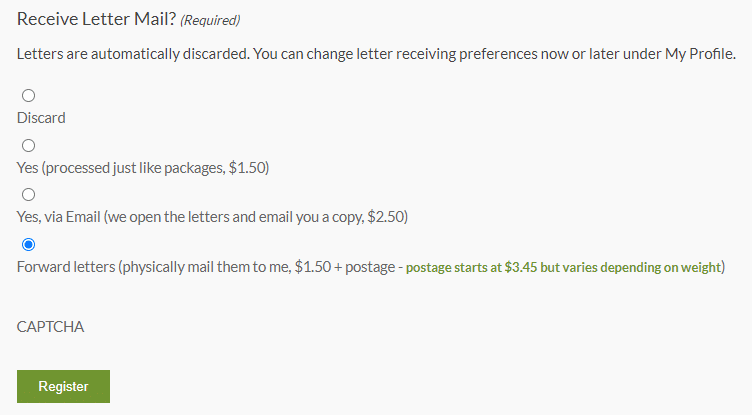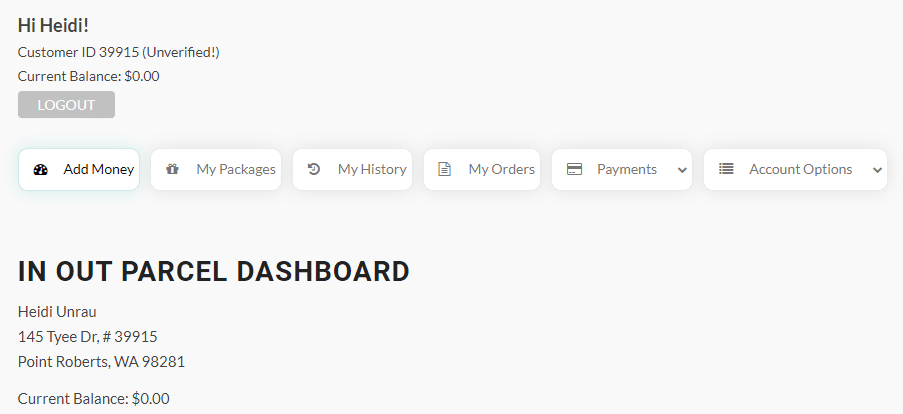 What you can use it for
You can use this address not only to receive bank correspondence but other parcels as well. You may have to pay a registration fee based on your plan. Compare different options and pick what fits you the best.
Be aware of the fees
Most companies charge an annual fee as well, which is in the range of $70 and $120. Make sure to verify there are no additional charges for using the address to receive bank letters. Also, ensure the address can be used to open a credit card.
Residential vs commercial address
You can verify this by going to the USPS address tool and entering your new US address. The page will tell you if the address is residential or not. Do not choose a company that is marked as a"Commercial Mail Receiving Agency". This is because banks may decline your request if they realize that you are using a mail forwarding service to get a credit card.
2: Open a US bank account before applying for a US Credit Card in Canada
You will need a US bank account to be able to get a US credit card. You will need a bank account even if you do not intend to use a bank to get a credit card. This is because you'll need an account to verify your address in the US and to pay off your US credit card bill.
Can I open a US bank account from Canada?
Yes, you can open a bank account in the US without having to leave Canada. Many Canadian banks have branches in the US. In most cases, you will have the option to open a US bank account when you open one in Canada.
The easiest way to open a US bank account in Canada
CIBC, for example, has this feature. If you use the bank for personal banking, you will get the option to get a USA Smart Account that's free with no monthly fee and gives you unlimited transactions. The bank is reliable and gives the option to manage your account online. Plus, you will be able to transfer funds from your US account to your Canadian account as well as access your cash through CIBC Bank USA ATMs.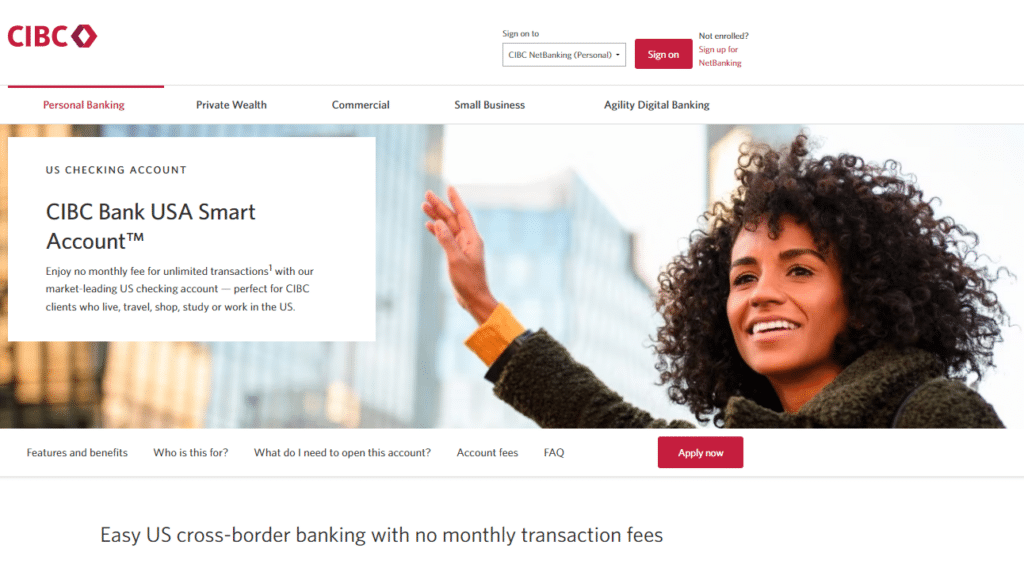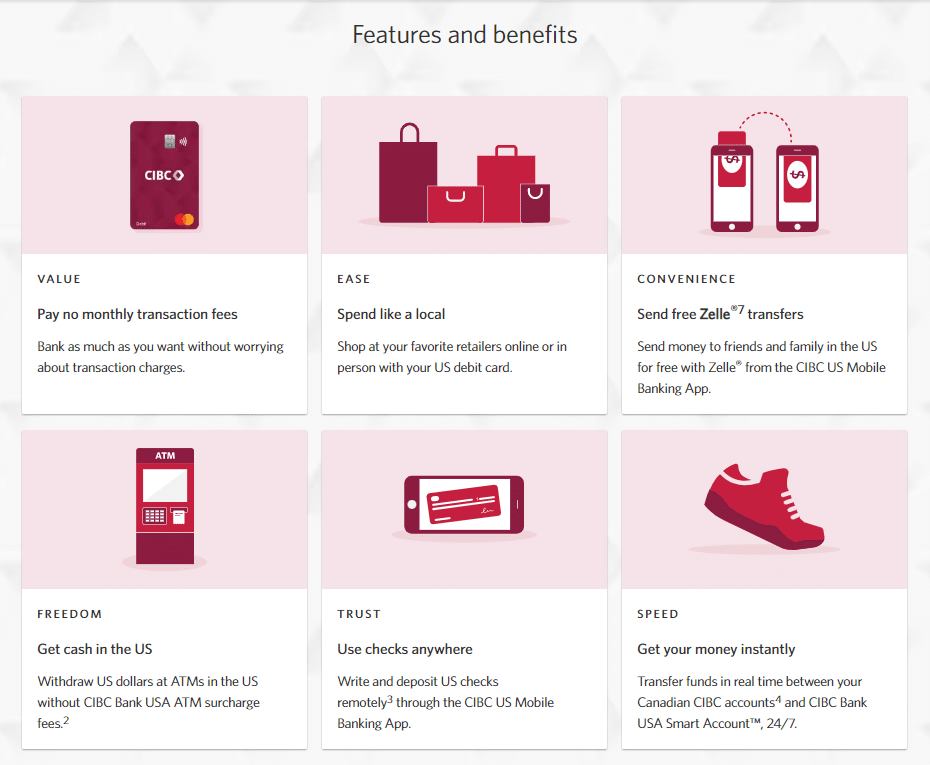 Some other banks that offer similar features include TD Canada Trust, Bank of Montreal, and RBC Royal Bank. All these banks give account owners the option to open a bank account in the US in just a few steps. In most cases, you will not even have to submit additional documents or wait for days to get a US account from Canada.
American banks that offer accounts for Canadians
If you don't want to use a subsidiary of your current bank then you will have to search online and find banks that offer accounts to Canadians. A particularly popular option is Chase Bank.
Use your US address to open the account
You will have to submit documents such as your passport and address proof. No matter which option you use, make sure to use your US address as your primary address on your new account. The address should be visible on your bank statements as it will be used by your card issuer to verify your address.
3: Get an ITIN before applying for a US credit card in Canada
In Canada, we have a Social Insurance Number (SIN)  and in the US, they have SSN, short for Social Security Number. Personal credit reports in the country are associated with these numbers or identifiers.
If you're lucky enough to already have a US SSN then you don't have to worry about this step and you can move ahead. Only US citizens or residents with special permits can apply for an SSN. Everyone else needs to get an Individual Taxpayer Identification Number (ITIN).
The US Internal Revenue Service (IRS) issues these numbers. You will have to prepare a number of documents to submit your application. The process can be a little tedious but it is important to ensure you can get your desired US credit card.
Here's how you can get a US ITIN:
Hire a Professional
There are a number of firms that can help you get an ITIN. They'll charge a small fee for their services and you will get your ITIN in just a few days without much effort. Some of our favourite providers include Frugal Flyer and US Tax Resources. You might come across even better options if you look around. Expect to spend about $300 CAD on it.
You will be asked to provide some information and the provider will issue a completed application form, also known as a W-7 form. You will have to prove why you need an ITIN. These companies can help you submit a tax return to justify your application.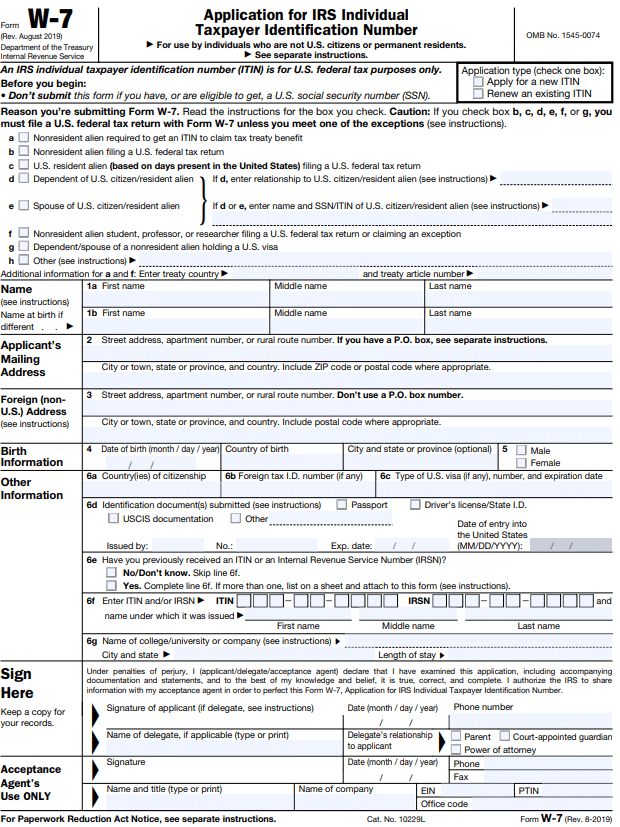 Do It Yourself
Those who do not wish to hire the services of a professional firm can choose to apply on their own. This method is a little complicated and time-consuming but doable. Be careful when submitting your forms and even a small discrepancy in your form can result in a rejection.
Also, the process is slow and applications can take months to complete. Fortunately, you will not have to wander for tips as the official IRS website provides all the information you need to get an ITIN. Go through the page to ensure you have all the required documents including:
Document to justify an ITIN (for example, showing US-based income)
A certified copy of your passport
Correctly filled W-7 ITIN form
In some cases, you might be asked for additional documents. For example, you may need to use your real passport. The IRS website has information about how to fill out the form. Also, getting in touch with a tax attorney for tax advice since submitting the W-7 form may have some tax implications.
Remember that the application cannot be filled out entirely online as you will have to mail your original passport or a certified copy to prove your status. Plan carefully as it can take around two months for the application to process. We suggest that you stick to certified copies since sending original documents is always risky. You will not be able to fly till you get your passport back. Plus, there's a risk of losing it.
Certified copies are easier to get but they're not the same as notarised copies that you can get at a public accountant or lawyer's office. You will have to get in touch with Passport Canada, get an appointment, and request a certified copy. It costs $45 to get up to three copies.
You will only need to send one copy to the IRS. However, you can keep the other two for future use. Once you have all the required documents, fill out the form and make sure there are no errors. Review it, collect all documents, put them in an envelope, and send it to the IRS at this address:
Internal Revenue Service
Austin Service Center
ITIN Operation
P.O. Box 149342
Austin, TX 78714-9342
While the address doesn't typically change, it might still be a good idea to check the official IRS website for the current address.
Once you have sent your documents, it is time to wait. The official page doesn't give an exact timeline but this method can take up to four months, not counting the time taken to request a certified copy. If all goes well, you will receive mail with your ITIN. It's a nine-digit code that you will need on several occasions.
Before getting your ITIN
When it comes to getting your ITIN, a few legal complications come into play. Before you proceed, you should be aware of the following:
Earning income in the US
Foreign residents who earn income in the US are eligible and encouraged to apply for an ITIN. You will have to prove your residency status if you wish to be exempt from US withholding taxes.
Proving residency
Your Canadian passport and address can be enough to prove it. An ITIN can be of help and prove to be very useful not only in getting a US credit card but also in using US-based services. It doesn't matter how you have earned money in the US, you should consider getting an ITIN number as it will make it easy to fulfill your obligations to the IRS.
Reporting income to the IRS
Money can come from a variety of sources including trying your luck at a virtual casino, using US-based stockbrokers, or trying a US betting company. You will have to self-report your income to the IRC. This way you will get to save hefty withholding taxes that are levied on dividends, royalties, and winnings.
4: Apply for a US Credit Card in Canada through Nova Credit
Now that you have a US address, a US bank account, and an ITIN, the next step is to apply for a US credit card in Canada through Nova Credit. There are a few US cards that partnered with Nova which you can use to start building a good US credit score. This is important because getting a credit card without a good history can be an uphill battle. The easiest way to start building an American credit history is to open multiple credit accounts. 
Nova Credit: Start building a US credit score with an Amex card
Consider starting with a US-issued Amex card. It is a reliable company with a global presence. Plus, Amex allows users to easily transfer their membership to another country if they ever relocate. 

American Express has partnered with Nova Credit, a service that allows Canadians and other US newcomers to directly apply for a US card using their Canadian TransUnion file. This removes the need to own an existing Canadian-issued Amex card. The process is quite straightforward.
Getting started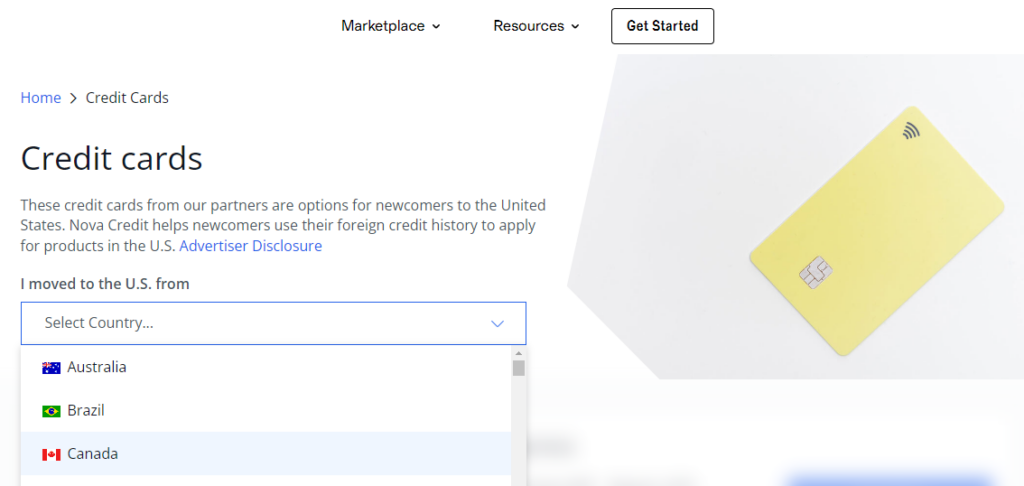 The Credit Passport service provided by Nova Credit will convert your Canadian credit report into the American equivalent. Simply visit the Nova Credit website and select Canada as your home country to see what US credit cards are available to you. Choose the card you want then follow the prompts and provide the necessary information such as your:
Most recent Canadian home address
Your Canadian passport or other government-issued photo ID
When asked for your Social Security Number, enter your ITIN number and tick the box that says "I have had a credit card or loan in Australia, Brazil, Canada, the Dominican Republic, India, Kenya, Mexico, Nigeria, Philippines, South Korea, Switzerland or the United Kingdom." Continue following the prompts and providing the necessary information.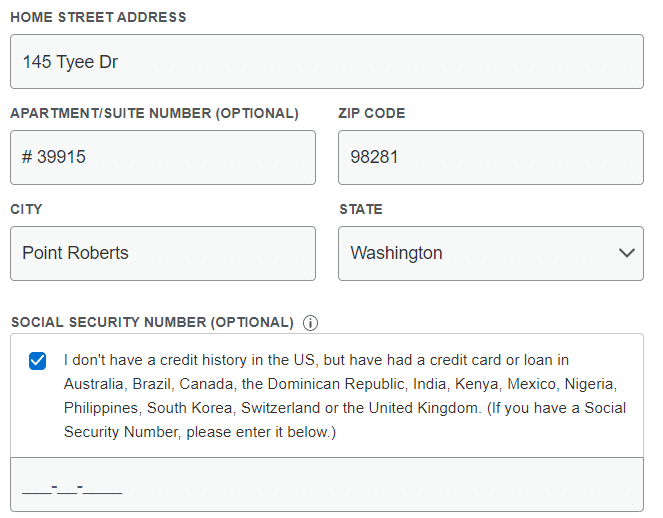 Verify your identity 
Lastly, you will have to verify your identity by providing an identity document such as your Canadian driver's license or passport. If you're lucky, you'll get approved right away. Conversely, in most cases, you'll be asked to provide some more information to verify your data.
This includes submitting more identity documents and address proof. In some cases, you might be required to call the company and talk to an agent. Approval can take around four to five days. Once processed, your new card will be shipped to your US address.
Applying for multiple cards
What if you want to apply for multiple cards? The best advice is to do it quickly. The faster you apply, the higher your chances of approval.
Already have a Canadian-issued Amex Card? Consider Transfering it
If you already have a Canadian Amex card, you can basically convert it into a US credit card. This method involves initiating an AMEX Global Transfer to the US from Canada. To be eligible, your existing Amex account must be valid, in good standing, and active for at least three months.
If you meet these requirements then get in touch with the AMEX Global Transfer office by calling 877-621-2639 to request a Global Transfer from your Canadian card to your US credit card. The agent will ask you to apply for a US card on the phone and provide some details about the account. The process will take a few minutes and you'll be asked to provide some information such as:
US residential address
US personal phone number
US bank account details
Passport information
Employment information
Social Security Number or ITIN
5: Continue Building Your US Credit History
Once you have completed all the steps discussed above, it is time to get busy building your credit history so you can qualify for more (and better) US credit cards in Canada. You will not have to do this if you are happy with the AMEX card that you have but for most people, the AMEX card is usually not enough and they want to get their hands on cards from other banks.
Consider a Chase Bank US credit card
Most people choose Chase Bank as it offers some great rewards and a number of credit cards to choose from. You will have to wait a little while before applying for a Chase-issued US credit card in Canada. 
Chase offers opportunities that no other bank does including 1:1 points transfers for stays at Hyatt hotels. Experts suggest waiting for around a year before applying for a Chase card as the bank is known to be a little stringent in issuing cards and doesn't typically entertain applicants with little credit history.
Consider banking with Chase
If you are in a hurry then consider building your relationship with the bank. This can be done by opening a checking account with Chase in the US. You will not need a US passport to do so. They'll ask for simple documents such as a copy of your passport to process the request. However, at this time, you cannot open a Chase checking account from Canada online. You will have to personally visit the branch to initiate the process.
Beware the 5/24 rule
Also, go slow on AMEX cards if you are serious about working with Chase. The bank is known for following the controversial '5/24 rule'. This means your application for a new US credit card in Canada will not get approved if you have opened more than five credit cards in the last 24 months.
To avoid this problem, ensure you don't get too many new cards one right after another. Five AMEX cards would be enough to get started. You can apply for a Chase card once you have a decent history.
Consider business credit cards
These cards will not appear on your personal files in the US, which means you will be able to sign up for new cards without worrying about the 5/24 rule. Some top options include the Marriott Bonvoy Business Card from AMEX, the US Hilton Business Card from AMEX, and the US Business Platinum Card from Amex.
These cards are said to be easy to apply for as you do not need an ITIN or SSN to be eligible. Contact the company over the phone to submit a request. You will be asked to provide an identity document though.
Top Banks Where You Can Get a US Credit Cards in Canada
AMEX and Chase are not your only options, you can also turn to other banks in the US that offer credit cards to Canadian citizens.
Citi: Citi can be a great option for Canadians interested in earning Citi ThankYou points. You can use these points to enjoy perks when flying domestically or internationally.

Bank of America: this bank also caters to flyers with a special co-branded card that allows flyers special discounts when flying Alaska Airlines. The bank, however, only accepts applications in-brand or over the phone.

Capital One: Here's another reliable bank that can be great for Canadians who want to shop online. It offers generous welcome bonuses and special cash back programs when shopping online.

Wells Fargo: this bank is particularly great if you're trying to pay down a stubborn US credit card balance. The Reflect Card has one of the best balance transfer offers on the market. They also have a strong lineup of credit cards that offer great cash back rewards and a wide array of eligible purchase categories to suit different shopping needs and preferences.

TD Bank: if you love shopping at Target, TD Bank in the US offers the Target REDcard that gets you discounts and special perks as well as points on gas, dining and other card purchases. This bank is also known for various credit cards that offer different types of premium rewards to suit any preference.
There may be several other options at your disposal. Once you have a decent credit history in the US, you will be able to apply for more US credit cards. However, remember that US banks are a little stringent when it comes to issuing cards. Don't try your luck if you do not have a good credit score. Work on building a good credit history before you submit any applications because rejections can negatively impact your credit score.
A US credit card in Canada vs a Canadian USD credit card: what's the difference?
Before we jump into how to get a US credit card, let's prevent some confusion before it starts. Many Canadian financial institutions issue credit cards that are denominated in US Dollars, but they are not the same as a US credit card issued by an American financial institution. Here's what to know:
US credit card issued in the USA
US credit card is issued by a US financial institution and is meant to be used by residents of the United States for transactions in US Dollars. That means you need to have a US address and a US Social Security Number (SSN) or Individual Taxpayer Identification Number (ITIN).
USD credit card issued in Canada
On the other hand, a USD credit card is issued by a Canadian bank but is denominated in US dollars. This type of card is beneficial for Canadians who frequently travel to the US or make many US dollar purchases. With a USD credit card, you can avoid exchange rate fluctuations because you pay your balance in US dollars.
Are US credit cards better than Canadian credit cards?
There's nothing wrong with Canadian credit cards. There are dozens of issuers in the country offering hundreds of different credit cards with rewards to suit any lifestyle. However, US credit cards tend to have better rewards and perks specifically for travel lovers. They often offer better welcome offers with higher bonus points, and easier access to things like airport lounges, hotel loyalty programs, and international airlines.
Another thing to be aware of is that some US-based retailers and service providers will not accept a Canadian credit card. But that doesn't have to stop you just because you're Canadian. Plus, there are some other less obvious perks you might not be aware of.
Benefits of getting a US credit card in Canada
There are several reasons why so many people are looking to get a US credit card in Canada. Spoiler, it's not just about cross-border shopping, but it's still on the list!
Save more money
Most Canadian banks levy annual charges on credit card consumers, which adds to the cost. On the other hand, a large number of American financial institutions offer US credit cards without any annual fees. This makes it affordable to own a US-issued credit card. Plus, there are significantly more US credit cards that don't charge foreign transaction fees, whereas only a few Canadian credit cards waive this fee. As the Globe and Mail explains, "Forex fees aren't a big money maker for U.S. card issuers because most global credit-card transactions are conducted in U.S. dollars." That has left a bitter taste in the mouth of Canadian globetrotters for years.
Although there are some Canadian cards that do not charge forex fees, there is a wider selection of US credit cards that have better rewards and no foreign transaction fees. This can help you save about 3% percent of the transaction amount. That adds up if you love to spend in the States!
Access US-only stores
Consider choosing a US credit card if you intend to shop at US stores because some American eCommerce businesses do not accept Canadian credit cards. This leaves people with no option but to look for someone else to buy on their behalf, which is both costly and time-consuming. With a US credit card in you're wallet, you can shop where you want without any issues.
Better rewards
As mentioned earlier, Canadian credit card rewards programs generally aren't as generous as reward programs offered on US credit cards. Most Canadian institutions offer rewards valued in the range of 0.50% to 1% return on spending. Whereas in the States, rewards can go up to 5% on some US credit cards. Rewards can be in the form of cash back, discounts, and points that can be redeemed for travel, merchandise, statement credits, and more.
Let's take a look at American Express Canada and Amex US cards, for example. The former offers only 11 hotel transfers and airline partners, whereas the US card offers 21 partners including some that no Canadian bank seems to offer such as Singapore Airlines and KrisFlyer. This can be a good reason to choose a US credit card over a Canadian-issued USD credit card.
Better travel perks
Not only is it recommended to use a credit card for travel expenses, but US credit cards are known to offer more benefits for travel lovers. If you're a frequent flyer, a US card can offer you benefits such as access to certain airport lounges and hotel upgrades. Of course, you get that with some Canadian credit cards too. But some US credit cards give holders instant top-tier Hilton Diamond status without having to spend at least 60 nights at the hotel first in order to reach the higher status. 
Are you a Canadian working in the US? Here's why you need a US credit card
If you're a Canadian who works in the US, there can be several advantages to getting a US credit card issued by an American financial institution, such as:
Convenience
If you're earning income in US dollars and making purchases in the US, it can be more convenient to have a US credit card from an American issuer. You won't have to worry about exchange rates for your purchases or when paying off your credit card balance.
Building a US credit history
Using a US credit card and making payments on time can help you build a credit history in the US. This is important to do if you plan to stay in the US long-term and may need to apply for other credit products or even a mortgage in the future.
Avoid foreign transaction fees
Spend smarter, not harder. US credit cards won't charge you foreign transaction fees for your purchases in the US, which can lead to significant savings.
Access to US rewards programs
Some US credit cards offer reward programs that may be more beneficial to you if you spend a significant amount of time in the US. For instance, you could earn rewards for travel within the US or discounts and free stuff from specific American retailers.
How to choose the right US credit card
When deciding which US credit card to choose, you want to get one that meets your needs, goals, and shopping habits while giving you the most bang for your buck. Here are some factors to consider:
Fees
Look at the card's annual fee and any other potential charges. If you plan to use the card outside the US, then you should also consider any foreign transaction fees.
Rewards
Consider whether the card offers rewards like cash back, travel points, or other benefits and whether these rewards align with your spending habits and lifestyle. Most decent rewards cards come with an annual fee, so make sure you still come out ahead after the fee is accounted for.
Cardholder perks
Check what additional benefits the card offers such as travel insurance, car rental insurance, extended warranty, etc. Make sure the perks align with your needs and preferences.
Interest rate
If you pay your balance off in full every month you won't be charged interest, which makes the interest rate irrelevant. However, if you know you're likely to carry a balance at some point, then consider a US credit card with a low interest rate. 
Credit limit
How will you use the card? What kinds of things will you purchase with it and how often? Consider the credit limit on the card and whether it meets your needs.
Warning: Manage your US credit card responsibly
While getting a US credit card is easy, it is not something to take lightly. Do not make the mistake of being late on your payments. This may not impact your Canadian score but remember that your US issuers may have the option to follow you to Canada and get a judgment.
Debts you owe will remain active and may cause problems if you ever fly to the US or do business there. This is why it is important to handle your credit cards responsibly and pay your bills on time.
Frequently Asked Questions About Getting a US Credit Card in Canada
Still have questions? Here are some of the most commonly asked questions about applying for a US credit card from Canada.
Can a Canadian citizen apply for a US credit card?
Yes, a Canadian citizen can apply for a US credit card, but it's a process that requires patience and attention to detail. Most U.S. credit card issuers require a US Social Security Number (SSN) or Individual Taxpayer Identification Number (ITIN), and a US residential address.
You will need to:

Get a US address with the help of friends and family living in the States, or through a package forwarding service. Open a US bank account through either the American subsidiary of a Canadian bank like TD or CIBC, or directly with a US-based bank like Chase. Apply for an ITIN and submit the required paperwork and documentation. Once you've received your ITIN number, you can apply for your desired US credit card. 
Will I have to go to the US to get a US credit card in Canada?
No, you do not have to fly to the US to get a US credit card in Canada. Everything can be done online or over the phone. You will first have to get a US address that can be used to manage bank correspondence and receive your first credit card. The address provider can mail your documents to you in Canada, thus giving you physical access to your card. The process is safe and seamless and involves building a good credit history so you can be eligible for more cards that come with better rewards and bonuses.
Are Canadian Credit Cards Not Good?
Canadian cards are quite good but not as beneficial as US credit cards, especially if you intend to use US services such as a US airline or shop with a US-only retailer like Target. US credit cards can be suitable for people who travel a lot and like to shop at stores not available in Canada.
Which is the best US card for Canada?
There is no 'best US card for Canadians' as the right option depends on a variety of factors. Think about why you want a US credit card, what you'll use it for, if you want to earn rewards, your shopping habits, etc. and pick accordingly.

Some cards offer airline miles, some are good for hotel stays, some have excellent cash back rewards, and some come with big welcome bonuses. Compare all options and pick what fits you the best.
Can I use a US credit card to shop at Canadian stores?
Most US credit cards can be used anywhere that accepts credit cards,  including physical and virtual Canadian stores. However, you may have to pay foreign transaction fees when you use a US card to shop in Canada.
Can my US credit history impact my Canadian credit history?
No, your US credit history will not impact your Canadian credit history.
Can you use a Discover card in Canada?
Yes, you can use a Discover card in Canada. Discover card is a part of the Discover Global Network, which includes Diners Club and other partners, which means you can use it anywhere in Canada that accepts Discover or Diners Club. However, Discover isn't nearly as accepted as Visa and Mastercard. There are very few retailers in Canada that accept Discover, so you should have a backup method of payment on hand.