The 10 Best Metaverse Coins For 2022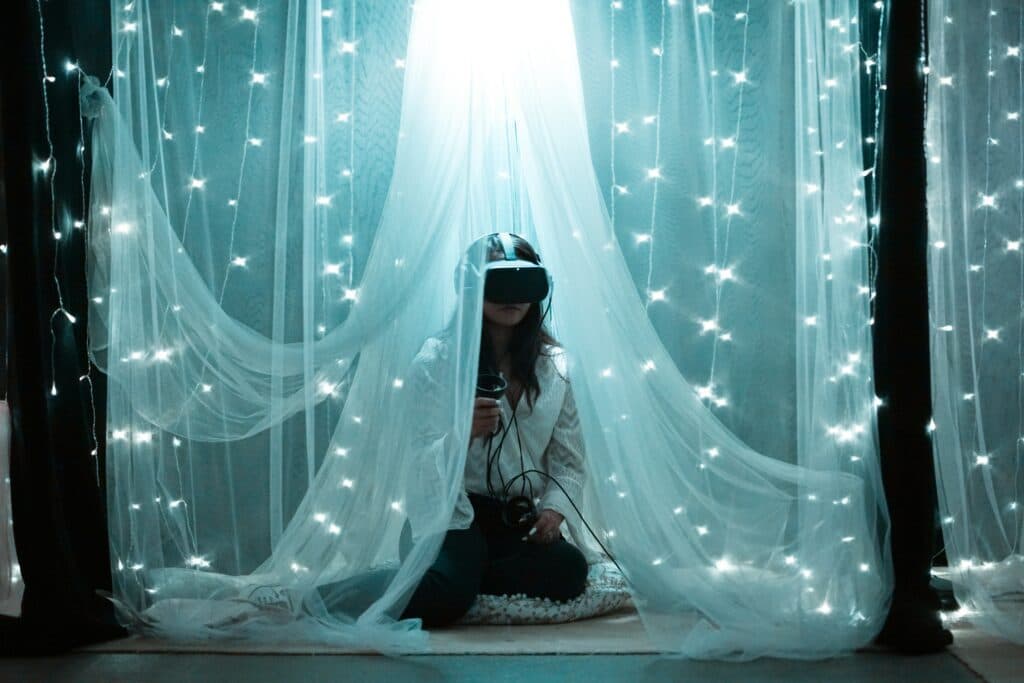 Unless you've been living under a rock, you'll know about the Metaverse. The Metaverse combines Augmented Reality with Virtual Reality to create an interactive and immersive experience for users that is just about as close to real-life as you can get. Canadians can trade these coins on certain cryptocurrency exchanges. Some of the best regulated ones are VirgoCX, NDAX, Wealthsimple Crypto, and Binance.
The Metaverse is a network of virtual worlds, each of which is entirely unique and has different functionalities. Some function as social or gaming platforms, whereas others are primarily for buying and selling land and digital real estate. One thing they all have in common, though, is that they all use their own form of metaverse cryptocurrency.
Using metaverse digital currencies, you can buy and sell property, land, and in-game products or upgrades. And similar to other cryptocurrencies, you can also trade your metaverse tokens. But which metaverse cryptocurrencies are worth investing in? While all cryptocurrencies are volatile and new ones are being added all the time, we believe that these are the top 10 metaverse tokens to watch in 2022.
[Offer productType="CryptoExchange" api_id="61aa6bc061d159113850f74a" id="166820″]
1. Decentraland (MANA)
Built on the Ethereum blockchain, Decentraland is a virtual reality platform that allows users to experience, create and monetize content. You can purchase plots of land to build on, and each plot is represented by non-fungible token (NFT). In total, Decentraland now has 90,000 plots available to purchase.
In order to make any purchases in the game, you will need to use Decentralands cryptocurrency, MANA. MANA was launched as the first-ever metaverse cryptocurrency, so it's had the most time to build authority. Over the last year, MANA has been an extremely high performer in the cryptocurrency market. You can use MANA to buy plots, build on them, purchase art and buy unique character accessories in the game. Or you can trade it, as you would with other digital currencies. The social aspect of Decentraland has supported a quickly growing user base, with one of the main draws being that the game is decentralized (hence the name). If you hold any MANA tokens, you will have a say in changes to the game. Whether you want to play the game or not, Decentraland's MANA is one of the best metaverse tokens you can invest in.
2. The Sandbox (SAND)
The Sandbox is another virtual world that is built on the Ethereum blockchain. it is a platform where users can build just about anything they can imagine, including buildings, vehicles, creatures, clothing, and more. But it will cost you SAND to do so. Every time a user creates an item, it is added to the blockchain in the form of an non fungible token (NFT) and can then be bought and sold. Users can also buy and sell land and real estate. All transactions in The Sandbox must take place using SAND, which has a maximum supply of 3 billion tokens, although only about 1 billion are currently in circulation.
The Sandbox is committed to becoming a DAO by 2023, aiming to be fully decentralized. That said, a significant portion of the current tokens that are in circulation have been allocated to the company itself, including team members and other investors. Another thing that may incentivize you to invest in SAND is that you can both use it in the game or stake it to earn interest. You can also build your own games in The Sandbox, and whenever users play it, you will earn free SAND.
3. Axie Infinity (AXS)
If you were a Pokemon lover back in the day, then you're going to be interested in Axie Infinity and the potential of the AXS token. Also built on the Ethereum blockchain, Axie Infinity is a trading and battle game and universe where you can collect and raise pets, battle them and build your own kingdom. Through skilled gameplay, you can earn Axie Infinity Shard, aka AXS tokens. You can make purchases in the game using AXS and earn more by joining different campaign challenges and playing games.
AXS is one of the best metaverse cryptocurrencies. It is NFT-based and one of the first of its kind. Their NFT collection alone is searched over 700000 times per month on Google. Because of the tokens' rising popularity, this is a perfect time to invest in AXS. They also recently introduced staking, which has given traders an incentive to invest. That said, there is a lot of up-and-coming competition in this space, which could lead to a decline of active users, lowering the token's value.The game itself has a massive update in the works, including free-play entry to Axie Infinity and could increase AXS sales even more.
4. Metahero (HERO)
Another of the best metaverse cryptocurrencies is Metahero. Metahero is a software that enables users to scan their entire bodies and turn that scan into an NFT. You can then take that NFT into the Metaverse and use it as your personal avatar. One of the reasons that HERO is so lucrative is because Metahero is the first project like this in the cryptocurrency world. While many other metaverse projects let you make your own 3D avatar, you won't find many that allow you to actually scan your physical body. Metahero is partnered with Wolf Digital World, one of the largest 3D scanning companies on the planet.
Metahero is relatively new compared to other projects on this list. Still, they are aiming to get listed on more exchanges to make the token more accessible to investors since the demand is increasing fast. There are two platforms associated with Metahero, HERO App, where you can control your funds and HEROSwap, a decentralized exchange where you can swap tokens. They are also working on another project called Everdome, where HERO holders can get land discounts in the Everdome Metaverse.
5. MyNeighborAlice (ALICE)
My Neighbor Alice is a metaverse cryptocurrency project that resembles others on the list like The Sandbox and Decentraland. It is based around the concept of islands and is a social platform where users can meet friends, buy and own virtual islands and collect items, which are NFTs. In order to use My Neighbor Alice, users will need to purchase a plot of land using ALICE metaverse cryptocurrency. They can then improve their land by adding in-game assets, buildings and vegetation, which also requires ALICE.
Similar to many metaverse cryptocurrencies, the beginning of this year has seen ALICE on a bullish trend, with its market cap reaching over $400 million. Investors can also stake ALICE, meaning that whether you're playing or not, you can still profit from the game.
6. TCGCoin (TCG)
If you've been storing those stacks of Magic: The Gathering, Yu-Gi-Oh and Pokémon cards in your basement, get them out! You might be able to finally put them to good use. TCGCoin is a unique concept that combines metaverse gaming and real-world collectible trading. The platform is built on the Binance chain and is a gaming metaverse where users can purchase real estate, open their own business, search for NFT collectibles and earn TCGCoin.
The platform itself is also an online marketplace where users can buy and sell their real-world collectable cards using TCGCoin, and NFTs found in the game. Combining the virtual and physical aspects makes this metaverse cryptocurrency a smart investment this year.
7. Enjin Coin (ENJ)
Enjin is more than just a metaverse project. It features its own cryptocurrency wallet, NFT trading marketplace, and a platform for developers to build their own games and apps. Every gaming product built into the ecosystem is interconnected, and they all run on Enjin Coin. In order for users to create digital assets or build items within the games, they will need to use ENJ, which is then infused into the assets.
Since all digital assets are interconnected within the Enjin network, users can purchase items (NFTs) using ENJ and use these items in multiple different games. This sets them apart from other single metaverse projects like The Sandbox, where you can only use your purchased items in one game. Since ENJ has such unlimited capacity, it is likely to continue to become more popular, especially as more games are created. And the more games that are built on Enjin, the higher the price of the token since developers have to purchase tokens to build their games in the first place.
8. Gala Games (GALA)
Gala Games is a metaverse gaming ecosystem that allows users to play to earn GALA, the Gala Games metaverse cryptocurrency. The network was launched in 2020, making it one of the first play-to-earn metaverse gaming platforms, and there are already over a million active global users and counting.
The creators of the token and platform designed GALA to support a modern, immersive metaverse experience through blockchain-powered games. Unlike other metaverse games, Gala Games aims to feature high-quality and engaging games that users actually want to play instead of just a means for trading tokens. You can choose to play various games, including PvP tower defense games, RPG games and MOBA. Within the games, you can purchase in-game assets in the form of NFTs, using GALA cryptocurrency, which are then yours to hold on to or sell.
You can use GALA to purchase in-game items or for peer-to-peer payments. You can also run your own Gala Node, which requires you to run the software from your home. The benefit? Running a node earns you free GALA, and you could even earn rare NFTs.
9. Star Atlas (ATLAS)
The name of this metaverse cryptocurrency alone tells you it's out of this world. Where other metaverse projects allow users to have land-based VR and AR experiences, Star Atlas lets their users explore the far reaches of the universe. The project is still relatively new, but it will be a metaverse cryptocurrency to watch this year. Users will need to use ATLAS to trade and make purchases within Star Atlas, a metaverse-based strategy game where you can explore space in your custom spaceship, conquer planets and collect resources in the year 2620. ATLAS is the primary currency of Star Atlas, and users will need to use it to purchase NFT in-game assets like spaceships, crew members, and land in order to even play the game. But once purchased, they can then start exploring to find, earn and trade NFTs.
Star Atlas is built on the Solana blockchain, one of the most secure and fast networks, with very affordable transaction fees. ATLAS also benefits from the 50,000 transactions per second throughput from the Solana network.
10. Wilder World (WILD)
Wilder World is the first metaverse project which is going 5D. They are also the only project to date that is building an entire metaverse platform that is entirely their own. This is a huge endeavour, but the scalability options will be endless. Wilder World's native token, WILD, has a total supply of 500 million tokens. You can use it on NFTs within the Wilder World Marketplace. These include 5D cars to race, futuristic condos, plots of land, and art pieces. Also, just by holding WILD, you are officially a resident of the Wilder World, which allows you to access rewards and internal incentives in the Metaverse.
Where can you buy metaverse cryptocurrencies and coins in Canada?
Metaverse cryptocurrencies have the potential to really thrive in the digital currency space. Compared to other popular cryptocurrencies, metaverse tokens offer additional benefits since they can be used within the Metaverse to purchase digital assets and items which you can actually use in gameplay. The fact that you can both use these metaverse currencies as an investment option and use them as part of your digital gaming experience makes them twice as attractive.
Metaverse cryptocurrencies are not as easy to obtain as other digital tokens. At least not yet. Not all Canadian cryptocurrency exchanges will allow you to purchase metaverse tokens. But you can still find them!
Here are the top five crypto exchanges where Canadians can purchase metaverse crypto and coins:
1. NDAX
National Digital Asset Exchange, or NDAX, is a low-fee Canadian cryptocurrency exchange with free deposits and a small selection of digital currencies to buy and sell. The platform is easy to use for beginners, and, with nearly instant account verification, you can start trading right away. It has a limited selection. However buying and selling some of the most popular coins, including metaverse tokens, is easy.
Metaverse cryptocurrencies offered on NDAX: Axie Infinity (AXS); Decentraland (MANA); The Sandbox (SAND)
2. Wealthsimple Crypto
Wealthsimple Crypto is part of the Wealthsimple family. The Canadian exchange launched primarily as a stocks and ETFs trading platform, but has added cryptocurrency to their list of financial products. It's currently the most popular exchange in Canada, and for good reasons. The amount of functionalities enable users to manage all their digital assets in a single interface. You can now buy and sell some of the biggest players in the metaverse crypto game on the Wealthsimple Crypto App.
Users cannot withdraw any of your coins through Wealthsimple Crypto. They can only withdraw Bitcoin (BTC) and Ethereum (ETH) through Wealthsimple Trade. That means that your metaverse coins cannot buy lands or NFTs inside the metaverse. Purchasing these tokens through Wealthsimple Crypto is simply for investment and trading purposes.
Metaverse cryptocurrencies offered on Wealthsimple Crypto: Decentraland (MANA); Sushiswap (SUSHI).
Open an account with Wealthsimple Crypto
3. Crypto.com
Crypto.com, while not based in Canada, enables Canadian users to trade over 250 different digital currencies, including metaverse tokens. They also have their own cryptocurrency token, Cronos (CRO), and if you hold it you can secure some discounts on trading fees. Their app, the Crypto.com app, is the main hub for trading. In fact, you can't buy or sell crypto using Canadian Dollars on desktop at all. Their trading fees are competitive, but still higher than other exchanges, sitting at 0.4% per transaction, unless you have a lot of CRO.
Metaverse cryptocurrencies offered on Crypto.com : Enjin Coin (ENJ); The Sandbox (SAND); Gala Games (GALA); Decentraland (MANA); Axie Infinity (AXS).
4. Binance
Binance has been in the Canadian news quite a lot lately, and not necessarily for the best reasons. At the time of writing, Ontarians are not allowed to use Binance. That said, it is still a place where Canadians can purchase metaverse cryptocurrencies. The first thing to note is that Binance doesn't accept clients from Ontario, so if you live there, then, you can't currently buy crypto on the platform. Binance is one of the most popular cryptocurrency exchanges in the world. Beyond crypto, the platform offers a range of other financial management tools for it's users. They support over 350 cryptocurrencies including many metaverse tokens.
Metaverse cryptocurrencies offered on Binance : The Sandbox (SAND); Decentraland (MANA); Enjin Coin (ENJ); Axie Infinity (AXS); Gala Games (GALA).
5. VirgoCX
VirgoCX is a regulated Canadian cryptocurrency platforma and NFT brokerage. One of the first if not the first exchange to offer metaverse coins, VirgoCX is really simple to use. It has free deposits, low withdrawal fees, and zero trading fees. It has high liquidity and can handle large block trades; VirgoCX Wealth handles trades over $30,000 CAN. VirgoCX offers live multi-lingual customer support all day, everyday. You can fund your account by wire transfer or Interac e-transfer for instant funding.
Metaverse cryptocurrencies offered on VirgoCX : Decentraland (MANA); Enjin Coin (ENJ); Axie Infinity (AXS); Sushiswap (SUSHI); Gala Games (GALA); The Sandbox (SAND).
6. Newton
Newton is Canadian only cryptocurrency trading platform where users can buy and sell a variety of metaverse crypto tokens. It has a very simple interface, so it's easy to navigate, regardless of how much experience you have with crypto trading. Newton charges zero fees. No trading fees, no deposit fees and no withdrawal fees. The platform supports over 60 different cryptocurrencies, including one of the largest selection of metaverse tokens available to Canadians.
Metaverse cryptocurrencies offered on Newton: MyNeighborAlice (ALICE); Decentraland (MANA); The Sandbox (SAND); Enjin Coin (ENJ); Axie Infinity (AXS); Gala Games (GALA).