The 5 Best Car Shows in Alberta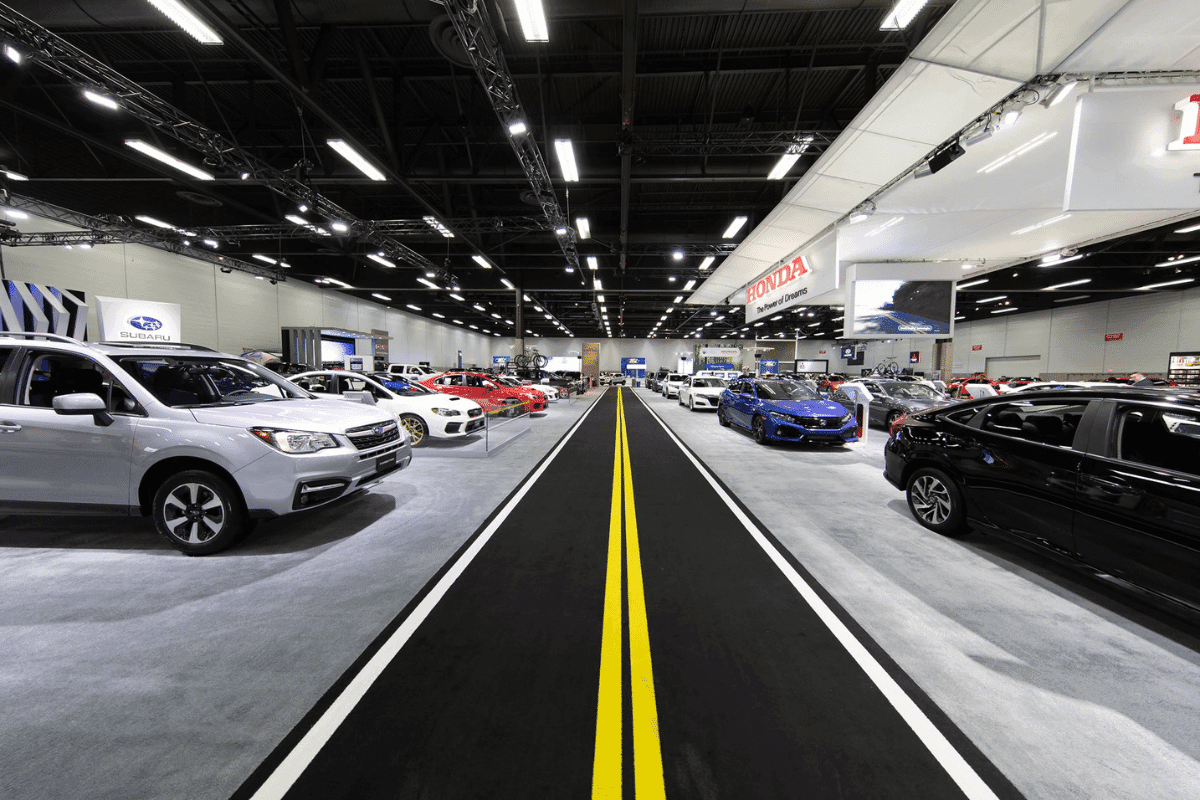 If you're a car enthusiast in Alberta, you're in luck! The province is home to a thriving car show scene that attracts enthusiasts from near and far. From the adrenaline-pumping displays to the jaw-dropping exhibits, Alberta's car shows offer a unique experience for all automobile lovers. In this article, we'll take a closer look at the top five car shows in Alberta that you won't want to miss.
Introduction to Alberta's Car Show Scene
Alberta has long been known as a hub for car enthusiasts and the car show scene is a testament to that reputation. With a diverse range of car shows held throughout the province, you'll find something for everyone. Whether you're into classic cars, muscle cars or the latest in automotive technology, you'll get your motor running.
Alberta has become a hot spot for car enthusiasts for a variety of reasons. Firstly, the province has a rich history of automotive culture, with a strong presence of car clubs and passionate collectors. Alberta's car enthusiasts feel deeply connected to the heritage and craftsmanship of automobiles, passing this love for cars down through generations.
Secondly, Alberta's wide-open spaces and scenic driving routes make it perfect for car lovers to showcase their prized possessions. From the breathtaking Rocky Mountains to the stunning Badlands, Alberta offers picturesque backdrops for car shows. This allows enthusiasts to display their vehicles then take them for memorable drives through some of Canada's most beautiful landscapes.
In fact, Alberta's leaders have named the second Friday in July as a Collector Car Appreciation Day across the province. "Hobbyists spend an estimated $40 million annually on their vehicles, supporting local businesses and charities," says Jim Herbert, president of the Specialty Vehicle Association of Alberta. "Collector Car Appreciation Day is an important recognition of this contribution to Alberta."
1. Edmonton Motor Show
The Edmonton Motor Show ranks as the largest and most highly anticipated car show in Alberta. For more than 45 years, car enthusiasts from across the province have gathered in Edmonton to witness the latest models, cutting-edge technology and jaw-dropping displays.
Overview of the Edmonton Motor Show
The Edmonton Motor Show offers a unique opportunity to get up close and personal with a wide variety of vehicles. From sleek sports cars to rugged trucks, the show hosts more than 650 vehicles to captivate every visitor. Enthusiasts can marvel at the sleek lines of a luxury sedan, admire the rugged durability of a pickup truck or imagine themselves behind the wheel of a powerful sports car.
As you enter the Edmonton Expo Centre, you are immediately greeted by a hum of excitement in the air. The showroom floor bustles with a sea of people, all eager to explore the latest automotive offerings. The vibrant atmosphere has the smell of new leather and the sound of engines revving. You can also enjoy the occasional burst of laughter as attendees share their enthusiasm for all things automotive.
But the Edmonton Motor Show is not just about admiring vehicles from afar. It offers a truly interactive experience for attendees. Visitors can hop into the driver's seat of select cars and feel the power of the engine beneath their fingertips. They can test out the latest safety features, then experience the comfort of plush interiors. Next, they can get a taste of what it's like to be behind the wheel of their dream car.
Highlights and Unique Features
One of the highlights of the Edmonton Motor Show is the concept car display, where visitors can catch a glimpse of futuristic designs and innovative technology. These concept cars push the boundaries of possibilities in the automotive world, showcasing cutting-edge features and revolutionary design elements. From self-driving capabilities to advanced AI integration, these concept cars provide a glimpse into the future of transportation. For example, the show has hosted makers of Felino, the second Canadian-built supercar.
Meanwhile, the show also celebrates the past with its classic car auction. In the past, it has taken these cars on the road to engage bidders in Calgary and Lethbridge. Of course, any new buyer would need special car insurance to protect their investment.
Organizers of the Edmonton Motor Show also invest in the future of the automotive industry with its opening night gala. Funds raised at this flashy affair go towards scholarships for aspiring workers in this high-tech world. As a bonus, ticket holders also get an early peek at the array of cars before the rest of the public enters the show.
Whether you are a die-hard car enthusiast, a casual admirer of beautiful vehicles, or simply someone looking for a fun and engaging event, the Edmonton Motor Show has something for you. It celebrates all things automotive, bringing together passionate individuals who share a love for cars and the thrill of the open road. So mark your calendars and get ready to immerse yourself in the world of automobiles at the Edmonton Motor Show!
Who is the Edmonton Motor Show for: Fans looking to see the latest and greatest models on the market
How much does it cost to attend the Edmonton Motor Show: $40 for a family pass, $15 for adults and $13 for seniors and students
When does the Edmonton Motor Show typically occur: Previously every April but returning in autumn 2023, over four days
Where does the Edmonton Motor Show take place: Edmonton Expo Centre
2. Driven Aftermarket Car Show, Calgary
Cars are not just about what comes off the assembly line; they're also about personalization and customization. The Driven Aftermarket Car Show in Calgary celebrates the creative spirit of car enthusiasts who love to modify and enhance their vehicles.
Car enthusiasts from all over gather in Calgary each year to attend the highly anticipated Driven Aftermarket Car Show. This event is a haven for those who appreciate the art of automotive customization and the unique expression it brings to each vehicle. It belongs to part of a tour that includes stops in Edmonton, Regina, Saskatoon, Winnipeg, Vancouver, Ottawa, Toronto and Halifax.
Upon entering the show, visitors are greeted by a mesmerizing display of customized cars that have been meticulously transformed into one-of-a-kind masterpieces. From tastefully modified classics to over-the-top showstoppers, Driven Aftermarket showcases an extensive range of vehicles that cater to every taste and style.
What to Expect at Driven Aftermarket
At Driven Aftermarket, visitors can expect to see a wide array of modified cars enhanced with vibrant paint jobs, souped-up exhaust systems and high-quality audio systems. This car show is all about pushing boundaries and showcasing the unique personalities of each vehicle owner.
The show floor roars with a symphony of revving engines and the sight of glossy colours that reflect the passion and dedication poured into each car. From sleek sports cars to rugged off-road vehicles, Driven Aftermarket offers something for every car enthusiast.
Attendees can explore the various exhibitor booths, where they will find an abundance of aftermarket products and accessories to enhance their own vehicles. From performance upgrades to custom body kits, the possibilities are endless. Even better, the experts on hand are always eager to share their knowledge and expertise.
The Crowd's Favorite Displays
Through the sea of eye-catching designs, a few cars always manage to steal the spotlight. These exceptional displays captivate the crowd, serving as inspiration for future customization projects and setting new trends within the automotive community.
As a bonus, watch for scenes from an Alberta-based Driven stop on a new unscripted docu-drama called Car Show Confidential. The show, produced by Performance Productions Media Group, will air on REV TV, Canada's motorsports and automotive destination. The show followed DRIVEN's production team and judges to Edmonton for a behind-the-scenes look at the entire process, from roll-in/setup to the judging and awards ceremony.
Speaking of judging, the competitions include best in show and best in class for a variety of makes, from Mercury to Mitsubishi, along with best exotic and judges' choices. This show really aims to bring out the best in car artistry.
The Driven Aftermarket Car Show in Calgary is not just a gathering of cars; it's a celebration of creativity, innovation and the unbreakable bond between car enthusiasts. It unites car lovers so they can share their passion and get inspired by the limitless possibilities of automotive customization.
Who is the Driven Aftermarket Car Show for: Fans of show cars across much of Canada
How much does it cost to attend the Driven Aftermarket Car Show: $25 for adults and $10 for kids under 12
When does the Driven Aftermarket Car Show typically occur: Every year in May and June for one day in each location
Where does Driven take place in Alberta: TheUniversity of Calgary's Olympic Oval in then the West Edmonton Mall
3. History Road: The Ultimate Car Show, Wetaskiwin
For history buffs and car lovers alike, History Road: The Ultimate Car Show in Wetaskiwin is a must-see. Combining the allure of classic cars with the rich heritage of the automobile industry, this show takes visitors on a journey through time.
The one-day show takes place at the Reynolds Museum, which declares its mission as celebrating the spirit of the machine. Since 1994, it has shared dozens of exhibitions and displays with its visitors. However, its annual car show remains its crown jewel.
The Historical Significance of History Road
History Road showcases some of the most iconic cars from different eras, giving attendees a chance to admire the craftsmanship and innovation of bygone eras. The show also pays tribute to the pioneers of the automotive industry and their contributions to the development of the modern car.
Visitors can stroll the museums' grounds to take in a stunning line-up of cars, from the ordinary to the extraordinary. Every car has a story or two, so take time to stop and chat with their proud owners. You can even bring your own ride and regale visitors with tales of your own.
Notable Exhibits and Attractions
At History Road, you'll find a diverse range of classic cars, from antique models to vintage muscle cars. One of the standout attractions is the restoration corner, where experts demonstrate the intricate process of bringing a classic car back to its former glory.
Your show admission also gets you into the museum where you'll find more than 500 vehicles, 130 aircraft and 5,000 pieces of agricultural and industrial equipment. Its 2023 exhibit, Driving Thru the '70s, features muscle cars, movies, music, boogie vans and CB radios.
Its Resource Centre houses the largest publicly accessible collection of trade literature in North America. In other words, if you have a question, this is the place to get your answer.
Outside, you can watch demonstrations of vehicles from the early 1900s while listening to live music. Pick your favourite vintage vehicle and take a photo with it as a memento. After the pancake breakfast, you can stay fueled at the food trucks on site.
Who is the Ultimate Car Show for: Classic car owners with an interest in history
How much does it cost to attend the Ultimate Car Show: Adults $15, seniors $11, youth up to age 17 $9, children under 7 free, family pass $40 (up to eight people)
When does the Ultimate Car Show typically occur: Every year in July for one day
Where does the Ultimate Car Show take place: Reynolds Museums, 6426 40th Avenue, Wetaskiwin
4. World of Wheels, Calgary
Dubbed as one of the most exciting car shows in Alberta, World of Wheels in Calgary brings together a mix of classic cars, hot rods and custom-built masterpieces. This show serves up a feast for the senses, with jaw-dropping designs and adrenaline-pumping events.
Hot rods star in this show, but the focus has shifted in recent years to competition cars, specialty and concept vehicles and those who dream about owning them. As part of the Autorama tour of 18 shows, this marks a rare Canadian venue, alongside Winnipeg.
The Excitement of World of Wheels
World of Wheels is synonymous with high-octane action and heart-stopping displays. From burnout competitions to car jump demonstrations, this show aims to leave spectators in awe. It's not just about the cars. There's also live entertainment, celebrity appearances and vendors offering the latest automotive merchandise.
The event also includes a Student Career Day Program to expose students to the wide range of opportunities in the industry. Organizers invite chaperoned groups of high school and college-level automotive students, as well as those in design, engineering, manufacturing, small engine and welding. Students pay discounted entry fees and get a healthy dose of hands-on experiences, guest speakers and insights on possible career opportunities.
Memorable Moments from Past Shows
Over the years, World of Wheels has created countless unforgettable memories. From witnessing record-breaking speed runs to getting autographs from legendary car builders, attendees leave with a deeper appreciation for the automotive world.
You can create your own ripples by entering your hot rod, custom vehicle or motorcycle. The tour features two major prizes. The Ridler Cup recognizes an exceptional car that has never been shown before. Meanwhile, the Legend Cup goes to those who capture and combine style with quality and craftsmanship, along with $10,000 in cash.
Who is World of Wheels for: Hot rod fans and DIYers, typically men from ages 18 to 44
How much does it cost to attend World of Wheels: Adults $23, children under 12 $8, children under 6 get in free
When does World of Wheels: Every year in April, over three days
Where does World of Wheels take place: The BMO Centre in Calgary
5. Rock'n August Car Show Festival
Rock'n August started in 1996 to bring cars and music together and raise funds for Diabetes Research. The St. Albert Cruisers classic car group teamed up with three local Cosmopolitan Clubs, the local Chamber of Commerce and the Alberta Diabetes Foundation. Together, they have revved up more than $1.4 million for charities.
Organizers also work with the Edmonton Street Rod Association, the Alberta Iron Indians Pontiac Club Edmonton, and Mainstreet Cruisers, Edmonton Antique Car Club, Edmonton Corvette Car Club and others. In other words, you get the best of all these types of cars in one spot.
Immerse Yourself in Various Events
The Rock'n August car show festival unfolds all over the town with a variety of fun car-themed events. You can start with the scavenger hunt to get to know the town. Next, you can take your ride on a poker run to build a strong hand. Both events have prizes of $500.
Test your knowledge of classic car trivia with a competition focused on fins and fenders. Throughout the week, join in three separate yet stellar show-and-shines, live music and great food. It all builds up to the Friday night cruise through the town. Crowds line the streets as drivers show off their beloved cars.
It all wraps up with a street dance and after party. Don't forget the silent auction for unique themed prizes.
Building the excitement
While the Rock'n August Car Show Festival roars mostly in St. Albert, it takes the show on the road beforehand. In the weeks leading up to the festival, it tours around to nearby communities to build excitement. If you don't get enough, you can always return for the Tuesday night cruise nights that unfold on seasonal summer nights.
Who is the Rock'n August Car Show Festival for: Car fans with their own cars to show
How much does it cost to attend the Rock'n August Car Show Festival: Basic registration to include your car in events costs $25, some events are free while others have entry fees
When does the Rock'n August Car Show Festival take place: Every year in August, over five days
Where does the Rock'n August Car Show Festival take place: St. Albert, just 20 minutes northwest of Edmonton
With the car show season in full swing, Alberta is the place to be for car enthusiasts. If this list doesn't keep you busy enough, you can always check this southern Alberta car show calendar for a series of smaller events.
Whether you're looking for stunning displays, historical gems, or custom masterpieces, the top five car shows in Alberta have it all. So grab your camera, buckle up and get ready for an exhilarating ride through Alberta's car show scene!