The Top Banks & Credit Unions in Saskatchewan That Flatlanders Love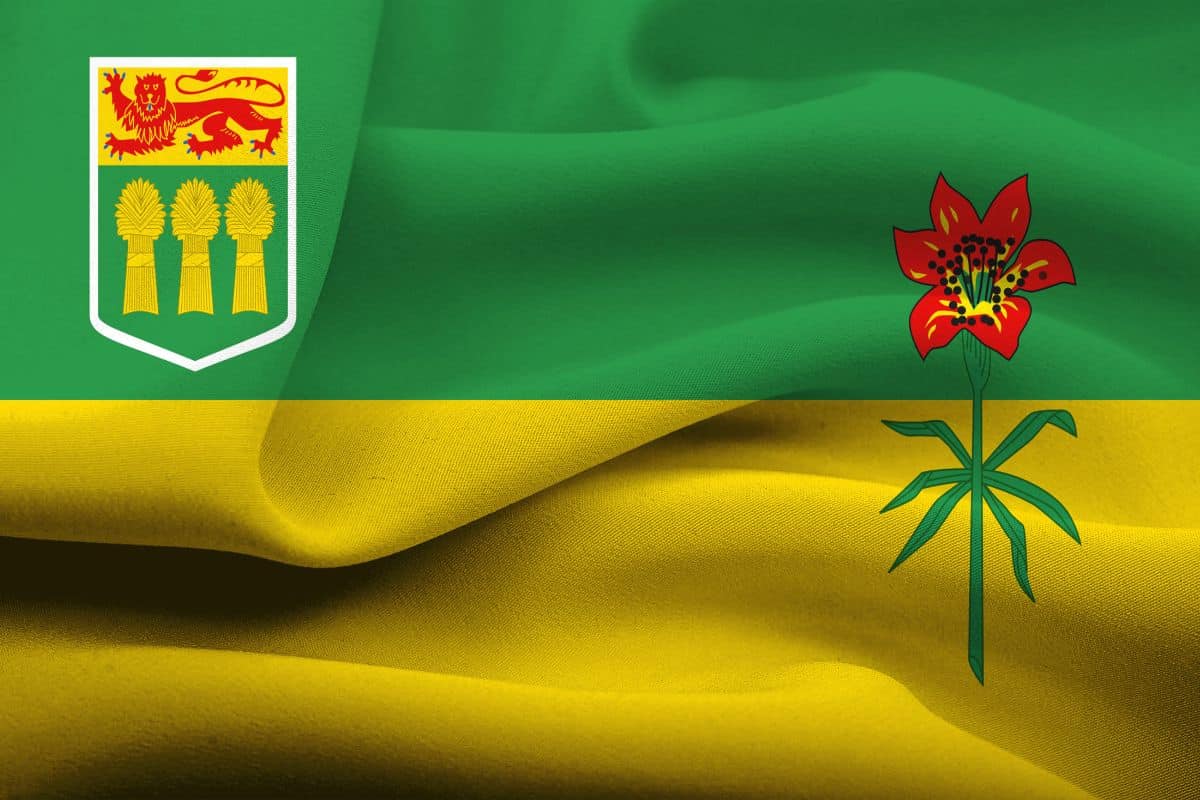 In the heart of Canada's big-sky country, one province will always feel like home to me – even though my time there wasn't long enough. Saskatchewan is where I kicked off my career in finance, but more importantly, it's where I learned the value of a people-before-profits banking philosophy. That's why certain banks in Saskatchewan are especially beloved by residents. Why?
Because western Canada has a certain je ne sais quoi that sets it apart from the rest of the country. Its tight-knit communities are deeply rooted in a distinct culture, vibrant history, and a deep connection to the land. And that spirit of fellowship is evident in all aspects of life on the prairies, including the top banks in Saskatchewan that keep the heart of the heartland pumping. If you're a proud Flatlander or will be soon, here's what to know.
Banking in Saskatchewan
Saskatchewan's banking scene is a blend of large, national institutions and smaller local credit unions, each providing a wide range of services to the wonderful people of the prairies. Here, we have ranked the top banks and credit unions based on things like the number of branches, ATMs, fees, and their contributions to the local communities they serve.
During my time here, it was evident that Saskatchewan dwellers are an especially heartfelt people who prefer to do business where they feel seen, heard, and supported. For this reason, credit unions are particularly popular, with the tiny credit union I worked for serving the vast majority of the city I lived in – outperforming its big bank competitors in membership numbers and loyalty.
Banks vs credit unions
Before we jump into the top banks in Saskatchewan, it's important to understand how different financial institutions work and how that might impact your decision to do business with them.
Banks and credit unions in Canada may seem similar on the surface, but they are not the same. Both offer a range of financial services like savings accounts, mortgages, loans, commercial investments, etc. But their operational structures and philosophies diverge in some key areas that are uniquely important to Saskatchewanites.
Banks are for-profit corporations owned by shareholders, and their primary objective is to generate profit for these shareholders. They are often long-standing institutions with a track record of stability through challenging economic times, making them a safe and reliable place to park your cash.

On the other hand, credit unions are smaller member-owned cooperatives where profits are reinvested back into the credit union, distributed amongst its members in the form of lower fees, better interest rates, or dividends, and donated to local community-led initiatives.
Because they are smaller with fewer financial resources to fall back on, they tend to be more risk-averse and conservative when it comes to things like lending decisions. And they are not always able to compete with the big banks on things like lower fees or special perks.
But credit unions are deeply embedded within their communities and regularly invest in the local economy and the people they serve. This creates a sense of unity and shared prosperity, which is highly valued by the close-knit communities in which they operate, earning them a high degree of loyalty from their members.
Having said that, I did notice a few specific big banks that were popular among non-credit union members. Not only did I work full-time at the local credit union, but I also moonlit as a server at Boston Pizza where thousands of bank cards were used to settle bills. Younger Saskatchewans looking for more diverse products, lower fees, and easy-to-access services seemed to prefer certain digital and physical banks over others.
Best digital banks in Saskatchewan
This prairie province is characterized by many smaller towns and rural communities, many located hours from the nearest city or township. So let's kick off our list with the top digital banks in Saskatchewan that you can access anytime, anywhere from the palm of your hand.
These institutions exist entirely online with no physical branches and often offer significantly lower fees, or no fees at all – a particularly attractive value proposition for any green-blooded Roughrider looking to keep it simple and save money.
Tangerine
[Offer productType="SavingsAccount" api_id="5f0ede06d87b2e4502530013″ id="173710″]
Customers: 2 Million +
Known for: Free accounts with $0 daily banking fees
Benefit: $9 Billion + in interest paid to customers
Special recognition: Award for Highest in Customer Satisfaction Among Midsize Retail Banks in 2022
Tangerine is Canada's most popular digital bank, and it's owned by Scotiabank. It operates without traditional brick-and-mortar branches, instead offering a diverse scope of financial services entirely online. While this means there are no physical Tangerine branches in Saskatchewan, you can use Scotiabank ATMs for cash transactions without being charged additional fees.
Tangerine is best known for its free chequing and savings accounts that offer unlimited everyday transactions, and its two Mastercard products are among the best cash back credit cards in Canada. Their other services like investment accounts, GICs, loans and mortgages offer competitive rates and lower fees as well.
While it might not invest directly in local Saskatchewan communities due to its online nature, it does contribute to national initiatives like:

EQ Bank
[Offer productType="CreditCard" api_id="63d2cb6a18196b6d2e1928c2″ id="198047″]
Customers: 250,000 +
Known for: Best high-interest savings account
Benefit: Earn 250x more interest on deposits than traditional banks
Special recognition: Named Top Bank in Canada by 2023 Forbe's Best Banks
EQ Bank was the first-ever 100% digital bank in Canada and a fan favourite coming in a close second to Tangerine. It offers many of the traditional banking services you are used to, but without ever having to leave the house.
Like Tangerine, there are no physical branches or ATMs. However, the EQ Bank Card gives you easy access to your money through any ATM in Canada without charging you any fees, and they will reimburse you any network fees charged by Canadian ATM service providers.
EQ Bank is known for its high-interest Savings Plus Account and zero fees for everyday banking transactions, which can make it an attractive option if you're looking for an easy way to save money. As a digital bank, EQ's community investment is usually focused on about 10 nationwide or digital initiatives as well as these community-focused organizations: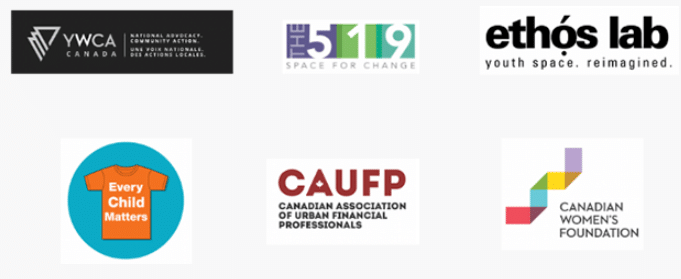 Neo Financial
[Offer productType="SavingsAccount" api_id="60fee79313fd2f260ff90749″ id="173809″]
Customers: Rated them 4.8 stars on the app store
Known for: Best cash back rewards program
Benefit: Customers earn an average of 5% cash back & up to 15% cash back at Neo Partners
Special recognition: Rewards program supports small local businesses
From the creators of the Calagary-based SkipTheDishes app, Neo Financial is a fintech company born on the prairies that also provides a completely digital banking experience for most of your daily banking needs. Neo is fairly new to the scene, so the customer count is low, but it has earned praise from happy Flatlanders.
While it doesn't have physical branches or ATMs in Saskatchewan, Neo offers a high-interest money account that comes with a free prepaid Mastercard. They also offer a standard credit card called Neo Credit, which stands out as the best credit card in Canada in Hardbacon's 2024 ranking.
The Neo Mastercard rewards program indirectly supports the local economy by encouraging spending at local businesses. From the app, you can find partner merchants near you to maximize your cash back and discover local gems. Neo's business model revolves around partnerships with local businesses, reflecting a different kind of investment in the local community by helping small businesses thrive.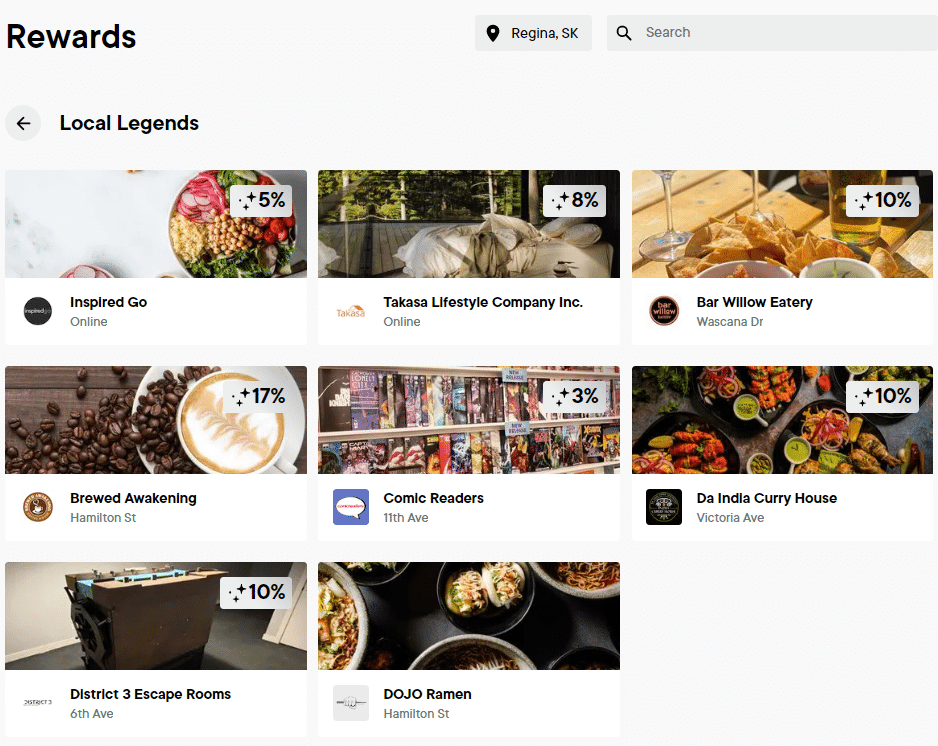 Best big banks in Saskatchewan
In Saskatchewan, the "Big Six" Canadian banks – Royal Bank of Canada (RBC), TD Canada Trust, Bank of Montreal (BMO), Canadian Imperial Bank of Commerce (CIBC), Scotiabank, and National Bank of Canada (NBC) – all have a substantial presence.
These banks are recognized for their expansive branch networks and ATMs, wide-ranging financial services, and strong customer service. But, during my time here, certain banks stood out as particularly popular among the people I engaged with.
Scotiabank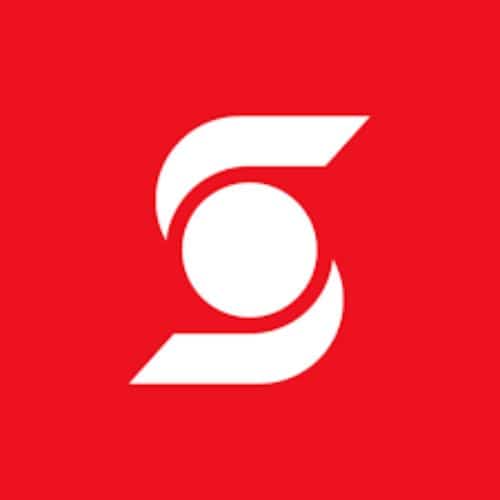 Customers: 10 Million +
Known for: Scene + Points Program
Benefit: Debit and credit card purchases can earn free movies, merchandise, travel, and more
Special recognition: Awarded 2022 Bank of the Year by The Banker
Scotiabank offers a vast network of 941 branches and 3,697 ATMs across Canada, providing the people of Saskatchewan with flexible and accessible banking solutions. The bank's fees are competitive with other major banks and offer a range of financial products from daily banking accounts, to their beloved Scene+ and travel credit cards, investment solutions, lending services, and more.
When you open an account with Scotia, you're money is helping fellow Canadians. Their philanthropic efforts are notable, with significant contributions to diverse causes across Canada through the ScotiaRISE program – a commitment to invest $500 million into community initiatives by 2030 to empower disadvantaged groups.
Royal Bank of Canada (RBC)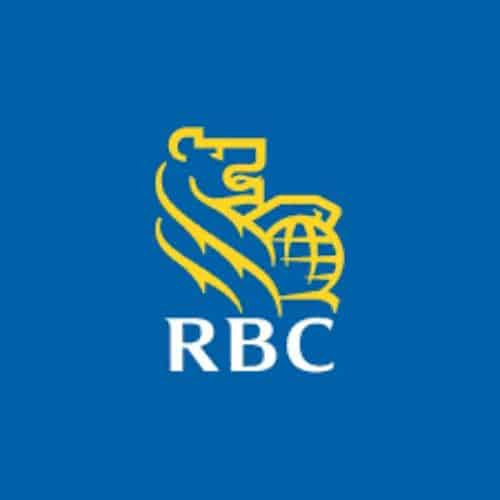 Customers: 17 Million in Canada & abroad
Known for: Best online banking platform in Canada
Benefit: Avion rewards program for travel lovers
Special recognition: Name one of Canada's Top 100 Employers in 2022
As Canada's largest bank by market share, RBC is the most accessible of the Big Six and maintains a strong presence in Saskatchewan. They offer over 1,200 physical branches and the largest ATM network in the country with over 4,200 RBC bank machines. This gives their customers unparalleled access to various banking services.
RBC offers a wide array of financial products, but fees and perks vary depending on the type of account and how you use it. In addition to daily banking accounts, RBC also provides savings and investing products, lending and mortgage solutions, credit cards, and more.
If you're looking to do business with a bank in Saskatchewan that gives back, RBC is a strong community supporter investing in programs that advance education, health, and various social services at home and abroad. They've committed to giving $500 billion in sustainable and ethical financing by 2025.
TD Canada Trust (TD)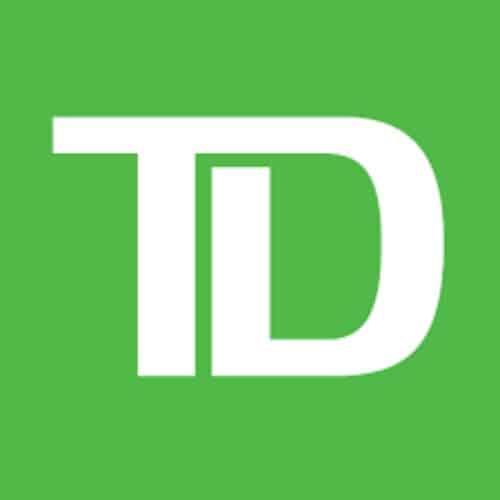 Customers: Over 27 Million worldwide
Known for: Best mobile banking app in Canada
Benefit: Amazon.ca & Starbucks rewards partnerships
Special recognition: The only Canadian bank listed on the Dow Jones Sustainability World Index
TD Bank is another top bank in Saskatchewan and a particularly popular choice among millennials. It operates over 1,000 branches and over 2,500 TD ATMs across Canada, providing excellent coverage for those on the prairies. TD's fee structure is comparable to the other Big Six banks, with various options for both personal and business banking.
In line with its peers, TD provides a full scope of financial services from daily banking accounts, savings products & investment services, mortgages, personal loans, credit cards, and more.
TD is also known for its commitment to the well-being of communities across North America through the TD Ready Challenge. The challenge is a fund that will invest $10 million in total grants to support community organizations that develop innovative solutions for positive social and environmental change.
Best credit unions in Saskatchewan
Credit unions in Saskatchewan hold a special place in the hearts of the incredible people who live there. These member-owned institutions are beloved for their people-centred service, competitive rates, and demonstrable commitment to their local communities. These three credit unions are especially popular and have earned the trust of their members. That loyalty continues to reinforce the enduring appeal of the people-before-profits approach to financial services in Big Sky country.
Conexus Credit Union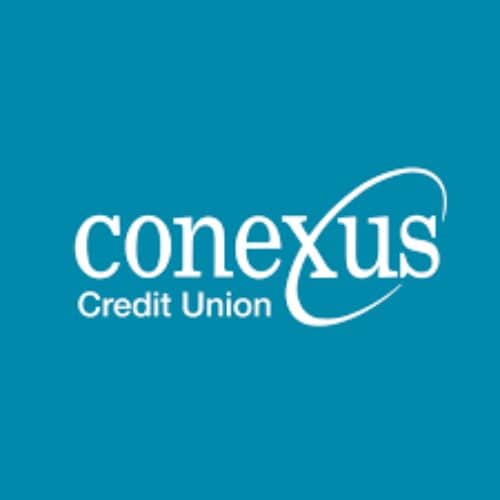 Customers: 137,000+
Known for: Large investments in Saskatchewan community initiatives
Benefit: Tailored products & services for those in the agricultural industry
Special recognition: 2023 winner of the Best Banking Service Level Experience by Surviscor
As the largest credit union in Saskatchewan, Conexus is a powerful alternative to the big banks. With 30 branches and several ATMs in the province, Conexus provides its members with easy access to banking services tailored to the unique prairie lifestyle.
Their fees are generally lower than those of the big banks, making them an attractive option if you want to save more while keeping your money in the local economy. Conexus offers an extensive selection of both traditional and innovative banking services tailored to the needs of Saskatchewan families, farmers and others in the agricultural sector.

Conexus also invests heavily in local communities, providing millions in community grants and sponsorships each year. Their list of partner organizations is extensive with far too many to list them all here. A few include housing, food security, and education-focused groups, such as but not limited to:
Habitat for Humanity Saskatchewan
Regina Food Bank School Lunch Program
SOFIA House
Affinity Credit Union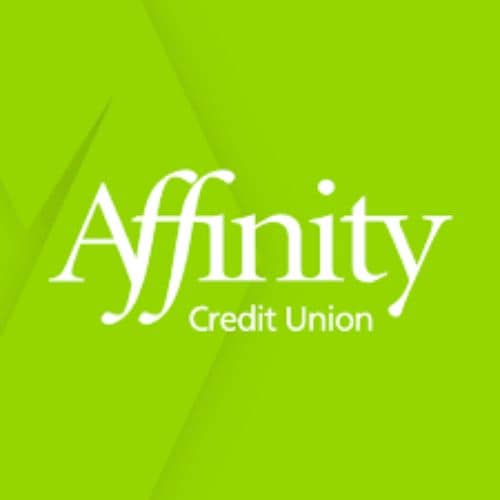 Customers: 120,000 +
Known for: High interest Investor Savings Account
Benefit: Access to 1,800 + 'ding free' ATMs across Canada
Special recognition: Employees get an annual $200 to donate to a local charity of their choice
Affinity Credit Union is the second-largest credit union in Saskatchewan, providing 56 branches in 47 communities across the province. Affinity's fees are relatively low compared to the big banks, and they offer a diverse range of financial products and services in line with their banking competitors.
Affinity has a strong community focus, with a unique Community Development program that reinvests a percentage of profits back into local programs. 'Each One Teach One' is a financial literacy mentorship program that enables certified Affinity employees to organize and lead personal finance workshops in their communities.
The credit union also gives hundreds of thousands of dollars each year to local causes focused on social and financial inclusion, environmental sustainability, local economic development, and community building.
Innovation Credit Union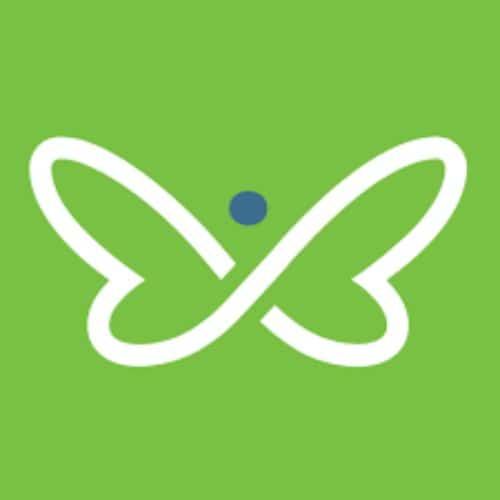 Customers: 58,000+
Known for: No-fee chequing account
Benefit: Shares profits with members & they can earn additional cash dividends
Special recognition: In the process of becoming the first federally regulated credit union based in Saskatchewan
Innovation Credit Union stands out for its digital-first approach, offering a high-tech banking experience similar to the digital banks. It is currently in the process of becoming the first Saskatchewan-based, federally-regulated credit union. That means it will be able to expand its membership and operate across Canada. Eligible deposits would then fall under CDIC protection.
While Innovation credit union has just 24 physical branches across the province, it boasts a free no-fee chequing account that resembles the free essential banking services provided by online-only banks. The account offers unlimited transactions and free ATM access across Canada.
Innovation's fee structure is competitive and it prides itself on giving back to the community, contributing to local causes through the Innovation Credit Union Community Impact Campaign, as well as many other sponsorship, partnership, and grant programs.
FAQs about banks in Saskatchewan
On what days are banks and credit unions open in Saskatchewan?
Most banks and credit unions in Saskatchewan operate from Monday to Friday, with some branches also open for limited hours on Saturdays. The exact hours can vary by location and institution. It's always a good idea to check the specific hours of your local branch on the bank or credit union's official website. Additionally, keep in mind that Canadian banks and credit unions are typically closed on federal and provincial statutory holidays.
Are my deposits in Saskatchewan banks insured?
Yes, deposits in Saskatchewan banks are insured. The Canada Deposit Insurance Corporation (CDIC) insures eligible deposits at each member institution up to a maximum of $100,000 per depositor per insured category.

Credit unions in Saskatchewan have deposit protection provided by the Credit Union Deposit Guarantee Corporation (CUDGC), which guarantees the full amount of deposits held in Saskatchewan credit unions.
What Canadian banks do business in Saskatchewan?
All of the Big Six Canadian banks do business in Saskatchewan, which includes Royal Bank of Canada (RBC), Toronto-Dominion Bank (TD Canada Trust), Bank of Nova Scotia (Scotiabank), Bank of Montreal (BMO), Canadian Imperial Bank of Commerce (CIBC), and National Bank of Canada (NBC).

Credit unions like Conexus Credit Union, Affinity Credit Union, and Innovation Credit Union and many more offer financial services in Saskatchewan and are popular among residents. 

There are also digital banks like Tangerine, EQ Bank, and Neo Financial that operate entirely online and are accessible to Saskatchewan residents too.