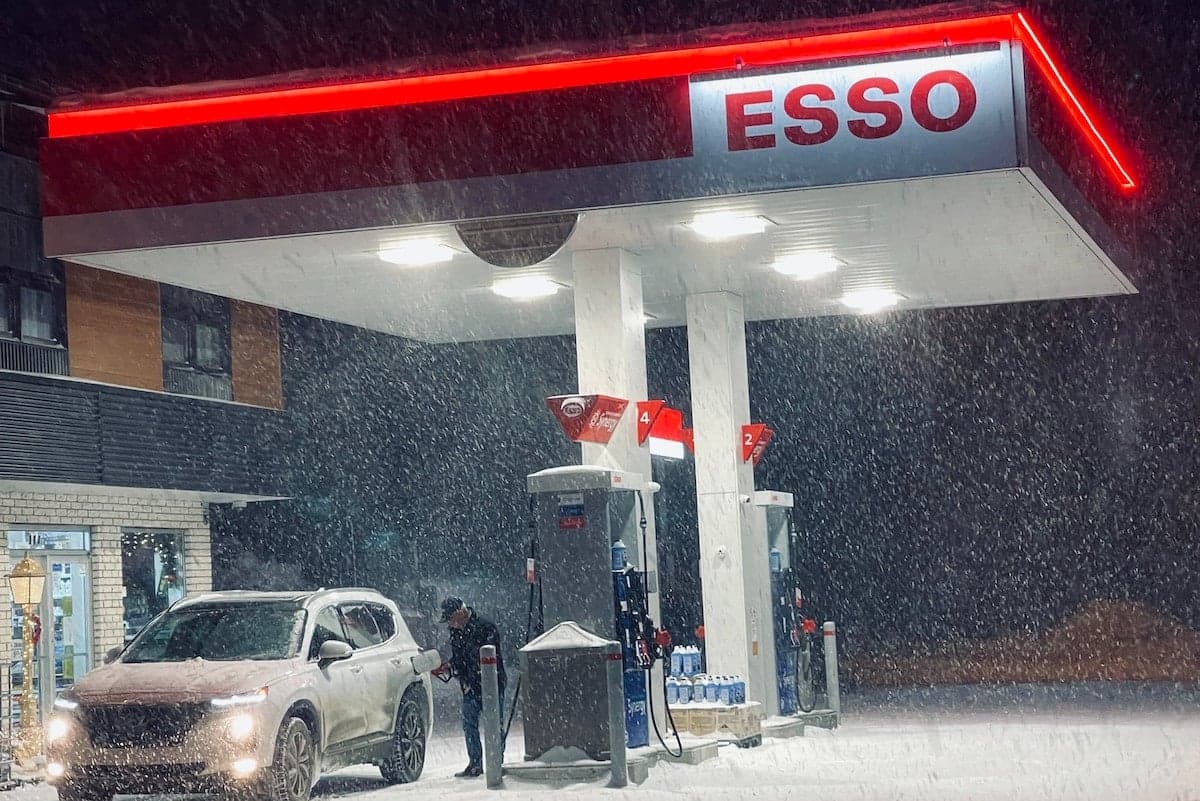 For countless Canadians, stopping at a gas station becomes a regular part of their routine. But with gasoline prices on the rise, it's more crucial than ever to choose the right spot to refuel. Beyond price, service quality, rewards programs and location play pivotal roles in determining the best gas station chains in Canada.
After extensive research, we've compiled a list of the 12 best gas station chains in Canada. Now, we help you ensure that every trip to the pump is worth your time and money. Before you ask, the numbers don't imply rankings but simply help you navigate from one to 12.
1. Petro-Canada
A true emblem of Canadian identity, Petro-Canada has been serving the nation's fuel needs since the 1970s. With more than 1,500 locations across Canada, its stations appear in bustling metropolitan hubs and serene countryside locales. Consequently, Petro-Canada ensures that Canadians are never far from a top-quality refuelling station.
One of its standout features is the Petro-Points loyalty program. Each visit lets customers accumulate points which can later be redeemed for fuel savings, car washes or even travel discounts. Additionally, a Petro-Canada credit card further amplifies these rewards, granting users enhanced points earning and exclusive offers. Despite a security breach in July 2023, the program runs like a well-oiled engine.
With a blend of accessibility, consistent service quality and rewards, Petro-Canada remains a dominant force in Canada's gas station sector.
If you seek an excellent credit card to enhance your Petro-Canada shopping experience, consider the RBC ION Visa credit card. With no annual fees, no credit score or annual income requirements, this card suits those who frequently refuel at Petro-Canada. You'll benefit from 1.5 Avion points per dollar on gas and an additional 20 percent more Petro-Points. This combination allows you to accumulate points rapidly. Moreover, link a new RBC credit card within 30 days of approval, you'll receive 25,000 Petro-Points at no cost.
Number of locations: 1,581
Provinces: All
Rewards program: Petro-Points Rewards
2. Shell Canada
As a subsidiary of the globally renowned Royal Dutch Shell, Shell Canada's prominence in the fuel industry is indisputable. It has a sprawling network of more than 1,300 stations countrywide. Therefore, Canadians from all corners can easily spot the iconic yellow and red shell emblem, indicating quality fuel and service. Shell's AIR MILES rewards program underscores its commitment to customer value, as drivers accumulate miles on fuel and in-store purchases. These miles are a gateway to diverse rewards, including travel, entertainment, and more. By prioritizing customers, top-tier fuel quality and rewards, Shell Canada stands tall among the leading gas station chains in Canada.
To get the most out of your Shell purchases, consider using the BMO Air Miles Mastercard. This credit card has no annual fee and does not require you to have a specific annual income. Moreover, the card allows you to earn AIR MILES on purchases, yet three times as many on all Shell purchases. When you apply for this card, you can earn up to 800 AIR MILES as part of BMO's welcome bonus offer. These AIR MILES can be used for free fuel, car washes, flights, car rentals, hotels, merchandise, entertainment, and much more!
Number of locations: 1,346
Provinces: All
Rewards program: AIR MILES
3. Ultramar
A beacon of reliability for Canadian motorists, Ultramar has steadily fortified its reputation in the fuel sector since its establishment. Operating several hundred service stations, Ultramar extends its reach to a vast clientele predominantly from Quebec to the Maritimes. An added attraction for drivers frequenting Ultramar is the Journie Rewards loyalty program. Ultramar allows its patrons to accumulate Journie points on their purchases. Ultimately, you can use them towards a 7¢/L gas discount for every 300 points you collect. Further, other rewards dole out for smaller increments like 75 or 150 points. Rooted in service excellence, competitive pricing and enticing rewards, Ultramar is undeniably a top choice for refuelling in Canada.
One of the best credit cards you can use for your Ultramar purchases is the TD Cash Back Visa Infinite Card. With this card, you can receive three percent cashback on all gas expenses. Currently, a special welcome offer gives you 10-percent cashback on all purchases for the first three months. This also makes this credit card a perfect choice for credit card churning in Canada.
Number of locations: 700+
Provinces: Ontario, Quebec, New Brunswick, Nova Scotia, Prince Edward Island, Newfoundland and Labrador
Rewards program: Journie Rewards
4. Esso
One of the most recognized names in the Canadian fuel industry, Esso boasts a widespread presence with 2,000-plus stations. With Essos dotted across the nation, motorists are never too far from a reliable fill-up. Strategically located in urban centres and rural areas, Esso caters to a broad spectrum of Canadians on the move. A significant draw for many loyal customers is the PC Optimum™ loyalty program. As such, they can earn points with every purchase and redeem them for free gas, car washes and more. Moreover, the Esso™ Fuel Discount Cards give you cents-per-litre savings at participating Esso and Mobil stations across Canada. Now, cardholders can enjoy even more fuel savings.
To make the most out of your Esso experience, consider using the PC Financial Mastercard. This card has no annual fee and no credit score requirement. Further, it doesn't require annual income requirement, making this card a must-have for everyone filling up their car at Esso stations. Currently, an introductory offer of 20,000 PC Optimum points awaits upon your first purchase. Afterward, you'll also earn 30 PC Optimum points for every litre of fuel you pump at Esso gas stations. When considering convenience, rewards and accessibility, Esso stands out as a top contender in the Canadian gas station landscape.
Number of locations: 2,228
Provinces: All
Rewards program: PC Optimum™
5. Irving
Steeped in a legacy that spans over a century, Irving Oil operates as one of Canada's most trusted fuel providers. Primarily found in the Atlantic provinces, Irving stations have become a staple for many Canadian motorists, especially in the east. With a network that spans several hundred locations, they ensure convenient access to quality fuel for their loyal customer base.
Irving Hometown Rewards program sets it apart. In short, it offers drivers in Atlantic Canada the opportunity to earn AIR MILES on fuel purchases and in-store transactions. They can then redeem these miles for a range of rewards, from travel to merchandise. Quebec and Ontario residents can take part in the Irving Rewards program, which offers drivers per-litre discounts on fuel expenses. Furthermore, the Irving Rewards card provides direct fuel savings and exclusive member benefits. With a strong commitment to service, quality and value, Irving firmly holds its ground among the top gas station chains in Canada.
Also, Canadians can boost their rewards when topping up at Irving gas stations with one of the best AIR MILES credit cards in Canada. These credit cards, such as the BMO Air Miles World Elite Mastercard, allow you to collect an increased number of AIR MILES at participating member stores, including Irving gas stations.
Number of locations: 900+
Provinces: Eastern Ontario, Quebec, New Brunswick, Nova Scotia, Prince Edward Island, Newfoundland and Labrador
Rewards program: Irving Rewards/Hometown Rewards
6. Mobil
As a sister brand to Esso, Mobil has leveraged its global reputation for quality and reliability. Although its physical presence isn't as vast as other brands, Mobil's stations serve a significant portion of the Canadian drivers. Mobil patrons enjoy the advantage of seamless integration with the PC Optimum™ loyalty program. It allows customers to earn points on fuel, in-store purchases and car wash services, redeeming them for various rewards. Mobil's commitment to quality fuel and customer-centric rewards programs solidifies its place among Canada's top gas station chains.
Meanwhile, the PC Financial World Elite Mastercard offers an excellent choice for Canadian drivers seeking to maximize PC Optimum points. With 30 PC Optimum points for every dollar spent at Mobil, this card swiftly turns everyday fueling into rewards. Lacking an annual fee, it's effortless for users to start accumulating benefits from their fuel expenses.
Number of locations: 2,228
Provinces: All
Rewards program: PC Optimum™
7. Canadian Tire Gas+
An extension of one of Canada's most iconic retail brands, Canadian Tire Gas+ has woven itself into the nation's fuel landscape with distinction. With hundreds of locations across Canada, they cater to a vast array of motorists seeking more than a refuelling pit-stop. The Canadian Tire Triangle Rewards program serves as a significant allure for Gas+ patrons. Each fill-up powers the journey and adds to one's Canadian Tire Money balance, redeemable at Canadian Tire stores and other partner brands. Additionally, the Triangle™ credit card amplifies the earning potential, granting users accelerated rewards on fuel purchases and beyond. By intertwining the convenience of refuelling with the broader Canadian Tire shopping experience, Gas+ secures its position among Canada's elite gas station chains.
If you often visit Gas+ stations, having the Canadian Tire Triangle Mastercard comes highly recommended. This straightforward and hassle-free card doesn't come with an annual fee or stringent credit score and income criteria. It offers a convenient way to maximize your Gas+ visits. When you use this card at Gas+ stations, you'll receive five cents per litre in Canadian Tire Money for your fuel purchases. Moreover, you can enjoy a four-percent cashback in Canadian Tire Money when you shop at Canadian Tire and other partner stores such as SportChek, Atmosphere and Hockey Experts.
Number of locations: 300+
Provinces: All
Rewards program: Triangle Rewards
8. Harnois
Grounded firmly in Quebec's fuel industry landscape, Harnois Groupe pétrolier is a name associated with trust, quality, and customer-centric service. Its network of service stations, primarily located in Quebec, stands testament to its deep-rooted commitment to serving the local community. Beyond just fueling vehicles, Harnois offers a unique rewards experience.
Customers can accumulate points with Proxi Extra on every purchase, which can later be redeemed for a variety of rewards at Harnois establishments. Ensuring convenience, the company provides fuel delivery services and payment solutions tailored to both individual motorists and businesses. By merging the essence of a gas station with modern-day needs, Harnois solidifies its stature as a leading fuel provider.
If you seek to gain more benefits when filling up your car, then look no further than the Scotiabank Gold American Express Card! This card gives you the opportunity to earn three Scene+ points for every $1 spent at gas stations. Moreover, the card currently has an attractive welcome bonus of 40,000 points if you spend $2,000 in the first three months. You can redeem Scene+ points for entertainment, movies, travel, shopping, dining and more!
Number of locations: 400+
Provinces: Quebec, Nova Scotia, New Brunswick, PEI and Newfoundland and Labrador
Rewards program: Proxi Extra
9. Crevier
As a pillar in Quebec, Crevier stands out for dependable fuel options and an emphasis on community and customer value. Boasting an expansive network of stations across Quebec and parts of Ontario, Crevier provides drivers a trusted spot to refuel. Additionally, Crevier's fleet card provides businesses with comprehensive fuel management solutions, ensuring convenience and efficiency. By blending top-notch fuel services with a robust loyalty structure, Crevier emerges as a preferred choice for many motorists.
If you refuel at Crevier stations and want to maximize your benefits, opt for the BMO CashBack World Elite Mastercard. This credit card offers an opportunity to earn three-percent cashback on all your fuel purchases at stations throughout Canada. Additionally, the card presents an appealing introductory offer. You could get 10-percent cashback on all your purchases during the first three months of owning the card.
Number of locations: 170
Provinces: Quebec and Ontario
Rewards program: None
10. Super Save Gas Station
Offering reliable service and competitive prices, Super Save Gas Station has carved out a niche in the Canadian fuel market. With 40 locations mainly sprinkled across British Columbia, it has long been the go-to for many drivers in the region. While small compared to some of the industry giants, they make up size in community connection and value-driven offerings. Super Save has always emphasized giving its patrons more bang for their buck, often reflected in frequent promotions and discounts. Its dedication to serving the local community with quality fuel and friendly service is palpable. In turn, this reinforces Super Save Gas Station's position as a contender in the list of Canada's premier fuel stops
Although Super Save Gas lacks a rewards program, you still gain advantages when refueling your car. With the American Express SimplyCash Preferred Card, you can enjoy four-percent cashback on all your gas expenditures. Plus, you can acquire extra cards at no cost, so family members also reap benefits whenever they refuel the car.
Number of locations: 40
Provinces: British Columbia
Rewards program: None
11. Eko
Eko, a significant player primarily in Quebec's fuel sector, has become synonymous with dependable service and fair pricing. With its expanding network of stations in the province, Eko ensures that motorists have access to quality fuel. But it's not just about refueling. Eko goes the extra mile by partnering with the Milliplein rewards program, allowing customers to earn points with each purchase. These points can then be redeemed for attractive offers and discounts, adding more value to each visit. Its commitment to environmental sustainability is also noteworthy, as they continuously strive for cleaner fuel alternatives and reduced emissions. Blending traditional service values with innovative solutions, Eko holds its own as a distinguished name in Canada's fuel industry.
Apart from the Milliplein rewards program, Canadians also have the option to use the CIBC Dividend Visa Infinite Card. It offers an impressive four-percent cashback on all expenses related to gas and groceries. When used in conjunction with Milliplein, this combination can lead to significant savings on your regular fuel purchases.
Number of locations: 80
Provinces: Quebec
Rewards program: Milliplein
12. Paz Fuels
Based in Abbotsford, British Columbia, Paz Fuels is a name that resonates with trust, quality, and community commitment. Strategically placed , it ensures that locals always have a reliable spot for refuelling. Beyond the pump, Paz Fuels' in-station convenience stores and amenities add an extra layer of service, making each visit more than just a fill-up. Customers have consistently appreciated its competitive pricing and frequent promotions, reinforcing the value Paz brings to every transaction. While it might not boast the extensive footprint of some industry giants, it focuses on community, consistent quality, and attentive customer service. This trio has cemented Paz Fuels as a standout choice for motorists in its areas.
Paz Fuels has no rewards program, but you can still get some benefits every time you tank when using the American Express SimplyCash Card. With this card, you can get 2% cash back on all gas and grocery purchases while not having to pay any annual fees. Bringing this card along on every refuelling trip is a no-brainer!
Number of locations: 1
Provinces: British Columbia
Rewards program: None
Best Gas Station Chains in Canada: The Bottom Line
By delving into this comprehensive list, you've gained invaluable insights into the leading players in the gas station industry. From exceptional service and convenient locations to competitive pricing and loyalty programs, these gas station chains stand out for their commitment to meeting the diverse needs of Canadian drivers. So, next time you hit the road, make sure to bring one of the best gas credit cards in Canada to get the most out of every liter!