Welcome Offer
Get up to 90,000 BMO Rewards points
Get 50,000 BMO Rewards points (out of 90,000 points) when you spend $6,000 in the first 3 months. BMO will waive the $120 annual fee for the first year. Offer ends in May 31, 2024. Conditions apply.
Get additional 40,000 BMO Rewards points in the first year
Spend $100,000 in the first year to earn additional 40,000 BMO Rewards points. Offer ends in July 31, 2023. Des conditions s'appliquent.
Requirements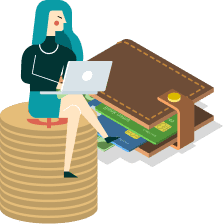 Canadian
Residency
Required
Income
Insurance
🛍
Purchase protection
Get up to 120 days of coverage for purchased items.
📆
Extended warranty
Triple the original manufacturer's warranty to a maximum of 2 extra years.
📵
Mobile device insurance
The card comes with mobile device coverage, meaning that if your mobile phone is damaged or stolen, the cost for repair or replacement will be covered up to $1,000.
🏥
Medical emergency
In case of an unexpected medical emergency, you are covered for up to $5,000,000 for up to 22 consecutive trip days. So you can focus on recovering while Allianz handles the bills.
🚗
Auto rental coverage
The rental car coverage will protect you from damage to or theft of a rental vehicle of MSRP up to $85,000 with a maximum rental period of up to 48 consecutive days.
❌
Trip cancellation
The trip cancellation insurance of up to $2,500 per person and $5,000 per account allows you to cancel your plans without worrying about financial loss if you become sick or have an emergency.
⚡️
Trip interruption
The trip interruption insurance of up to $5,000 per covered individual ($25,000 max for all insured individuals per trip) can provide peace of mind while traveling.
🦷
Travel accident
Travel accident insurance that comes with BMO eclipse Visa Infinite Privilege* Card offers up to $500,000 per covered individual if they are injured or die while traveling on a common carrier such as a plane, car service, train, or cruise ship.
⏱
Flight delay
The BMO eclipse Visa Infinite Privilege* Card comes with Flight Delay insurance, so if your flight is delayed for 4 hours or more, you are eligible for $1000 per account per trip coverage.
🧳
Lost or stolen baggage `insurance
You are insured up to $2,500 per occurrence for personal property stolen from a hotel room during your trip. Simply charge the full cost of your hotel stay to your BMO eclipse Visa Infinite Privilege* Card, and you're covered.
Benefits
🪪
VIP Airport lounge pass
Enjoy a Visa Airport Companion membership and 6 complimentary airport lounge visits per year – valued at more than $250 USD.* Get access to over 1,300+ lounges worldwide through the Mastercard Travel Pass program.
💎
Concierge service
With Visa Infinite Concierge service, you can receive personalized travel planning assistance and assistance with event tickets and restaurant reservations.
🌎
Worldwide customer service
BMO cards come with 24/7 customer support anywhere in the world.
⭐
Exclusive discounts with my favorite brands
As a cardholder, you'll enjoy exclusive access to the Troon Rewards® Golf Program, offering preferred rates and special offers at over 95 of the world's finest golf courses.
💳
More rewards with additional card
Earn more MBO Points by adding another cardholder for $99 per year.