Stocard: the App to Manage All Your Loyalty Cards in One Place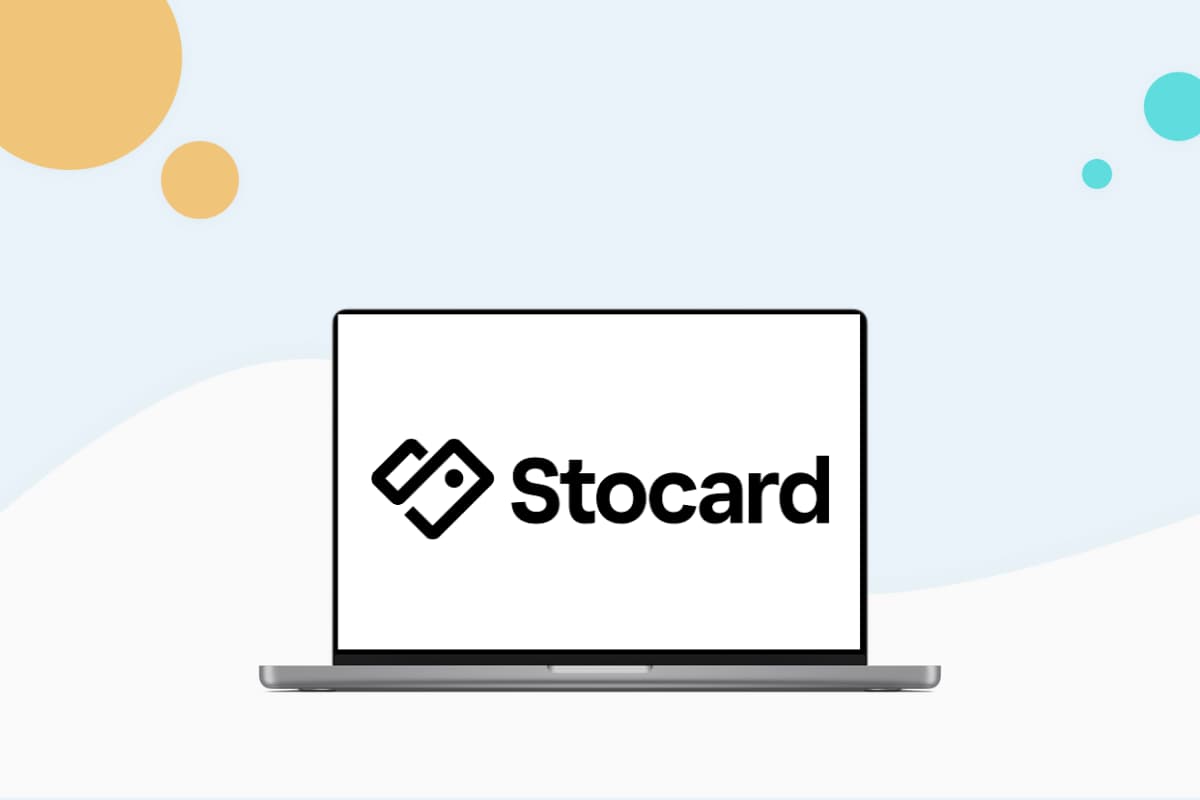 Gone are the days of digging through your wallet trying to locate the right card when you're in the line at BestBuy. Loyalty cards are a great way to earn rewards when you spend at your favourite retailers.
However, keeping track of them can be a pain. You could miss out on those valuable points if you misplace them or forget that you even have a loyalty card in the first place.
Just like coupons, now loyalty cards are going digital. There are two pain points:
You need to download all the apps separately
You go through the login process every time.
Wait! Stocard fixed that.
The Stocard app enables you to keep and manage all your loyalty cards in one place. It's really simple to use and it is free.
The takeway
Set up on mobile only
Free to use
Accessible without data or Wi-Fi
Lets you redeem personalized coupons
Register an unlimited number of loyalty cards
Valid in 40 countries including Canada, Australia, United States, United Kingdom, Thailand, Poland, Japan
It's also available in about 30 different languages.
What is the Stocard app?
The Stocard app is a free digital loyalty card wallet that allows you to store them on your mobile device. The app creates digital copies of the cards, so you don't have to carry around the physical copies.
When you enter the store, simply pull up the app and scan your loyalty card, just as you would the physical copy. The best thing about Stocard is that there are no limitations to how many loyalty cards you can have on the app.
Stocard is compatible with all retailers, so even niche local cards can be added to your app. The Stocard app is straightforward to use and has been launched in over 40 different countries. Including Canada, Australia, United States, United Kingdom, Thailand, Poland, Japan and more! It's also available in about 30 different languages.
No internet connection is required to use the app. This means that you can access your loyalty and membership cards without data or Wi-Fi. You will also be able to see how many rewards points you have for certain retailers and how much your rewards points are worth. 
How to set up an account on the Stocard app?
Stocard is only available on mobile, so you can't set up an account on your desktop. Simply download the Stocard app on your phone, and you can start adding your loyalty cards instantly.
The main dashboard page will prompt you with some of the most popular loyalty cards, but you may not recognize many of them. That's because Stocard is international, so loyalty programs from the United Kingdom, the United States, Canada and many more countries are available on the app. Until you've made an account, the app won't know your region, so you'll be able to see all available loyalty cards.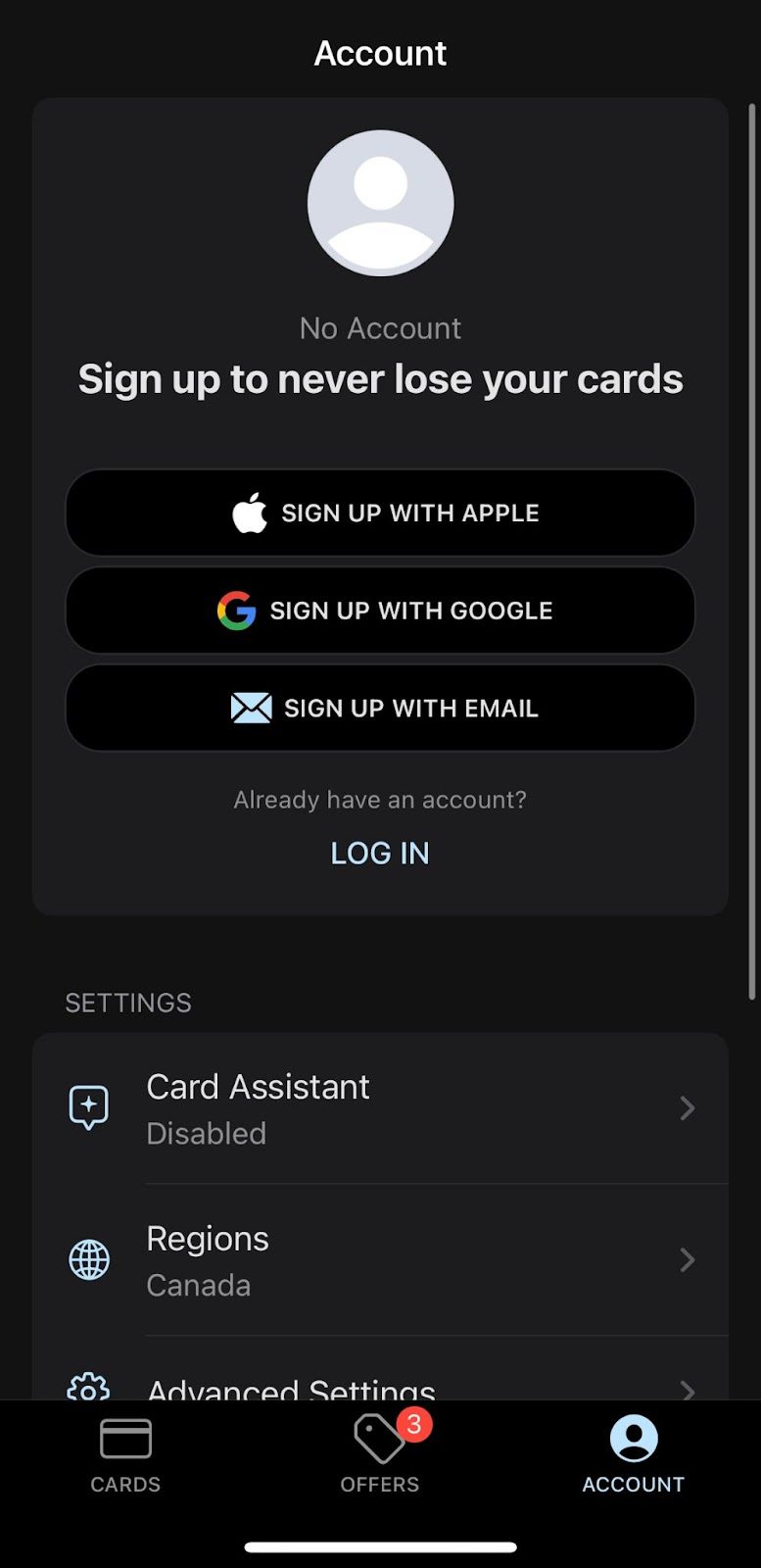 Click on the '+' in the top right corner of the main screen. From here, you can either type in the name of the loyalty card you want to add or scroll through all the different options.
When choosing a loyalty card, you'll have a few options to link it to your app. The first option is to scan the barcode using your phone directly within the app. You can also upload a photo of your card or enter your loyalty card number manually.
Once you've added at least one card, you can then register your account. Head back to your home page and click on the 'Account' tab in the bottom right corner of your app.
You can then choose between 3 different sign-up options: Google, email or Apple. Once you choose, just sign in with the corresponding account, and you're good to go.
What loyalty cards can I add to the Stocard app?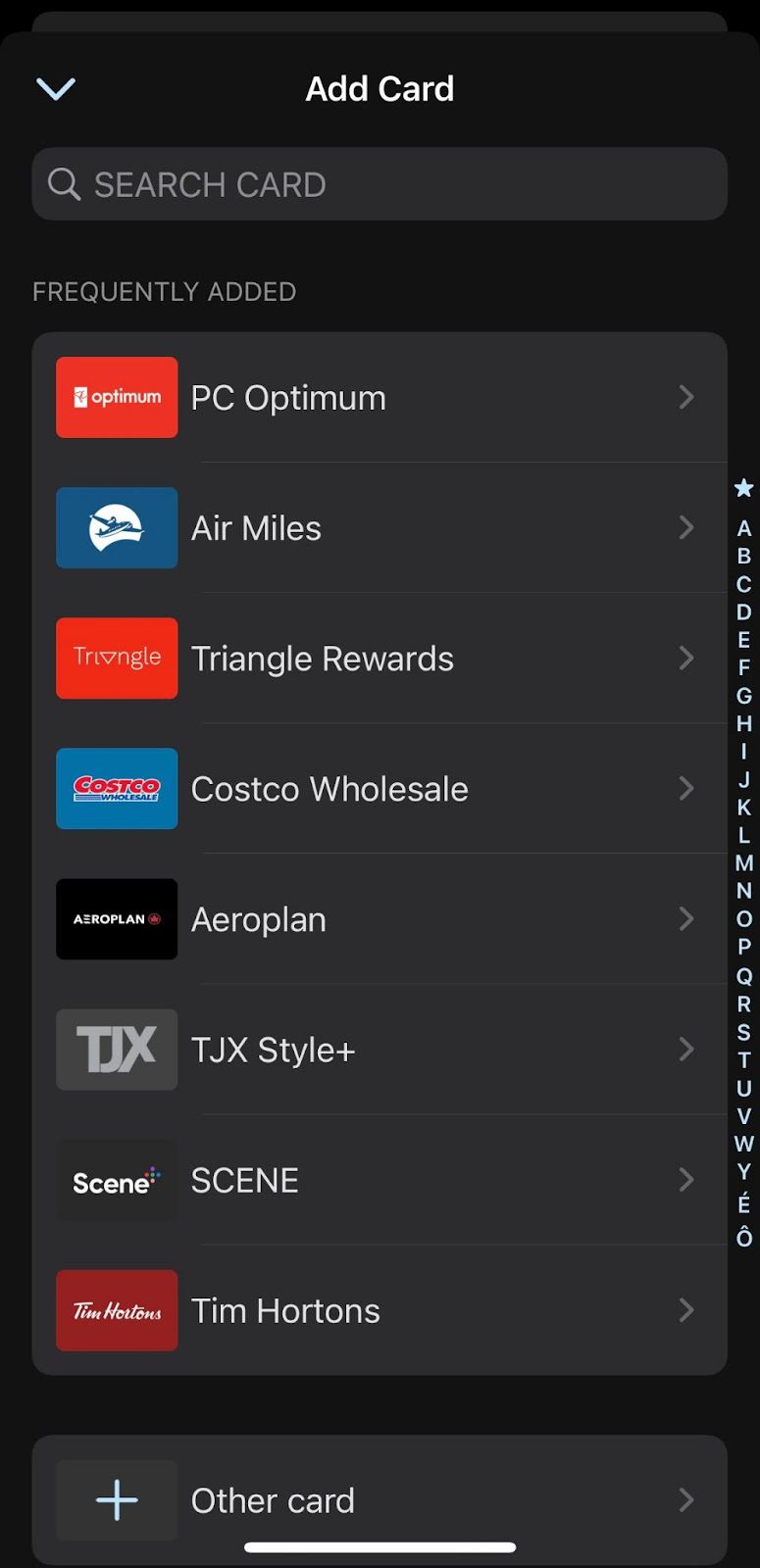 You can add hundreds of different loyalty cards to the Stocard app. Some of these include:
TJX Style+
Canada Post
And many more!
Even if your card isn't on the apps list, you can still take pictures of the cards and store them within the app.
What offers are available on the Stocard app?
The Stocard app always has exclusive product offers available from their loyalty card partners. You can access these offers from the app's main page by clicking the 'Offers' tab on the bottom menu panel.
When I went on the app, the first thing I saw was flyers for my local Walmart and Best Buy. They had the current deals as well as the one that started the next day.
You can redeem personalized coupons right from the app.To ensure you get relevant offers, it's important that you set your region so the app knows your location. Go to your account page and scroll down to 'Settings.' Here you can select your region.
Stocard app card assistant
The Stocard app has a special feature called the card assistant. The feature automatically displays your card directly from your lock screen when you are near the store.
You need to give the app location permission so that it can track your GPS location. It then sends you a notification when it knows you're in the store.
How does Stocard differ from Apple Wallet?
But, wait. Doesn't Apple Wallet also allow you to connect your loyalty cards to the app on your phone? There are many loyalty cards that you can add to your Apple Wallet, but only if the retailer chooses to participate.
It can be limiting, as that means you'll still need to carry physical cards for the retailers that do not have their app linked up to Apple Wallet. Apple Wallet is also limited to iOS, so if you have an Android, you won't be able to use it.
Although Stocard doesn't support credit cards, gift cards or digital tickets, it supports all loyalty cards. That's because their unique system can scan every type of barcode. Even if the scanning doesn't work, you can still upload your loyalty card as an image.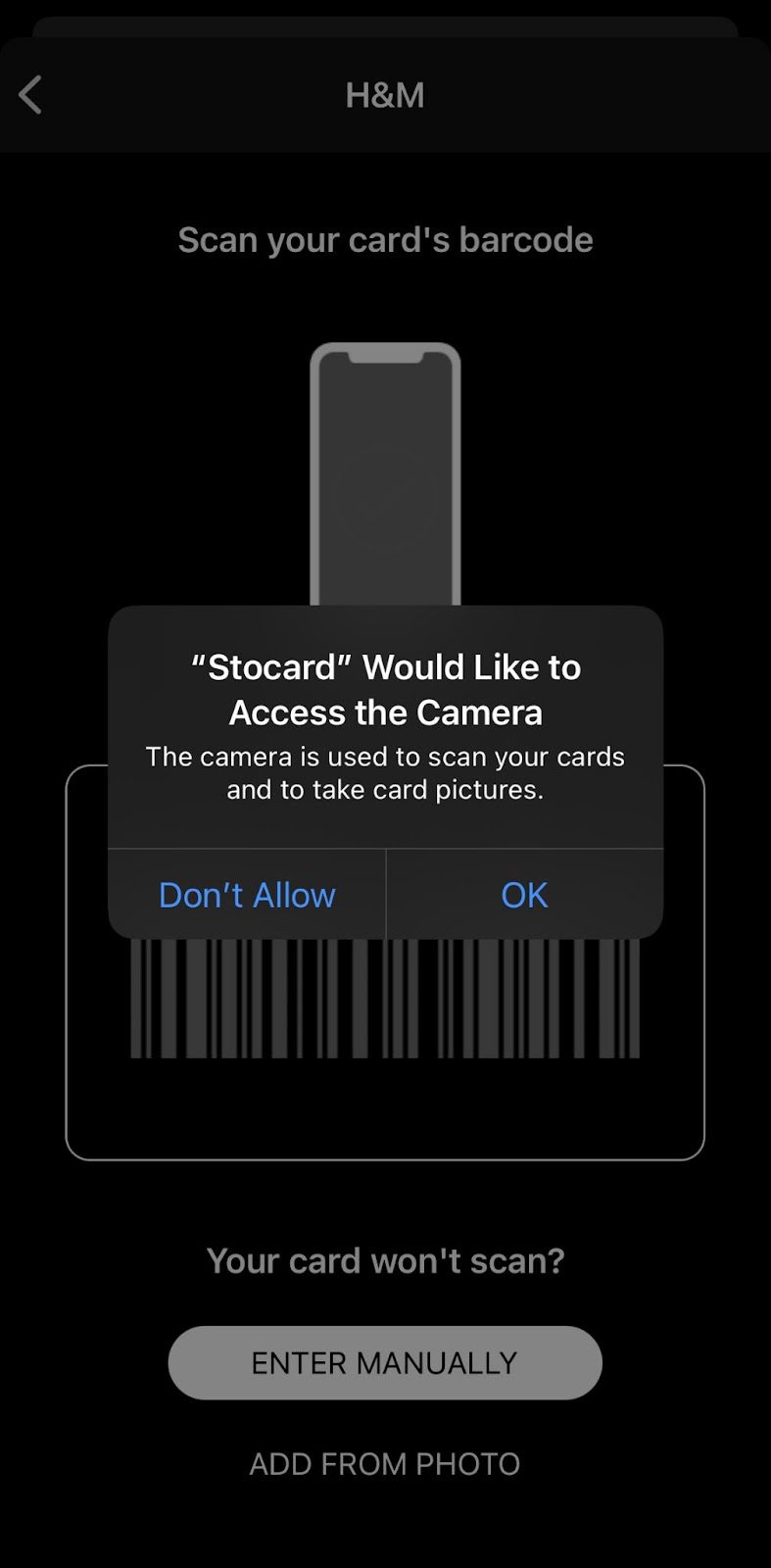 How does Stocard make money?
Stocard is free for users, so how do they keep running? No company can run for free.
Well, after an original $850,000 investment to get started, Stocard has been making approximately $9.4 million per year from retailers who want access to the valuable consumer data that Stocard possesses. Each time you use your loyalty cards through Stocard, the app tracks various metrics such as store visit data and how customers interact with competitors.
Business owners can use the app for customer acquisition and listing offers that help attract new customers to their store and their loyalty programs. Businesses can also ingrate their customer relationship management (CRM) systems directly.
Stocard enables companies to set up personalized advertising and sign up new members. For all this valuable data and functionality, businesses are willing to pay and can choose between cost-per-click or cost-per-purchase packages.
Pros and cons of Stocard
Pros
Store all your loyalty cards in one place
Removes the need for physical loyalty cards
100% free to use
Unlimited loyalty cards on the app
Compatible with iPhone and Android
Cons
Businesses can access your personalized shopping and purchasing data, which you may not be comfortable with.
Sometimes the app scanner may not be able to read your barcode, so you'll have to enter the number manually
Manage all your loyalty cards with Stocard
All-in-all, Stocard is a great way to manage and store all your loyalty cards on your mobile device. It's easy to load your cards onto the app, and you don't have to go through a complicated login process for each one as you would with Apple Wallet. Plus, there are no limitations to how many cards you can store on the app or from which retailers. And it's free! So, it's one of the best options out there.
FAQs About the Stocard App
How to add cards to Stocard?
To add cards to Stocard, open the app and click the '+' button in the top right corner. Search for the card you want to add, and then scan your card's barcode to add.
How to use Stocard?
To use Stocard when making a purchase at a retailer, just open the app and choose the retailer's loyalty card from your dashboard. When you click on it, your membership number and bar code will appear on the screen, which the retailer can scan. Alternatively, if you have the card assistant enabled, you will automatically receive a push notification from Stocard when you physically enter the retailer. So you just need to click the notification to display your loyalty card.
Is the Stocard app free?
Yes. Stocard is 100% free for users.
Is the Stocard app safe?
Stocard app is safe to use, but it's important to be aware that the retailers where you use your loyalty cards will have access to your usage metrics within the app, such as other loyalty programs you're a member of and purchase behaviour.
Is it possible to add Stocard to Apple Wallet?
You can add some of your cards to your Apple Wallet, but not all the cards compatible with Stocard will also be compatible with Apple Wallet. It all depends on the barcode type. To add a loyalty card from Stocard to your Apple Wallet, click on the loyalty card you want to add. Click on the three dots in the top right corner to access the menu. From here, click on 'Add to Apple Wallet.' Once it pops up, just click 'Add' in the top corner, and you're all set.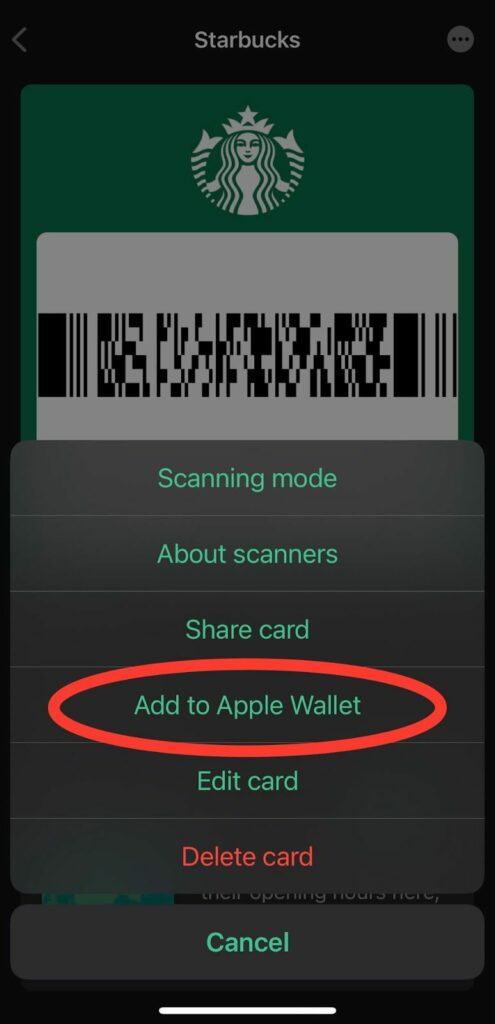 How to transfer Stocard to a new phone?
If you get a new phone, transferring your Stocard account over to the phone is simple. All the cards you have on your Stocard app are already synced to the cloud, meaning you can access your account on any mobile device. When you get a new device, just download the app and sign in using the same method you used to sign in on your old device. Once you're logged in, you'll have access to all your cards.
How does Stocard make money?
Stocard makes money from businesses that pay to access consumer metrics from Stocard. They can pay to display offers on the app and pay for advertising to boost customer acquisition.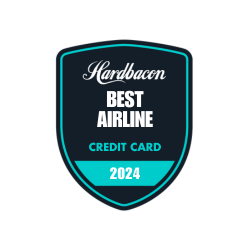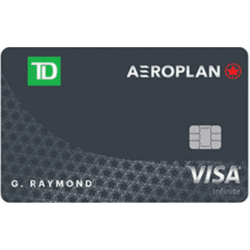 TD® Aeroplan® Visa Infinite* Card
22.99% (20.99% for Quebec residents)
Special offer: Earn up to $1,400 in value† including up to 50,000 Aeroplan points† and no Annual Fee for the first year†. Conditions Apply. Account must be approved by January 3, 2024.
†Terms and conditions apply;
The Toronto-Dominion Bank (TD) is not responsible for the contents of this site including any editorials or reviews that may appear on this site;
For complete and current information on any TD product, please click the Apply now button.