Welcome Offer
$ 99 discount on the annual fee for the first year
Open an account and get a one-time annual fee rebate.
Low interest on balance transfers for the first 6 months. And Pay no Daily Banking Fee for the first year.
1. Pay just 1.99% on balance transfers in the first 6 months. 2. The cost of the Manulife One Unlimited Daily Banking fee is waived for the first year of card ownership.
Requirements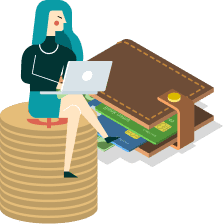 Credit
Score
Canadian
Residency
Required
Income
Insurance
📆
Extended warranty
Extended warranty is available for up to 1 year.
🛍
Purchase protection
Purchase protection extends for 90 days from date of purchase.
🦷
Travel accident
Cardholders have automatic travel accident insurance up to $500,000.
🏥
Medical emergency
Cardholders and dependents are covered with out-of-province emergency medical insurance for 15 days (3 days for those over the age of 65).
⚡️
Trip interruption
Expenses related to trip interruption are covered up to $2000.
🚗
Auto rental coverage
Car rentals charged to this card are insured against damage and theft.
⏱
Flight delay
Expenses related to flight delays are covered up to $500.
Benefits
🌎
Worldwide customer service
Get help wherever you are and whenever you need it with Visa customer service.
⭐
Exclusive discounts with my favorite brands
Get exclusive access to hotel properties and invitations to culinary experiences while you travel.
💎
Concierge service
Enjoy access to 24/7 concierge services through Visa Infinite.